Solidar is the Russian Key to Victory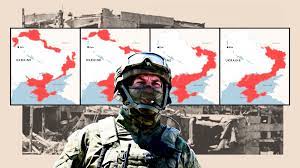 With its complete control of the strategic city of Solidar in the Donbass, the Russian forces have taken an important step in their war on the border with Ukraine, as the aforementioned region is the most strategically important, and controlling it is a first step to combing the rest of the surrounding areas and reaching the desired goal.
Militarily, the Russian forces have become able to control the surrounding areas and tip the scales, which happened later through easy and simple progress in several areas, including the city of Oglidar, Klichevka and other cities, which prompted US President Joe Biden to call on the Europeans to provide tanks and weapons of all kinds to support the Ukrainian forces that It is ravaged by corruption, looting and theft from senior officials in the Ministry of Defense.
The exciting and rapid movements of the European countries after the fall of Solidar in the grip of the Russian forces confirm the importance of that region, especially after the encirclement of the city of Bakhmut from the north and the separation of the Ukrainian eastern front, and the disruption of the Ukrainian lines of communication, weaEurope today is deprived of salt and gypsum mines that could provide revenues for whoever controls them, knowing that the Ukrainian forces exploited their stores to stockpile equipment and weapons and provide accommodation for mercenaries for fear of the Russian air strikes that intensified against them.kening and shackling them.
The Russian army now has an area of more than 95% of the territory of Lugansk, which is supposed to "liberate" the territory of Donetsk as a result of the operations now underway at a time when the Ukrainian forces were incurring heavy losses in lives and equipment, prompting them to open a missile front on hospitals, schools and civilian areas in the city where corridors and tunnels that spent a lot of effort in arranging and digging were lost