US announces $345m military aid package for disputed Taiwan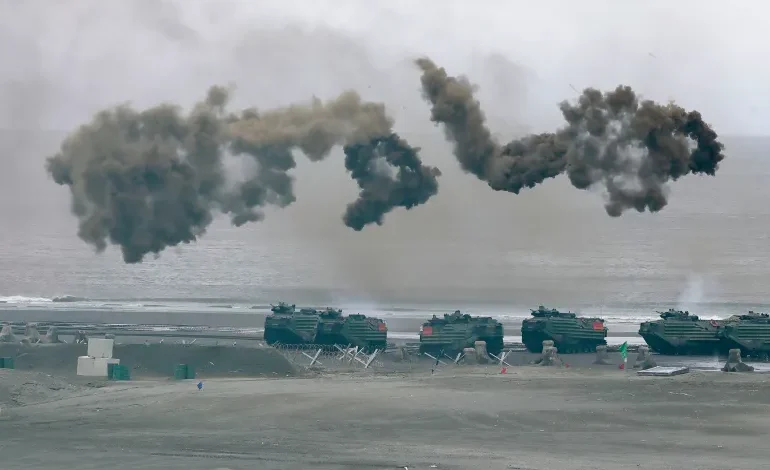 The United States has announced $345m in military aid for Taiwan, ramping up support for the self-ruled island that is claimed by China.
The package will include "defence articles", military education and training, US President Joe Biden's administration said in a statement on Friday.The White House announcement did not elaborate on the weapons or equipment that would be provided, but media outlets citing unnamed officials said the supplies would include portable air defence systems, small arms munitions and reconnaissance equipment.
The announcement prompted a swift rebuke from Beijing, which has promised to "reunify" democratically ruled Taiwan with the Chinese mainland by force if necessary.
In a statement, Liu Pengyu, a spokesman for the Chinese embassy in Washington, said the US should stop selling arms to Taiwan and "stop creating new factors that could lead to tensions in the Taiwan Strait."
The US does not officially recognise Taiwan, which has just 13 diplomatic allies but has sought to boost its defences amid Beijing's increasingly aggressive stance towards the island, including regular incursions of warplanes and naval vessels.
Earlier this month, China conducted major military exercises around Taiwan for the second time this year, sending dozens of warships and planes close to the Taiwanese coastline.
While Washington does support Taiwanese independence under its "One China" policy, US law requires it to support the defence of the island, whose disputed status stems from the defeated Kuomintang's retreat to the island at the end of the Chinese civil war.
Washington has approved billions of dollars of military aid for Taipei in recent years, including an $8bn deal to deliver 66 F-16 fighter jets by 2026.
Biden's backing of Taiwan and the independence-leaning administration of Tsai Ing-wen has added to mounting tensions between Washington and Beijing, which has accused the US of turning the island into a "powder keg".Washington's latest aid package comes after the US Congress authorised Biden to draw aid for Taiwan from American military stocks, a fast-track method of providing equipment that mirrors Washington's assistance to Ukraine since Russia's invasion.