Ukraine and Russia trade places in battle for Bakhmut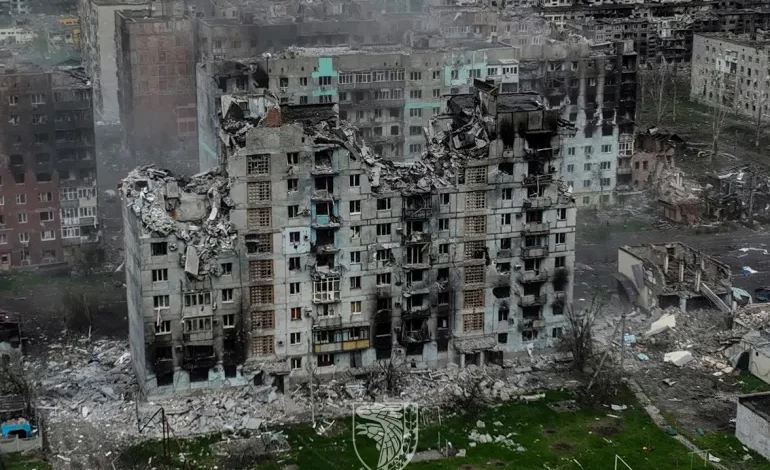 Russia's Wagner Group claims to have captured Bakhmut in eastern Ukraine this week, but the government in Kyiv says it intends to recapture the ruined city after surrounding it.
"We continue to advance on the flanks in the suburbs of Bakhmut and are actually approaching the capture of the city in a tactical encirclement," overall ground forces commander Oleksandr Syrskyi said as Ukrainian forces added that they had recaptured 4sq km (1.5sq miles) of territoryThe battle for Bakhmut has increasingly been the focal point of the war, now in its 65th week, as Russian President Vladimir Putin prioritised capturing the region of Donetsk, in which the city with a pre-war population of 70,000 is situated, and neighbouring Luhansk.
Ukraine says it has used attritional street warfare in Bakhmut to draw in Russian forces from other parts of the front and to inflict high casualties. Over the past two weeks, its forces also launched a number of flanking operations around the city to reclaim land.
"Ukrainian counterattacks near Bakhmut have notably likely eliminated the threat of a Russian encirclement of Ukrainian forces in Bakhmut and forced Russian troops to allocate scarce military resources to defend against a limited and localized offensive effort, as Ukrainian command likely intended," the Washington-based Institute of the Study of War said on Friday.The following day, Yevgeny Prigozhin, head of the Wagner Group and its mercenary forces, said they had captured Bakhmut. Russia's Ministry of Defence followed with an overnight announcement that it had conquered the city – competing, as they have done for months, for credit on the eastern front.
The online news service Meduza also said Bakhmut, for all intents and purposes, had been captured. The "disputed" area consists only of "a dozen high-rise buildings, schools, a kindergarten and some garages at the end of Tchaikovsky Street", it said.
But Ukrainian Deputy Defence Minister Hanna Maliar said the defenders still held an area of "industrial and infrastructure facilities" in the southwestern outskirts of the city, known as the "airplane neighbourhood" because of a monument of a MiG-17 fighter plane there.
Maliar said Ukrainian troops remained in the neighbourhood on Tuesday. A day earlier, eastern forces spokesman Serhiy Cherevaty said Ukrainian soldiers carried out flanking manoeuvres to the city's north and south and had pushed forward 200 to 400 metres (220 to 440 yards), indicating that the battle was anything but over.