Trump shares stage with Republican rivals amid mounting legal woes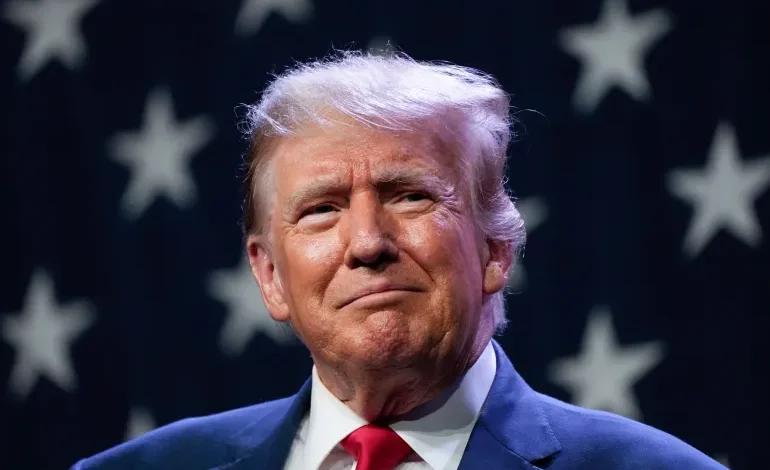 Former United States President Donald Trump has shared a stage with his Republican competitors in 2024 for the first time, launching a new attack on his closest rival even as mounting legal woes threaten to derail his candidacy.
Trump told a conservative event on Friday "not to take a chance" on Florida Governor Ron DeSantis, who trails far behind the former president in the polls despite high expectations for his campaign."I wouldn't take a chance on that one," Trump said at the Lincoln Dinner event in the midwestern state of Iowa, during which he repeatedly referring to his rival as "DeSanctus."
Trump pointed to his record in office before the crowd of about 1,200 Republicans, including naming three conservative judges to the Supreme Court and setting in motion the withdrawal of US troops from Afghanistan.
"If I weren't running, I would have nobody coming after me," Trump said.
Trump's appearance at the Lincoln Dinner came a day after the former president was hit with new charges over the alleged mishandling of classified documents and ahead of his possible indictment for attempting to change the outcome of the 2020 election.DeSantis and 10 other Republican attendees did not criticise Trump at the event, where each speaker was given 10 minutes to address the crowd, instead focusing their attacks on President Joe Biden and his Democratic Party.
Will Hurd, a former Texas congressman who has pitched himself as a moderate in the race, was booed after he accused Trump of "running to stay out of prison".
Trump's conviction of any of the charges would not legally prevent him from seeking the presidency or being elected, although one or more guilty verdicts could impose severe barriers on his ability to campaign or execute his duties in office.
Constitutional experts are unclear on whether a US president can pardon him or herself of crimes, saying such a matter would likely have to be settled by the Supreme Court.