PIF-owned Boutique Group, Sommet Education to collaborate on internships, training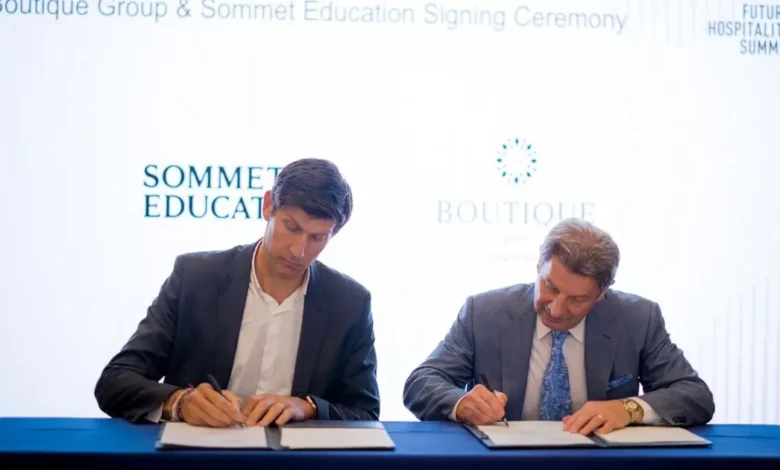 The Saudi PIF-owned hospitality company Boutique Group on Tuesday signed an MoU with Sommet Education, an entity specialized in hospitality, to focus on training, recruitment, and internships.
The agreement will see Sommet offer customized training options, enabling Boutique's employees to benefit from the conglomerate's experience in developing tailored hospitality programs.
In a statement shared with Al Arabiya English, Mark De Cocinis, CEO of Boutique Group, said: "Partnering with Sommet Education was a natural next step for us. Their commitment to delivering top-tier hospitality management and culinary arts schooling directly aligns with our goals of cultivating industry professionals and fuels my enthusiasm for fostering Saudi talents."
"Through innovative training, we aim to nurture possibility and inspire the visionaries who will drive our industry forward."
It hopes the internship programs to provide hands-on training and experience for students, which will eventually help establish a talent network familiar with the company's ethos and standards, the statement said.
Boutique Group is responsible for fusing the Kingdom's culture and heritage in its mission to turn historic and cultural places into ultra-luxury boutique hotels in line with Saudi Arabia's Vision 2030 tourism goals. It is a part of the Kingdom's larger plans to diversify its economy away from oil revenue.
Sommet Education boasts a network of hospitality management and culinary arts schools including the Glion Institute of Higher Education, Les Roches, and École Ducasse.
Boutique Group said it hopes to use Sommet Education's "established network to ensure that the unique talents from its Hospitality schools join the Boutique Group's team."
The MoU was signed between De Concinis and Sommet Education CEO Benoît-Etienne Domenget in Abu Dhabi.
Domenget was quoted as saying in the statement: "We are excited about our collaboration with novel pioneers, Boutique Group, as it enhances our potential to revolutionize how hospitality professionals are developed. We spark new heights of greatness for generations of leaders via collaborative programs that combine our recognized expertise."
The latest agreement followed an earlier hospitality immersion program between the two groups that focused on the luxury hospitality landscape, techniques to develop and bring to life cultural heritage, and means to deliver an ultra-luxury experience to more than 70 of its employees.
The Saudi wealth fund-owned company is currently working on renovating three palaces to become luxury hotels.
The Red Palace in Riyadh city aims to provide more than 70 keys, 26 deluxe rooms, 44 luxury suites and one royal suite. It will also feature a public event space, 8 spa suites and five high-end food and beverages outlets.
The Tuwaiq Palace, one of Riyadh's architectural landmarks, seeks to offer guests a local urban experience with more than 96 keys, 56 villas, 40 palace suites, public event spaces, seven Spa suites and seven high-end dining options.
Finally, AlHamra Palace in Jeddah hopes to develop the space to offer more than 91 keys with personal butler services. This will include 47 palaces suites, 44 villas and one royal suite. It will also provide public event spaces, six spa suites and six premium food and beverage outlets.