One Piece flag rises again in Palestinian protests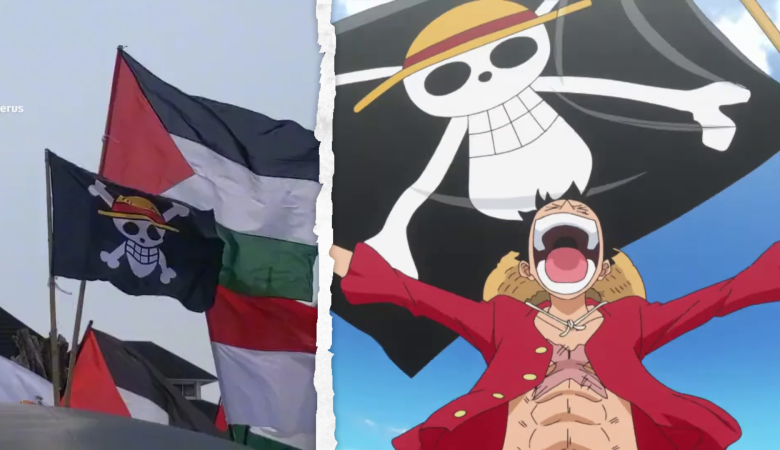 The One Piece Straw Hats flag is once again the talk of the internet after it was seen rising among countless Palestinian flags in London's recent Pro-Palestine protest! 
The One Piece flag appeared in many pro-Palestine protests in Indonesia, the United Kingdom, and the United States of America but why is that?
One Piece is a symbol of freedom and peace!
One Piece flag raised in London's pro-Palestine protests (Credits: Lamy on X )
According to Eye on Palestine, London has witnessed the biggest march in British history and its largest protest since 2003 as the people demanded Israel to "Ceasefire NOW."
More than one million people marched through the streets of London on Nov. 11, 2023.
Additionally, hundreds of thousands of Indonesian people took to the streets in protest of what's been happening in Gaza, Palestine as they called for a ceasefire and demanded the freedom of the Palestinian people. One Piece's Straw Hats pirate flag made an appearance in Indonesia's protests countless times.
Why is the One Piece Straw Hats flag being raised in pro-Palestine protests?
The Straw Hats Pirates led by Monkey D. Luffy (Also known as "Mugiwara" in Japanese) are known to be a group of pirates who have helped countless countries and areas from oppression.
People meme about it, but One Piece relates viewers to real-world problems like racism, slavery, tyranny, oppression, authoritarian government, and censorship which is what Palestine has been going through for the last 75 years.
In the anime, arcs including Skyepia and Arabasta showed how a specific country could suffer from oppression and occupation for decades with no aid from anyone because of corruption, greed, and power.
A brief on what's happening in Gaza, Palestine
Hani Alshaer Al Bawaba 
Since the war on Gaza, millions of people around the world have taken to the streets in protest for the Palestinian people, but no ceasefire was agreed upon by the warring parties.
Palestine has been under the occupation of Israel since 1948 in what people call to this day, "Al Nakba" (The Catastrophe) resulting in countless deaths of the Palestinian people who are still suffering from the occupation to this day.
Hamas launched on Oct. 7, 2023, a military operation called "Al-Aqsa Flood" against Israel which is the biggest offensive in decades.
The Palestinian fighters "infiltrated" Israel from the Gaza Strip capturing military bases and taking hostages as photos and videos went viral online showing Hamas on vehicles inside Israel and others paragliding into occupation territory.
In response, Israeli armed forces announced targeting Hamas positions inside the Gaza Strip. Thousands were killed, and dozens of thousands of others were injured in the Israeli attacks on the Gaza Strip.