How Netanyahu judicial plan sparked massive unrest in Israel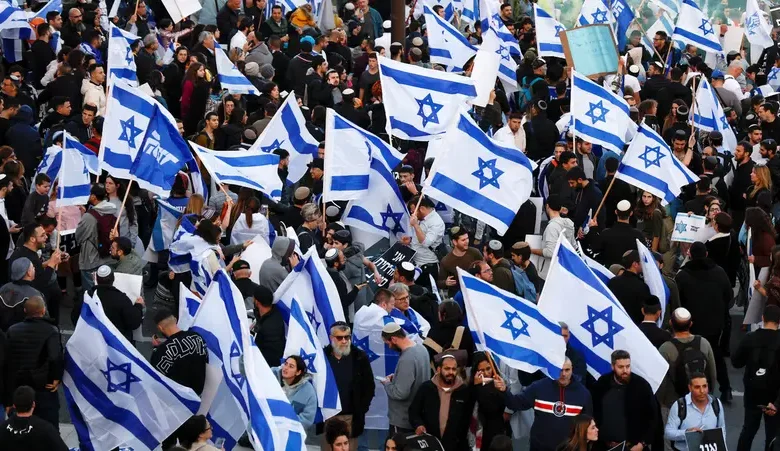 Prime Minister Benjamin Netanyahu's proposed judicial overhaul has unleashed the most intense social unrest in Israel in decades.
Tens of thousands of people have repeatedly taken to the streets against the plan — including spontaneous mass demonstrations that erupted across the country late Sunday after he fired his defense minister for questioning the overhaul. The unrest showed no signs of slowing Monday.
Israel's largest trade union declared a general strike – paralyzing the country's international airport – and thousands of people gathered outside parliament for another day of protests. The union joins business leaders , bank chiefs, fighter pilots, military reservists , academics, former security commanders and other influential sectors of society in coming out against the plan.
Netanyahu delayed a speech to the nation while he huddled with advisers and coalition partners to determine his next move.
Here's a look at how Israel has been plunged into its most serious domestic crisis in decades:
How did we get here?
Netanyahu, who is on trial for corruption in three separate cases, has been at the center of political turmoil that has plagued the country since 2019.
After he was indicted, Netanyahu's former governing partners turned on him, and he was unable to form a stable, lasting coalition. That led to a protracted political crisis that sent Israelis to the polls five times in less than four years.
After an 18-month political exile as opposition leader, Netanyahu returned to power late last year in a coalition with ultra-Orthodox and ultranationalist allies, forming the country's most right-wing government ever.
What is the judicial overhaul about?
After taking power, key figures in Netanyahu's Likud Party along with his governing partners pledged to quickly overhaul the country's judicial system, which critics say is driven by a desire to push their ideological agendas with less judicial oversight. The changes would give the governing coalition control over judicial appointments and weaken the country's Supreme Court by granting parliament the authority to overturn its decisions and limiting judicial review of laws.
Opponents say the overhaul would upend the country's delicate system of checks and balances by giving Netanyahu's ruling coalition control over what is now an independent judiciary. They also say Netanyahu has a deep conflict of interest in trying to reshape the legal system while on trial.
The government says the legal changes are necessary to streamline governance in the face of an interventionist judiciary.
What fueled the latest protests?
Israel has experienced nearly three months of mass protests since Netanyahu's confidant, Justice Minister Yariv Levin, unveiled the overhaul in January.
But the eruption of anger over Defense Minister Yoav Gallant's dismissal, organized quickly largely via the WhatsApp messaging app, was startling. In roughly one hour, tens of thousands of people blocked Tel Aviv's main highway, and thousands more demonstrated outside Netanyahu's Jerusalem home.
Gallant was the first Cabinet minister to break ranks and publicly call for a delay in the overhaul. With morale down and soldiers threatening not to report for duty, Gallant said that pushing ahead could hurt Israel's military readiness.
In security-obsessed Israel, Gallant, a gruff retired general, is among the most respected members of the new Cabinet. By attacking the man responsible for national security, Netanyahu may have crossed a red line — and unwittingly united this deeply polarized country by touching upon national security — one of the few areas of consensus.
What is the significance of the general strike?
Israel's largest trade union is one of the most powerful institutions in the country, representing nearly 800,000 people across sectors that include health care, banking, government services, day care and transportation.
While the union has crippled parts of the economy in past labor disputes over the years, never before has it gone on strike to protest a political matter.
The decision was felt almost immediately. Israel's main international airport canceled all outgoing flights, stranding more than 70,000 travelers. Doctors and day care workers said they would stay off the job, and others were expected to join as well.
The economy already has been hit by the protests, with the shekel currency tumbling in value in recent weeks. A protracted strike could mean longer-lasting and deeper damage.
Where do we go from here?
Hours after promising a nationwide speech, Netanyahu remained huddled in meetings with advisers and coalition partners.
Israeli media, citing unnamed officials inside Netanyahu's Likud party, said he was expected to delay his plan. Levin, the justice minister who has led the efforts to rush the plan through parliament, said he would respect Netanyahu's wishes if he called for a delay. But by midafternoon, there were still no decisions.
A pause would help ease the tensions and buy Netanyahu some time to find a compromise. But if he backs down, he runs the risk of angering his far-right coalition partners — potentially threatening the stability of his government and risking the possibility of new elections.
Any new election would once again likely focus again on Netanyahu's suitability to govern while he faces serious legal problems.
What effect could this have outside Israel?
While the battle may seem like an internal Israeli matter, its outcome could have important repercussions for the region and beyond.
Netanyahu's coalition allies are dominated by religious and nationalist hardliners who oppose Palestinian statehood and have close ties to the West Bank settlement movement. A weaker court system could clear the way for more aggressive settlement construction and even annexation of West Bank lands. That could lead to further friction with the Palestinians, who seek the Israeli-occupied West Bank as part of a future independent state, as well as with Israel's Western allies, who have voiced concerns about the overhaul and criticized the comments of some of his partners.
Israeli soldiers could also be more susceptible to war crimes prosecution in the Hague. One of Israel's key defenses has been that it has an independent judiciary capable of investigating and prosecuting wrongdoing by troops. A weakened judiciary could rob Israel of that defense.
Israel's high-tech industry, the engine of the country's economy, could also be affected. International agencies have already said they might lower Israel's debt rating if the overhaul passes since the agencies consider a strong judiciary crucial to ensuring a good business climate. A lower rating could make investors hesitant to do business in Israel and potentially lead companies with operations in Israel, including the world's leading tech giants, to scale back their presence.