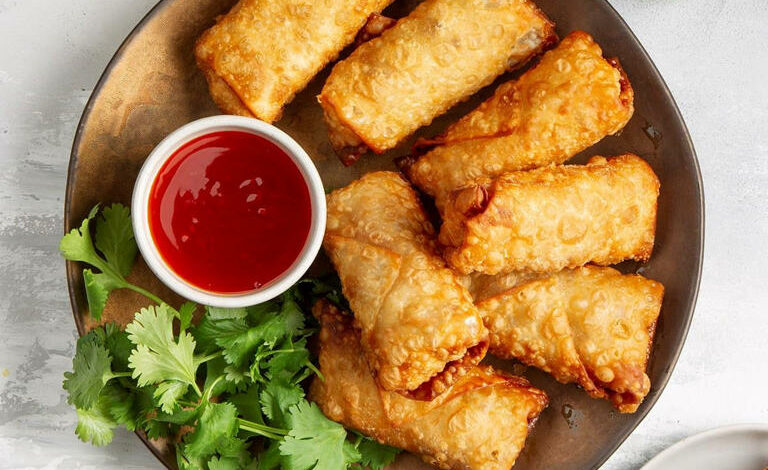 I've always loved egg rolls, but every recipe seemed too complicated. I decided to start with a packaged coleslaw mix. Now I can make these yummy treats at a moment's notice. —Samantha Dunn, Leesville, Louisiana
Total Time
Prep: 30 min. Cook: 30 min.
Updated: May. 20, 2023
Ingredients
1 pound ground beef
1 package (14 ounces) coleslaw mix
2 tablespoons soy sauce
1/2 teaspoon garlic powder
1/4 teaspoon ground ginger
1/8 teaspoon onion powder
1 tablespoon all-purpose flour
28 egg roll wrappers
Canola oil for frying
Directions
In a large skillet, cook beef over medium heat until no longer pink, 5-7 minutes, breaking into crumbles; drain and cool slightly. In a bowl, combine beef, coleslaw mix, soy sauce, garlic powder, ginger and onion powder. In a small bowl, combine flour and enough water to make a paste.
With 1 corner of an egg roll wrapper facing you, place 1/4 cup filling just below center of wrapper. (Cover remaining wrappers with a damp paper towel until ready to use.) Fold bottom corner over filling; moisten remaining wrapper edges with flour paste. Fold side corners toward center over filling. Roll egg roll up tightly, pressing at tip to seal. Repeat.
In an electric skillet or deep-fat fryer, heat oil to 375°. Fry egg rolls, a few at a time, until golden brown, 3-4 minutes, turning occasionally. Drain on paper towels.
Easy Egg Rolls Tips
Can you use ground pork instead of ground beef in this easy egg roll recipe?
Yes! You can definitely swap out the ground beef with ground pork or even ground chicken in this easy egg roll recipe. Lean proteins are best for keeping the filling less prone to getting soggy.
Can you make easy egg rolls ahead of time?
Yes! Refrigerate fried egg rolls in a single layer (do not stack) on a tray lined with paper towels. Reheat in a low oven for about 10 minutes on each side. To freeze egg rolls, wrap them in aluminum foil in a freezer-safe plastic bag or container for up to 3 months. Thaw in the refrigerator. If already fried, you can re-fry egg rolls to crisp them or heat them in the oven. If they're not fried, fry as the recipe directs.
How can you make sure these egg rolls don't turn out soggy?
To ensure crisp egg rolls, always make sure the frying oil gets back up to proper temperature between each batch. Putting a fresh batch in too early can lead to soggy egg rolls. Additionally, don't overcrowd the pan and always dry the egg rolls on wire racks set over paper towels to absorb excess oil.
What dipping sauce can you serve with easy egg rolls?
Egg rolls are traditionally paired with store-bought sweet and sour sauce, but we find any one of these other Asian sauces nicely do the trick as well! Ever wondered about the differences between an egg roll and a spring roll? They're both delicious, but they differ in texture, ingredients and history!
—Mark Neufang, Taste of Home Culinary Assistant