Details inside Rajwa Al-Saif's henna party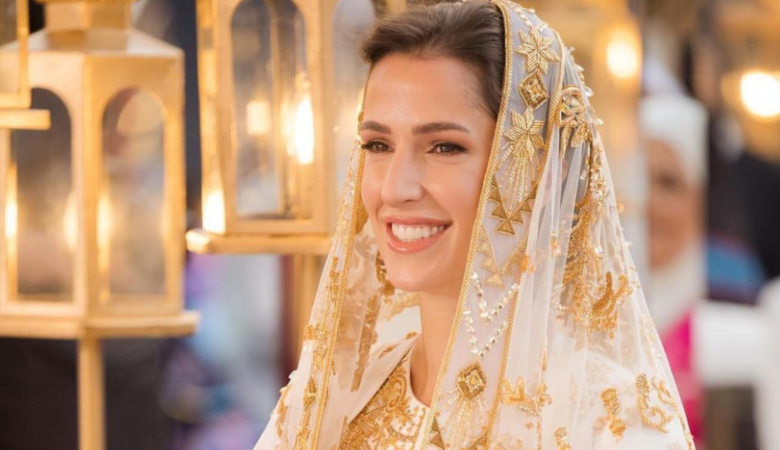 The Jordanian royal wedding of Crown Prince Al-Hussein and Rajwa Al Saif is just around the corner, and celebrations started at the palace. 
Last night, a women gathering was held for Rajwa Al Saif's Henna party, which took place at the Madareb Bani Hashem, the bride to be wore an elegant white and gold bespoke dress from Saudi designer Honayda Serafi's namesake label.
Queen Rania shared pictures and videos of the royal celebration on Instagram account, where guests, bride to be and family members can all be seen getting emotional ahead of their first of June wedding.
A video taken to social media shows Al-Said walking down a white aisle while women around her covered the floor with flowers and rose water for a traditional welcome, in another video, Jordan's future queen was seen walking hand in hand with Queen Rania who dazzled a light blue embroidered dress designed by Saiid Kobeisy.
The queen of Jordan, Queen Rania gave a heartwarming speech that brought Al-Saif to tears, she said: "I'm so happy that you could all be here to celebrate with us. Today is a special day for us, and to our entire Jordanian family, Our joy is one and the same… near or far, you are all in our hearts today."
She added: "The sweetest and most beautiful bride-to-be, you are as precious as my daughters, Iman and Salma, I'll never forget how happy His Majesty and I were when Al Hussein told us he wanted to marry Rajwa. She is the perfect answer to all my prayers for him."
The Queen then turned to Rajwa's mom and said: "We and Hussein will take the very best care of Rajwa. This is her country, and she is among her family and her people."