Bolivia taps China, Russia in bid to unlock huge lithium riches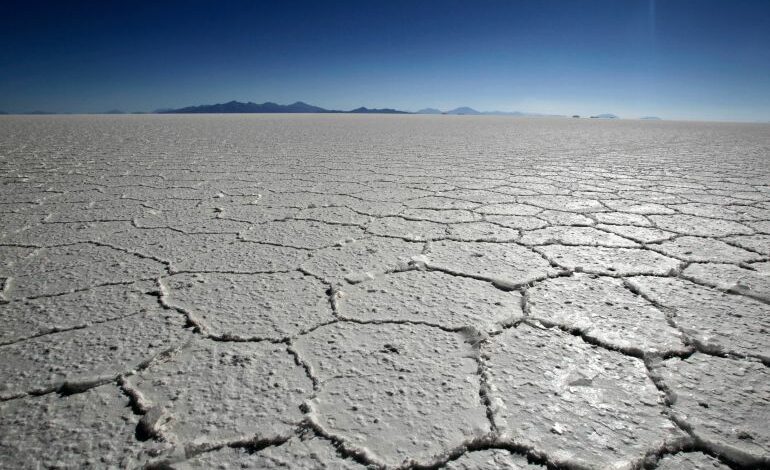 Bolivia has signed lithium agreements with Russian state nuclear firm Rosatom and China's Citic Guoan Group, the South American country's government has said, as it looks to develop its huge but largely untapped resources of the battery metal.
The deals, which were announced on Thursday, envisaged a total investment of $1.4bn and followed a similar agreement in January with giant Chinese battery maker CATL, another potential win for Beijing in its efforts to lock in a supply of the metal used in electric vehicles."With these deals, our country will be able to produce some 100,000 tonnes of lithium carbonate in 2025 in the Uyuni, Coipasa and Pasto Grandes salt flats," Minister of Hydrocarbons and Energy Franklin Molina said at an event in La Paz.
Bolivia's iconic salt flats are home to the world's largest lithium resources at 21 million tonnes, according to the United States Geological Survey, but the country has long struggled to ramp up industrial production or develop commercially viable reserves.
Governments, mining firms, battery markets and carmakers worldwide from Tesla to BMW are scrambling to secure a supply of the metal, which is needed for many of the batteries being used to power a big shift towards electric vehicles.
Molina said the investments would allow the construction of two direct lithium extraction (DLE) processing plants in the towns of Pasto Grande and Uyuni Norte, where at least 45,000 tonnes of lithium carbonate would be produced per year.Russia's Rosatom, which bid via its Uranium One Group unit, confirmed the news, saying it would invest $600m in the project, its first large-scale lithium venture overseas, with a planned annual capacity of 25,000 tonnes of lithium carbonate.
"There is the possibility of increasing capacity based on the results of geological exploration work," Rosatom's First Deputy General Director Kirill Komarov said in a statement.
Molina said Citic Guoan would invest $857m and would also "look at investing in battery plants and the installation, possibly with technical studies, of a vehicle assembly plant, to create a true electric transport revolution".
The deal with Uranium One Group was for feasibility and pre-investment studies, he said, adding that multiple tests with Russian technology on the salt flats had shown a lithium recovery rate of more than 80 percent, with a purity of approximately 99.5 percent.Along with Bolivia, neighbours Chile and Argentina make up the so-called "lithium triangle," home to the world's largest trove of the metal. Chile and Argentina are far more advanced in production, and projects often take years to reach fruition.