Ankara says time running out to ratify Sweden, Finland NATO bids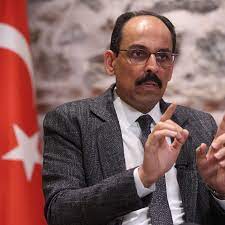 Turkish presidential spokesman says that Ankara is running out of time to ratify NATO membership bids by Sweden and Finland before the general elections expected in May.
President Recep Tayyip Erdogan's spokesman, Ibrahim Kalin, said on Saturday that Turkish ratification of the countries' bids depended on how quickly Stockholm fulfils "counterterrorism" promises made as part of a deal with Ankara, warning that could take months.
"Stockholm is fully committed to implementing the agreement that was signed last year in Madrid, but the country needs six more months to write new laws that would allow the judicial system to implement the new definitions of terrorism," Kalin told a news conference in Istanbul.
Along with Finland, Sweden signed an agreement with Turkey last year aimed at overcoming Ankara's objections to their NATO bids, which were made in May last year and require the approval of all 30 NATO member states. Both countries applied to join NATO after Russia's invasion of Ukraine in February.
Turkey wants a clearer stance
Ankara has said Sweden needed to take a clearer stance against what it sees as "terrorists", mainly Kurdish groups and the organisation it blames for a 2016 coup attempt.
Last week, Stockholm said that Sweden was confident that Turkey will approve its application to join the NATO military alliance, but it could not meet all the conditions that Ankara has set for its support.
The Turkish parliament would have to ratify Ankara's decision on the two Nordic countries' membership, with a vote on both expected at the same time.
Meanwhile, Turkish prosecutors have opened an inquiry into an incident in Stockholm in which an effigy of President Erdogan was strung up, adding further diplomatic strain to Sweden's bid to win Turkey's backing.
The Swedish Prime Minister told broadcaster TV4 on Friday that the act was "extremely serious" and he considered it an act of sabotage against the NATO application.
Kalin said the Swedish government needed to send a clear message to "terrorist organisations that Sweden is no longer a safe haven for them and that they will not be able to collect money, recruit members, and engage in other activities".