Why is Sweden left behind in the Nordic NATO bid?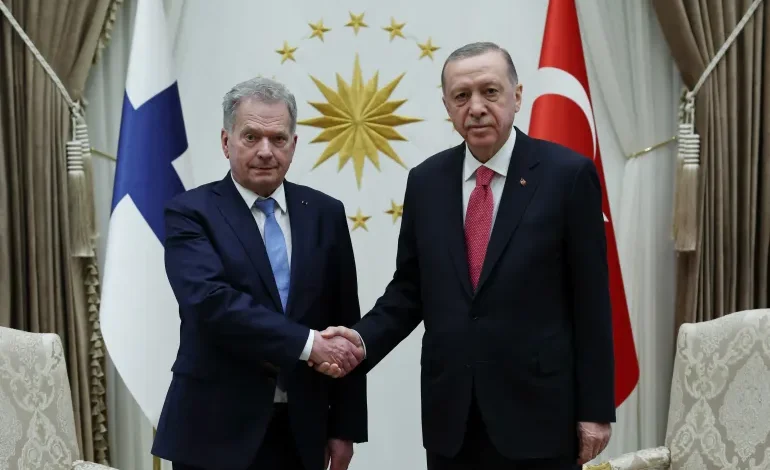 After decades of staying out of military alliances, last May Finland and neighbouring Sweden announced bids to join NATO following Russia's February invasion of Ukraine.
With Turkey becoming the final and 30th member to ratify Finland's bid on Thursday, the Finns are expected to finalise their membership in the coming days, while Sweden continues to face opposition.Finland President Sauli Niinistö tweeted after Turkey's decision: "We look forward to welcoming Sweden to join us as soon as possible."
Here are five things to know about the two countries' membership bids, and why Sweden's bid is lagging.
Why did two Nordic states make historic U-turn?
For decades, most Swedes and Finns were in favour of maintaining their policies of military non-alignment.
However, Russia's invasion of Ukraine last year sparked sharp U-turns.The change was especially dramatic in Finland, which shares a 1,300km (800-mile) border with Russia.
Prior to the application, public support for NATO membership had remained steady at 20-30 percent for two decades, but a February poll suggested 82 percent were happy with the decision to join the alliance, according to the AFP news agency.Bids to join NATO must be ratified by all members of the alliance.
Turkish President Recep Tayyip Erdogan in mid-March asked parliament to ratify Finland's bid, but delayed Sweden's following a litany of disputes.
Similarly, when Hungary ratified Finland's bid on March 27, Sweden's was pushed until "later".
Hungary is holding up Sweden's admission, citing grievances over criticism of Prime Minister Viktor Orban's policies. However, Budapest is likely to approve Sweden's bid if it sees Turkey moving to do so.
Meanwhile, Finland decided to move forward, even if it meant leaving Sweden behind.What is Turkey's issue with Sweden?
Sweden, Finland and Turkey signed a trilateral memorandum at a NATO summit in June last year to secure the start of the accession process.
However, Ankara has repeatedly butted heads with Stockholm, saying its demands have remained unfulfilled, particularly for the extradition of Turkish citizens that Turkey wants to prosecute for "terrorism".
It has accused Sweden of providing a safe haven for "terrorists", specifically members of the outlawed Kurdistan Workers' Party (PKK) in Turkey and the Democratic Union Party (PYD) in Syria, which, Ankara believes, is linked to the PKK.
Negotiations between the countries were temporarily suspended in early 2023, after protests, involving both the burning of the Quran and a mock hanging of an effigy of Erdogan, were staged in Stockholm.For Sweden, the timeline remains uncertain. Talks between Sweden and Turkey have made little progress.
Neither Turkey nor Sweden has yet scheduled parliamentary votes on Sweden's application, but NATO Secretary-General Jens Stoltenberg has said getting Sweden's application over the line is a top priority.
He has said he hopes both Finland and Sweden will be members by the time of an alliance summit in Vilnius, Lithuania, on July 11 and 12.