'We will be finished': Modi manufacturing plan squeezes small Indian firms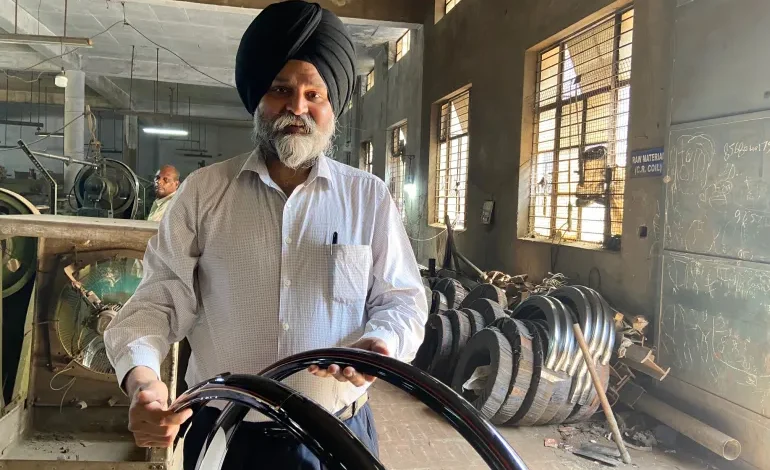 Until a few weeks ago, Gurmeet Singh Kular's cycle parts factory in this northern India manufacturing hub was operating at less than 40 percent capacity. There were hardly any orders for the rims and mudguards that his family has been making since 1952 for the basic bicycles used by generations of Indians but whose sales are now fading away.
Relief came as some state governments put in orders for these bicycles, often handed out by authorities during election season, which is coming up in the next few months, or to schoolgirls from low-income families.On a recent hot September day, a worker soldered a piece of metal into what would become a cycle rim while another smoothed the sharp edge of a mudguard.
While Kular's industry, most of which is based in Ludhiana, saw a boost in business in the first few months of the COVID-19 pandemic as people picked up cycling as a sport, that boom has since faded and many cycling-related businesses are closing down or paring back production and the number of their employees, he said.
"There are no [loans] available to buy cycles unlike for scooters and motorcycles," Kular said. Even though basic cycles cost as little as 4,000 rupees ($50), loans make automated two-wheelers affordable, eating into Kular's potential clientele.
Small businesses like Kular's make up a giant chunk of India's manufacturing sector. The segment – officially called micro, small and medium enterprises (MSME) – provides about 30 percent of the country's gross domestic product, produces 36 percent of the national output and is responsible for close to 45 percent of India's exports, according to data by India Ratings, a unit of the American credit ratings agency Fitch. There are 18.9 million such businesses, employing 129 million people.They are also important in India's efforts to grab some of the global manufacturing market share as global brands try to diversify their supply chains to reduce their dependence on China in the face of trade and political tensions between Washington and Beijing.
But they have been buffeted by a range of shocks in the past few years, including Prime Minister Narendra Modi's decision to remove high-value currency notes overnight, a new national tax and COVID-19, which wiped out thousands of businesses and millions of jobs.
Most MSMEs "don't have deep pockets" and their survival depends on being able to operate every day, said Sunil Sinha, principal economist at India Ratings. "Many of the MSMEs who closed down during COVID could never come back. There has been a significant employment loss and loss of those products," he added.
On the back of those losses some have struggled to keep up with changing industry dynamics, such as consumer preferences for higher performing or more trendy cycles in Kular's sector, for instance."MSMEs are a very integral and important part of the industrial value chain. Many large companies can't survive if these MSMEs do not exist," Sinha said. "But they also need to be on top of changing industrial trends and adjust their offerings accordingly if they want to survive."
'We will be finished'
Some like fabric and garment manufacturer Kudu Knit Process Pvt Ltd are trying to prepare for that change. When COVID-19 hit, it became one of India's earliest firms to start making personal protective equipment kits for the government. But it has been through the same shocks as the rest of the sector: Business is down 35 percent from pre-pandemic times while employee strength is down nearly 50 percent.Kudu, which makes textiles and sportswear for the domestic market, has also been getting squeezed by cheap imports from Bangladesh.
It is in the process of replacing part of its existing plant with high-end, more environmentally friendly technology at a cost of about 150 million rupees ($1.8m). Even though the company is yet to see a spike in business on the back of the US-China tensions, it's preparing for that day, said Vipin Mittal, who runs Kudu.
"We have to make these investments for the future," he said, adding that Kudu has started to receive inquiries from suppliers in the Middle East, Europe, Vietnam and the Philippines who are interested in setting up plants in India.Ashpreet Sahni, who makes parts for tractors and trailers at his Sehaj Solutions (Engg) Pvt Ltd predominantly for the export market, is also gearing up for that potential increase in demand. The first-generation entrepreneur, who started his business in 2014, has recently bought a 1.2-hectare (3-acre) plot of land to set up a new factory.
"The challenge is to assess whether you will get the business you're trying to invest for," he said.
Some of those concerns are based on government policies that are targeted to increase large-scale manufacturing, several entrepreneurs that Al Jazeera spoke with said.
The so-called production-linked incentive offers businesses in a range of sectors cash incentives that in some sectors can be as high as 7 percent of sales. Companies receive the incentives if they meet incremental production targets over a base year for a period of five years.
The scheme ends up giving a boost to large businesses, which, with their economies of scale, can keep costs down and squeeze suppliers.
"The scheme doesn't guarantee a share in profits with the small suppliers," said Sahni, dismissing the oft-touted idea that the success of large companies will lead to a more robust supply chain of smaller firms.
"If their costs get cheaper, we will be finished," Mittal said.
With those concerns in mind, representatives of the MSME sector are meeting Modi on September 17. Cycle rim maker Kular is one of them.
He has been given two minutes to speak, he said. "I don't know what I can really say in that, but I will have to try," he said.