US says Russia committed 'crimes against humanity' in Ukraine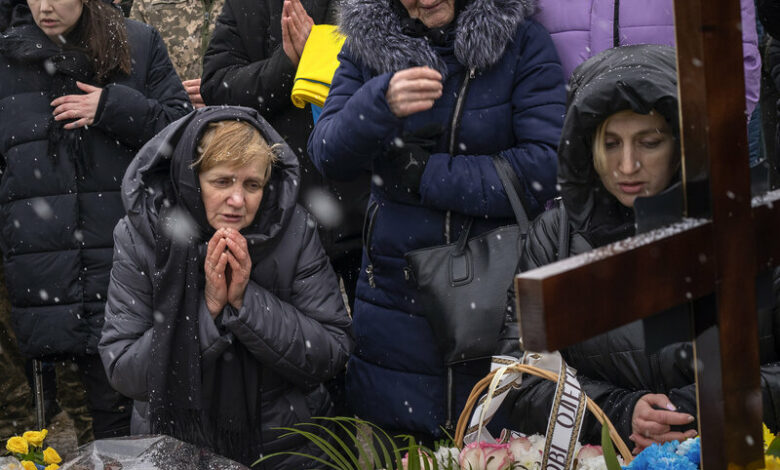 The United States has determined that Russia has committed "crimes against humanity" during its nearly year-long invasion of Ukraine, US Vice President Kamala Harris has said.
Speaking at the Munich Security Conference, days before the anniversary of Moscow launching its full-scale invasion of Ukraine, Harris said Russian forces had conducted "widespread and systemic" attacks on the country's civilian population.
"In the case of Russia's actions in Ukraine we have examined the evidence, we know the legal standards, and there is no doubt: these are crimes against humanity," said Harris, a former prosecutor.
"And I say to all those who have perpetrated these crimes, and to their superiors who are complicit in these crimes, you will be held to account."
The Biden administration formally determined last March that Russian troops had committed war crimes in Ukraine and said it would work with others to prosecute offenders.
A determination of crimes against humanity goes a step further, indicating that attacks against civilians are being carried out in a widespread and systematic manner.
Harris listed a litany of abuses that she said were carried out by Moscow's forces in Ukraine – "gruesome acts of murder, torture, rape and deportation, execution-style killings, beatings and electrocution".
In her remarks, Harris cited as "barbaric and inhumane" the dozens of victims found in Bucha shortly after Russia's invasion last February; the March 9 bombing of a Mariupol maternity hospital, that killed three people, including a child; and the sexual assault of a four-year-old by a Russian soldier that was identified by the UN in a report.
Organisations supported by the US Agency for International Development (USAID) have documented more than 30,000 war crime incidents since the invasion, according to the US government. Ukrainian officials said they were investigating the shelling of the city of Bakhmut this week as a possible war crime.
Russia, which has said it is conducting a "special military operation" in Ukraine to eliminate threats to its security and protect Russian-speakers, has denied intentionally targeting civilians or committing war crimes.
The official US determination, which came at the end of a legal analysis led by the Department of State, carried with it no immediate consequences for the continuing war.
But Washington hoped that it could help further isolate Russian President Vladimir Putin and galvanise legal efforts to hold members of his government accountable through international courts and sanctions.
The UN-backed Commission of Inquiry on Ukraine has not yet concluded that the war crimes it has said it has identified amount to crimes against humanity.
Harris's speech came as senior Western officials met in Munich to assess the conflict. The three-day conference is being attended by world leaders, including those from France and Germany, and China's top diplomat Wang Yi.
She said Russia was now a "weakened" country after Biden led a coalition to punish Putin for the invasion, but Moscow is only intensifying assaults in Ukraine's east.
Meanwhile, Ukraine is planning an offensive in the coming months, for which it is seeking more, heavier and longer-range weapons from its Western allies.
The nearly year-long war has killed tens of thousands, uprooted millions from their homes, pummelled the global economy and made Putin a pariah in the West.