US House Speaker McCarthy to meet Taiwan president this week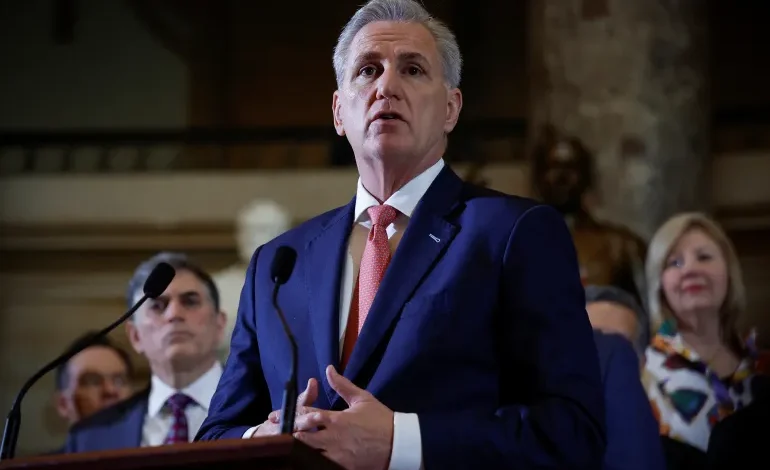 The office of United States House Speaker Kevin McCarthy has confirmed that the Republican leader will meet with Taiwan's President Tsai Ing-wen in California this week, a move anticipated to anger China, which has warned the US against hosting the Taiwanese leader.
McCarthy's office said on Monday that the speaker will host a "bipartisan meeting" on Wednesday with Tsai, who will be transiting through the US on her way back to Taiwan.The California visit will be the second of two stops for Tsai in the US, as she makes her way to and from Central America. Last week, on her way to visit diplomatic allies in Guatemala and Belize, Tsai had a stopover in New York, where she spoke at the Hudson Institute think tank.
"On Wednesday, April 5th, Speaker Kevin McCarthy will be hosting a bipartisan meeting with the President of Taiwan at the Ronald Reagan Presidential Library," McCarthy's office said on Monday. The library is 64km (40 miles) from downtown Los Angeles, California.
Beijing had objected to the meeting before it was confirmed, warning that it would take "resolute measures" to protect Chinese sovereignty.
"There is but one China in the world and Taiwan is an inalienable part of China. As the Chinese side has repeatedly stressed, we strongly oppose any form of official interaction and contact between the US side and Taiwan authorities," Chinese Foreign Ministry spokesperson Mao Ning said earlier on Monday.
Washington, which considers Beijing its top global competitor, had urged China against "overreacting" to Tsai's US plans, describing her stopover as "normal" transit."This transit is consistent with our long-standing unofficial relationship with Taiwan, and it is consistent with the United States' 'One China' policy, which remains unchanged," White House National Security Council spokesperson John Kirby said last week.
Under the "One China" policy, the US acknowledges the People's Republic of China (PRC) in Beijing over the Republic of China (ROC) in Taipei as the sole and legal government of China.
But Washington takes no position on Taiwan's sovereignty, contending that the island's future should be determined by peaceful means.
Beijing staged war games around Taiwan last August when then-US House Speaker Nancy Pelosi visited Taipei.Last week, the White House warned against making similar moves in the wake of Tsai's trip. "The People's Republic of China should not use this transit as a pretext to step up any activity around the Taiwan Strait," Kirby said.The US does not officially recognise Taiwan but has trade and security relations with the island.
"During transits through the US, the President engages with American friends, in line with past precedents," Taiwan's de facto embassy in Washington, DC, told the Reuters news agency on Monday.
In response to questions about McCarthy's meeting with Tsai, the White House has said it cannot speak for the top Republican lawmaker or his agenda. Although McCarthy does not represent the administration of US President Joe Biden, the meeting is likely to further inflame tensions between Washington and Beijing.
Ties between the two countries have soured over numerous issues in recent years, including trade, the status of Taiwan, China's claims in the South China Sea and an ongoing US push against growing Chinese influence in the Indo-Pacific.
The two countries' ties were further strained earlier this year when the US shot down what it said was a Chinese spy balloon that traversed its territory.
China insisted the aircraft was a weather balloon that strayed off its course and condemned the decision to bring it down.