Ukraine war: Burger King still open in Russia despite pledge to exit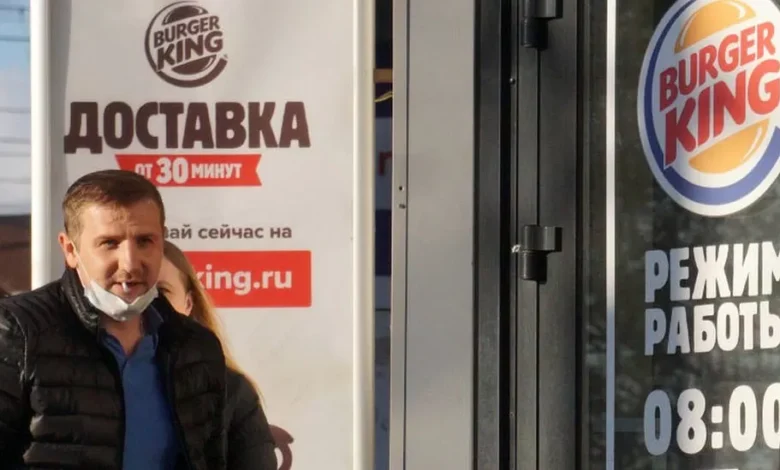 Burger King remains open as usual in Russia despite the brand's owner pledging to leave more than a year ago.
Restaurant Brands International (RBI), which owns 15% of the fast-food's franchise business in Russia, said that it had "no new updates to share at this time" on its exit.
The firm said in March 2022 that it had started the process to leave Russia.
Since the outbreak of the war in Ukraine, Western companies have been under pressure to leave Russia.
Critics accused RBI of "sustaining Putin's regime" by failing to ditch its stake in its Russian business.
RBI, one of the world's largest fast-food restaurant companies, has cited its complicated franchise agreement for its difficulty in trying to exit the country.
The deal is a joint venture with three other partners for some 800 restaurants.
David Shear, RBI's president, said in March 2022 that Burger King's main operator in Russia had "refused" to shut the outlets following the first attacks on Ukraine.
But he added that the company had "started the process" to dispose if its 15% ownership stake and that it would take "some time".
Asked about the progress made 18 months on from the pledge, a spokesperson for the Canadian-American company said the firm had no updates.
Steven Tian, part of a team of researchers at Yale University who track what companies have done in response to the Ukraine war, argued using franchise agreements as an "excuse" was a "convenient smokescreen". He pointed out that the likes of Starbucks had managed to terminate its deal in the country and exit.
"Saying they [RBI] want to leave but then dragging their feet is not the same as actually exiting Russia, and by continuing to do business in Russia 18 months into Putin's invasion of Ukraine, they are sustaining Putin's regime," he said.
The spokesperson for RBI said the company was refusing new investment and supply chain support, and had not made any profits from Burger King in Russia since early 2022.
Mark Dixon, founder of the Moral Rating Agency, which campaigns against firms doing business in Russia, called for RBI to disclose what specific actions it had taken in its attempts to leave.
"[The firm] should be willing to break its agreement… It needs to accept the legal risk of doing the right thing."
Franchising is a business method of distributing products or services. It involves a franchisor, a company that has established the brand's name, and a franchisee, a company that pays a fee for the right to do business under the brand and to sell its products.
It has been a tool used by many Western brands in recent decades looking to enter new markets in different countries. The agreements typically span many years.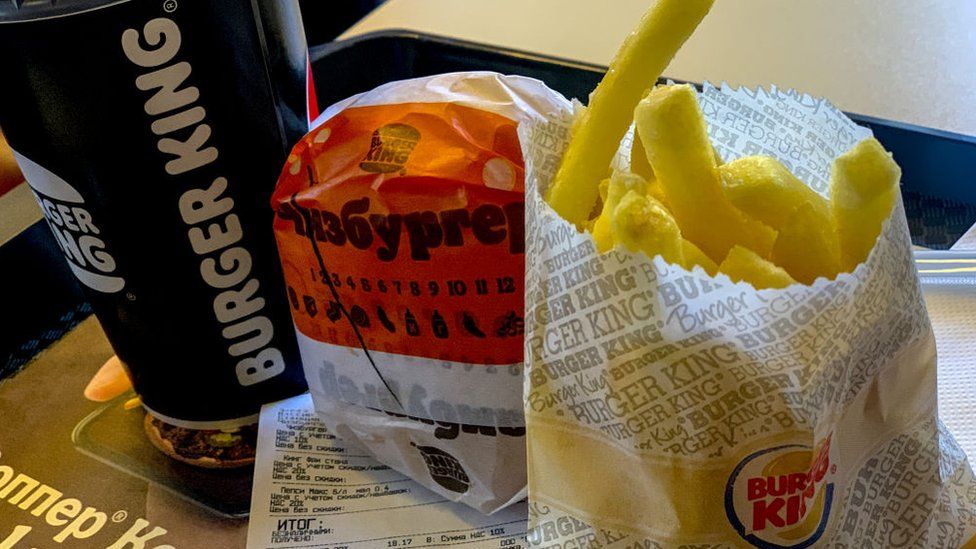 While Burger King remains open for business in Russia, its biggest rival McDonald's, which corporately owned most of its restaurants, has managed to leave the country.
KFC's parent company Yum! Brands has also sold more than 100 restaurants to a local operator in Russia, which were rebranded as Rostic's in April.
David Bond, partner at law firm Fieldfisher, said RBI's 15% stake meant it could not simply "dictate terms" to its fellow shareholders to require them to close Burger King branches.
He also suggested companies that franchise out their brands would be reluctant to simply walk away from deals as it could lead to "dire consequences", including being sued for breach of contract, as well as reputational damage.
But he said consequences aside, there was nothing stopping RBI from terminating the franchise arrangement if it was adamant it wanted to do so, though added it might not result in the Burger King brand ceasing to exist in Russia.
He said the majority of "de-brands" in the country, such as McDonald's, had been achieved through agreed sales with local businesspeople "willing to de-brand in return for the discounted purchase price".
Who runs Burger King in Russia?
The joint venture that holds the Burger King franchise in Russia is made up of RBI and three other parties:
Businessman Alexander Kobolov is responsible for day-to-day operations and oversight of the 800 restaurants with a 30% stake in the business. Mr Kolobov previously said that he does not have the "authority or power" to stop Burger King operations in Russia and that any closure must be approved by all investors in the business. He said his share "has always been far below control".
ICU Group, a large Ukrainian investment firm, owns a 35% stake. ICU Group said that it has no control over the joint venture or operations in Russia and other countries covered by the franchise deal. It said the firm was "at the final stage of exiting" the franchise agreement with terms agreed with a buyer. The company added it had abstained from managing the joint venture, investing in it and had not received any dividends since the war began.
VTB Capital, an affiliate of VTB Bank – Russia's second largest financial institution which has been sanctioned by the US, UK and other European countries.