Typhoon Mawar slams Guam with heavy wind and rain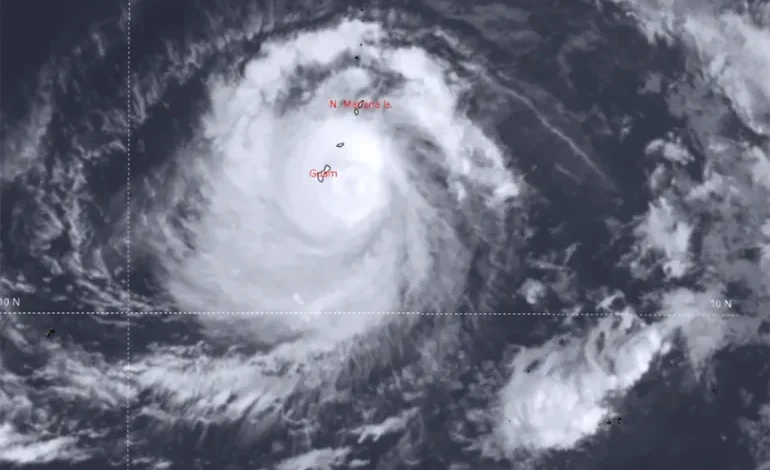 Typhoon Mawar, a Category 4 storm, has reached the United States territory of Guam, pummelling the island with fierce wind and rain and knocking out power as residents try to ride out the storm in homes and shelters.
The National Weather Service (NWS) stated that the storm hit the northern tip of Guam on Wednesday evening, with maximum wind speeds of up to 225kph (140mph). The weather service said that conditions are expected to intensify through Thursday."The center of Typhoon Mawar is passing just north of Guam today with destructive winds, life-threatening storm surge, and torrential rain which may result in landslides and flash flooding," the NWS states on its website. "A Typhoon Warning remains in effect for Guam and Rota. A Flash Flood Warning is in effect for Guam."
To address destruction on the island and aid in recovery efforts, an official for the US Navy told The Associated Press on Wednesday that it would deploy several ships to Guam. They include an aircraft carrier, the USS Nimitz, as well as the missile cruiser USS Bunker Hill and the destroyer USS Wayne E Meyer.
The ships are expected to leave from Japan and arrive in Guam within four days.Typhoon Mawar is the strongest storm to strike the island in decades, and in a recent interview, Governor Lou Leon Guerrero compared the storm to a 1962 typhoon that devastated the island.
Videos on social media have documented hazardous conditions brought about by the storm, including fallen trees, a flooded airport and cars flipped by heavy winds. The NWS has warned that the storm could result in flooding, landslides and a storm surge, but no deaths or injuries have been reported thus far."This is going to be kind of a long night," Brandon Aydlett, a science and operations officer for the weather service, said in a live video. "It's going to be scary because there's no electricity unless you have a generator."
The Associated Press reported that many communities in the territory have lost power and some have lost water services.
In a Twitter post, the National Weather Service bureau in Guam urged residents to "treat these imminent extreme winds as if a tornado was approaching and move immediately to an interior room or shelter NOW!"