Turkey's opposition opens up to the hijab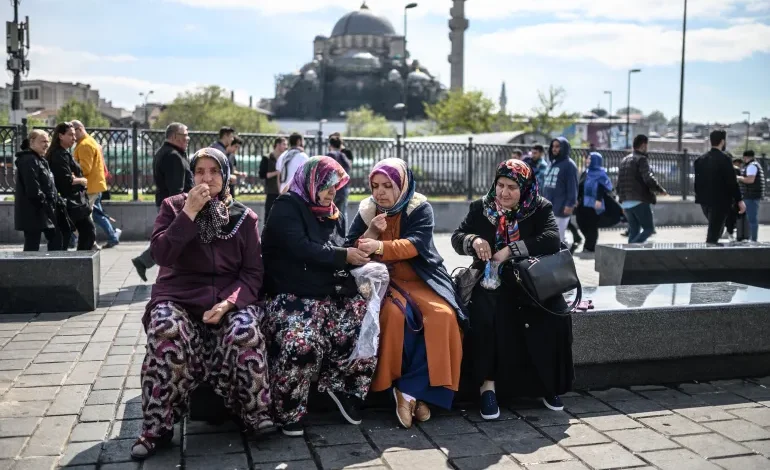 For Turkish women wearing the hijab, or Muslim headscarf, life in the public sphere was once impossible.
Beginning in the 1980s, after decades of state-sanctioned efforts to discourage women from wearing hijabs, a ban on wearing them in state institutions was implemented, affecting university staff, students, lawyers, politicians and others in the public sector. In 1997, after a military coup toppled an Islamist-led government, the ban was fully enforced, a longstanding prohibition that was only removed in 2013 by the governing Justice and Development Party (AK Party), led by President Recep Tayyip Erdogan, who was then prime minister.In a sign of just how much Turkey has changed, Erdogan and the AK Party's main rival in Sunday's presidential and parliamentary elections, the Republican People's Party (CHP), has cast aside its staunchly secular stance and reversed its longstanding opposition to the hijab in recent years, and assured women that their right to wear a headscarf would be protected.Women wearing the hijab can now be seen at CHP rallies, on its election posters, and even among its politicians.
It is part of the party's effort to present itself as more palatable to the large segments of society that are conservative and religious, as the CHP attempts to broaden its coalition.
"The CHP has gone softer on religious freedom. They wouldn't dare to back such a ban today. People are more educated and aware of their rights," Esin, a beauty salon worker who wears the hijab told Al Jazeera while taking a stroll with her friend in Istanbul's Karakoy district.
The 41-year-old was among those who decided to leave university and study from home instead, as a result of the ban. She says it is why she voted for the AK Party, and eventually worked for the ruling party for eight years.
Ironically, she is now deciding whether she will simply not vote on Sunday, or whether she will vote for the CHP to get the AK Party out.
Standing by her, Sevgi, a 50-year-old retired social services officer, who also wears a headscarf, said that she was not afraid of a CHP win, and was planning on voting for the party.
"I don't think the CHP will go back to its 'old way'. They will respect women's right to wear the veil," Sevgi told Al Jazeera.The same CHP?
Not everyone is as convinced by the CHP's change of tone.
Fatma, an academic who was forced to study at a private university because of the hijab ban, eventually left for the United States, having felt frozen out of Turkish academia because of her choice to wear the headscarf.
"This is not a hundred years-old issue. It is as young as me, my friends, and our mums and aunts," she told Al Jazeera. "I do not think removing the ban suddenly erased the biases and attitudes of people towards each other."Many conservative Turks give Erdogan credit for freeing religious restrictions. He and his party have been able to maintain their voter base of more religious voters who have long felt alienated by the country's former secular elites.
"The AK Party fixed the issue of freedom of religious dress. I don't feel I will have the same freedom if the CHP gets elected," Aisha, a 23-year-old student wearing a headscarf, told Al Jazeera while walking with three female friends in Istanbul's city centre. "The CHP is now saying it will respect the rights of veiled women just to get more votes."
Aisha's friend Meryem, 20, nodded, voicing similar concerns. "I'm afraid that they [the opposition] may bring in some limitations to our freedom of religious clothing, maybe not all at once but gradually," the 20-year-old warned. "I don't think the CHP has become religiously tolerant. It's only trying to attract support from conservative women."
But another woman, Evin, who does not wear a headscarf, disagreed, saying that "times have changed" since the 1990s.
"The government is trying to present the hijab as an issue for debate but it's not, and it shouldn't be a main subject," Evin said.
A long-term change?
Six years ago, female officers in the police and army – the final bastions of the ban – were permitted to wear the hijab.
In the face of this shift, with the AK Party in power for more than two decades and establishing a strong presence in state institutions, the CHP has changed its position of defending the anti-headscarf policy over the years. Instead, party head and presidential candidate Kemal Kilicdaroglu has sought to gain the trust of hijab-wearing women.
Earlier in October, the CHP leader announced that he would submit a draft law to protect the freedom to wear a headscarf in public institutions in a bid to appeal to conservative Turks, among whom the secularist party has traditionally had little support. In response, Erdogan's AK Party proposed a referendum on constitutional amendments to provide guarantees for women wearing the hijab in civil institutions.
Kilicdaroglu and the CHP have also sought to appeal to religious conservatives by including the Saadet Party, a political Islamist party that has shared origins with the AK Party, in its coalition, as well as the Gelecek Party, founded by Erdogan's former close ally, ex-Prime Minister Ahmet Davutoglu.
According to Berk Esen, a political scientist whose research interests include Turkish politics and democratic backsliding, the CHP's switch is to be partly attributed to the structural change in the country's politics since the AK Party's rise to power, but also to the CHP's approach to secularism that has turned more "moderate" on a number of conservative talking points.