Three shot as Israeli forces raid Ramallah in occupied West Bank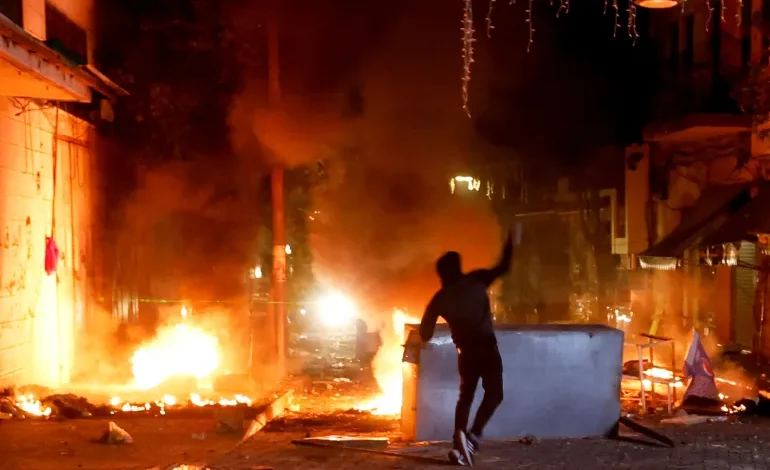 At least six people have been hospitalised, three with gunshot wounds, after Israeli forces opened fire on stone-throwing Palestinian youth during a raid by Israel into the Palestinian city of Ramallah in the occupied West Bank.
A witness told the Reuters news agency that a large Israeli military convoy arrived in downtown Ramallah early on Thursday, the seat of the Palestinian government, leading hundreds of Palestinians to gather in the area.Israeli forces, said to be on an operation to demolish a home in Ramallah, fired live bullets, stun grenades and tear gas at the crowd of Palestinian youths who hurled stones, the witness said, while video clips uploaded to social media purported to show molotov cocktails thrown at Israeli troops.
The Palestinian health ministry said at least six people were transferred to hospital for treatment, including three who sustained gunshot wounds.Reports on social media claimed that a Palestinian journalist was also shot by Israeli forces in Ramallah with some online commentators referencing the killing by Israeli forces of Al Jazeera journalist Shireen Abu Akleh in 2022 while covering an Israeli raid on the occupied West Bank city of Jenin.
Israeli officials initially accused Palestinian fighters of fatally shooting the veteran reporter and it was not until months after Abu Akleh's killing that Israel acknowledged that one of its soldiers was likely responsible. Israel dismissed the killing of Abu Akleh by one of its soldiers as unintentional and has not opened a criminal investigation. Abu Akleh's family have submitted an official complaint to the International Criminal Court (ICC) to demand justice for her death.Israel said its forces were operating in Ramallah on Thursday "to demolish the residence" of a suspect in a bomb attack in Jerusalem last year, Reuters reported.
Two people, including an Israeli-Canadian teenager, were killed and at least 14 wounded in what Israeli police said were explosions of improvised bombs that were planted at bus stops near the city exit and in a junction leading to a settlement.
"The demolition of the homes of fighters is a collective punishment that falls under the war crimes committed by the occupation against our people," said Abdel Fattah Dola of Palestinian President Mahmoud Abbas's Fatah party.
The Palestinian news agency WAFA said that a force of around 100 Israeli military vehicles were involved in the over-night operation during which six people were injured – including Palestinian photojournalist Moumen Sumrein – and the home of a Palestinian prisoner, Islam Froukh, was demolished. According to the news agency, Sumrein was shot in the head by a rubber bullet and is being treated in hospital.
"At around 5:30 am [03:30 GMT], the army completed the demolition of the Froukh home, destroying it from the inside due to its location on the first floor of a four-story building displacing his parents and four sisters who lived in the apartment," WAFA reported.Froukh was arrested in December over his alleged involvement in the bombing in Jerusalem, WAFA added.
The Palestinian health ministry said at least 158 Palestinians have been killed by Israeli forces since January.
Israel's foreign ministry said 20 Israelis and two foreign nationals have been killed in Palestinian attacks during the same period.