Sewage entered rivers and seas on average 825 times a day last year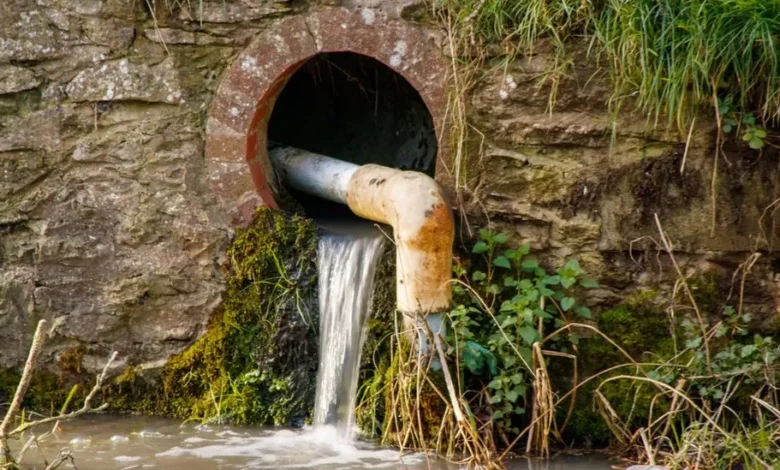 Water companies released raw sewage into rivers and seas in England for more than 1.75 million hours last year.
There were an average of 825 sewage spills into waterways per day, the data shows – down 19% on the previous year.
But the Environment Agency put the fall largely down to drier weather, not water company action.
Although not illegal, academics and environmental groups say releasing sewage poses a danger to human health.
Companies release sewage when there is too much demand on their treatment works during rainy periods.
Contained within the untreated effluent is human waste, wet wipes and sanitary products, which pose a serious risk to the local wildlife, swimmers and others who use UK waterways.
"This degrades precious ecosystems and poses a danger to public health," said Prof Jamie Woodward, geography professor at the University of Manchester.
"Each discharge is a toxic cocktail of many pollutants, including microplastics and pathogens."
The latest data, revealed by the Environment Agency on Friday, was taken from monitoring stations installed at combined sewer overflows or CSOs. CSOs were developed as overflow valves to reduce the risk of sewage backing up during heavy rainfall when sewer pipes become overloaded, leading to flooding.
The valves release a mixture of raw sewage from homes and businesses, and rainwater run-off.
'Colossal amount of work'
Whilst the data shows a 34% reduction in the duration of spills since 2021, John Leyland, environment agency executive director said last year's decrease was "largely down to dry weather, not water company action".
"We want to see quicker progress from water companies on reducing spills and acting on monitoring data," he added.
According to the data, the company that released sewage most often in 2022 was United Utilities, which covers the North West of England. It spilled sewage for nearly half a million hours.
Water UK, which represents the water industry, said that this is the fourth year spill figures have come down and "companies are committed to building on this positive news".
Water Minister Rebecca Pow agreed that the level of discharges is "unacceptable" and said she wanted water companies to be held accountable.
The government has vowed to crack down on sewage spills by requiring water firms to invest £56bn over 25 years on improving their infrastructure, and to fit all storm overflows in the network with event duration monitoring (EDM) monitors by the end of this year.
But the Liberal Democrats have called on Secretary of State for the Environment Thérèse Coffey to resign over the figures.
And the Green Party agreed that water companies should be held to task more on the issue.
Green Party co-leader Adrian Ramsay said: "The situation we currently have across the country where water companies can, almost with impunity, dump sewage into our rivers, waterways and coastal waters cannot go on."
The Environment Agency and water regulator Ofwat is currently investigating six water companies for potential breach of the law over their discharges.
Jim McMahon, Labour shadow secretary for environment, called for an end to systematic discharges by 2030 and said the figures show a lack of respect from the government for the places people live.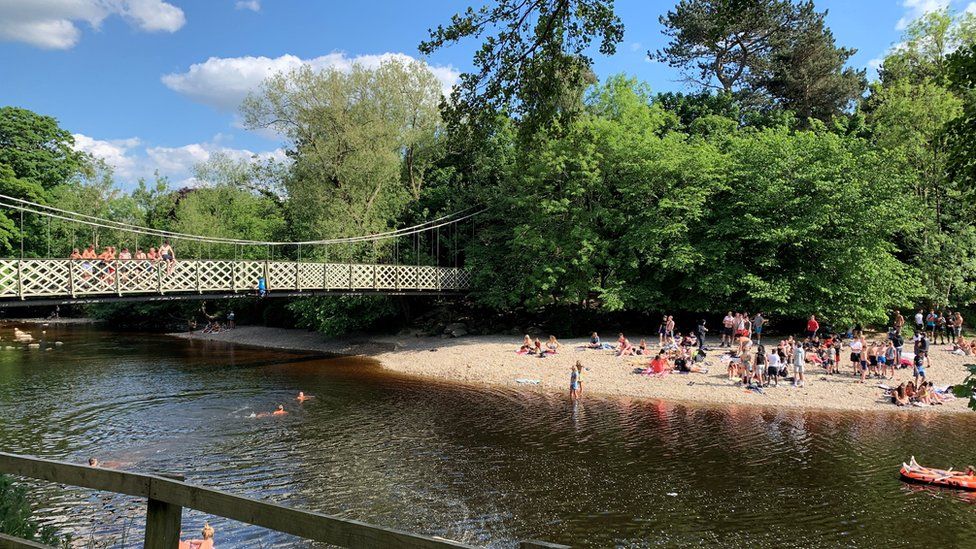 In the town of Ilkley, in West Yorkshire, local campaigners lobbied to have a stretch of their river designated as bathing water, meaning the Environment Agency has to test and monitor the quality of the water.
But those tests have shown the bathing water quality to be poor, meaning that the Environment Agency deems it "worse than sufficient" in terms of levels of pollution.
Ilkley Clean River campaigner Di Loury said that when members of the public visit Ilkley, "because it's designated as bathing water, they think the water is clean".
"But testing is one thing, cleaning up the river is another. We really should be putting the quality of the river before the profits of water companies."
Many campaigners want to know how water companies can justify profits, while they continue to pollute UK waterways.
Nicola Shaw, who took on the role of chief executive of Yorkshire Water 10 months ago, told BBC News that her company had not paid dividends to shareholders for five years: "And I actually think that's a worry," she said.
"We need shareholders to want to put money in to support the investment that needs to happen," she added.