Saudi Aramco signs MoU with Samsung on localizing 5G tech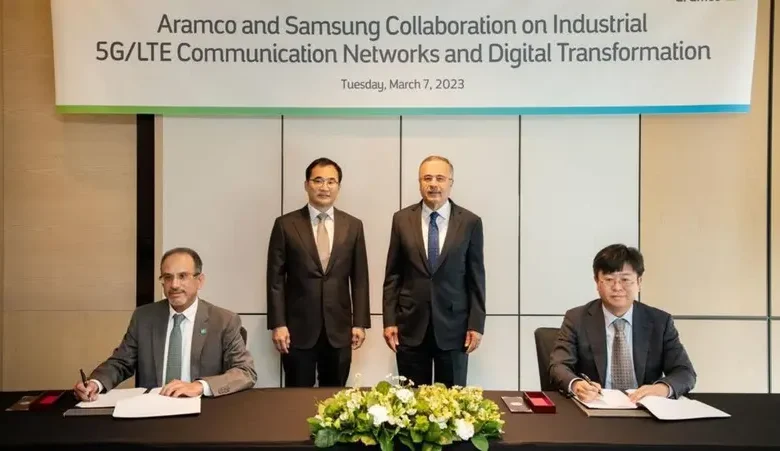 Saudi energy giant Aramco signed an agreement with Korean tech behemoth Samsung to localize 5G technology in the Kingdom.
The state-run Saudi Press Agency (SPA) reported on Thursday the signing of a non-binding Memorandum of Understanding between the two parties.
"The proposed collaboration aims to contribute to the digital transformation of various industrial sectors in the Kingdom, such as energy, petrochemical, and manufacturing, by leveraging advanced 4G and 5G technologies capable of providing secure, fast and reliable communication, to satisfy critical business requirements of industries," the report said.
The agreement comes after the recent launch of Aramco Digital Company. The entity was established at the seventh edition of the In-Kingdom Total Value Add (iktva) Forum and Exhibition in January.
The entity, which aims to accelerate the digital transformation in Saudi Arabia and the wider MENA region, has already signed various agreements with Zoom, Taulia Inc., DHL, Accenture and more.
In February Saudi Minister of Communication and Information Technology Abdullah Alswaha said that Saudi Arabia has attracted more than $9 billion in investments in future technologies, including by US giants Microsoft and Oracle Corp, which are building cloud regions in the Kingdom.
Microsoft will reportedly invest $2.1 billion in a global super-scaler cloud, while Oracle has committed $1.5 billion to build a new cloud region in Riyadh.
Tonomus, a subsidiary of the $500 billion signature NEOM project, said it invested $1 billion in 2022 in AI, including a metaverse platform.
These tech developments tie in with the Kingdom's Vision 2030 plan that includes provisions to develop digital infrastructure with the aim of improving quality of life and attracting investment.