Police in France fire tear gas as French march against pension reform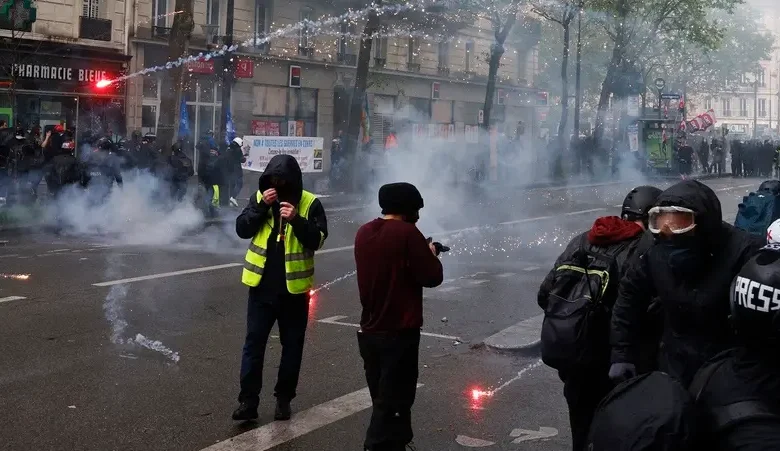 Workers marched across France in anger at President Emmanuel Macron's increase in the retirement age on Monday, with police firing tear gas in Paris and the western city of Nantes, as protesters joined Labor Day rallies across Europe.
Macron's popularity has plunged to near record lows hit during the "Yellow Vest" crisis after he stared down trade unions and multi-sector strikes and lifted the retirement age by two years to 64.
The move crystallized discontent against a president perceived by many as indifferent to their daily hardships and Macron has been met by boos, pot banging and heckles as he confronts citizens on walkabouts.
Sophie Binet, leader of the hardleft CGT union, said the pension reform had left Macron isolated.
"The executive cannot govern without the support of its people," Binet said ahead of the Paris protest, adding her union had not yet decided on talks with the government on other work-related matters in the weeks ahead.
Laurent Berger, head of the reform-minded CFDT trade union, said Macron's government had been deaf to the demands of one of the most powerful social movements in decades.
He said his union was open to discussions with the government and dismissed suggestions that a rare alliance between the leading trade unions was being tested now that the pension bill had been signed into law.
"We must bring other proposals over salaries and working conditions to the table," he told BFM TV.
Challenging outlook
In Paris, Extinction Rebellion activists threw paint over the glass-fronted facade of the Louis Vuitton Foundation and paving stones outside the Ritz Hotel.
Elsewhere in Europe, union-led protests are planned throughout Germany. In Italy, the three main unions held a rally in the southern city of Potenza protesting against a labor package approved by Prime Minister Giorgia Meloni's rightist government.
In northern Turin, anti-government protesters marched with a puppet of Meloni holding up her arm in a fascist salute, while a unions-organized open air concert, an Italian Labor Day tradition, was due to be held later in Rome.
In Switzerland, a parade through Zurich took place without major incident, Zurich police said. Demonstrators threw water balloons at the emergency services, the windows of at least two banks were smashed and some properties were spray-painted.
Macron says the French reform is needed to keep one of the industrialized world's most generous pension systems in the black.
French pension payments as a share of pre-retirement earnings are comfortably higher than elsewhere and a French man typically spends longer in retirement than those in other OECD nations.
Trade unions say the money can be found elsewhere.
Retired metalworker Michel Maingy said he felt the battle over pensions was lost. Even so, there were still fights to be won in negotiations over working conditions, he said.
"Little by little, we'll get back on track. We need to keep our chins up," he said ahead of the protest in Nantes.
Macron's government, which lacks a working majority in parliament, rammed the pension legislation through without a final vote due to a lack of cross-party support.
A hardening of the political opposition risks complicating the rest of his reform agenda, including an employment bill that would require those receiving the minimum welfare benefit to work or get training for 15-20 hours per week.
Fitch cut France's sovereign credit rating on Friday by one notch to 'AA-', saying a potential political deadlock and social unrest posed risks to Macron's agenda.