Philippines's Maria Ressa acquitted of tax evasion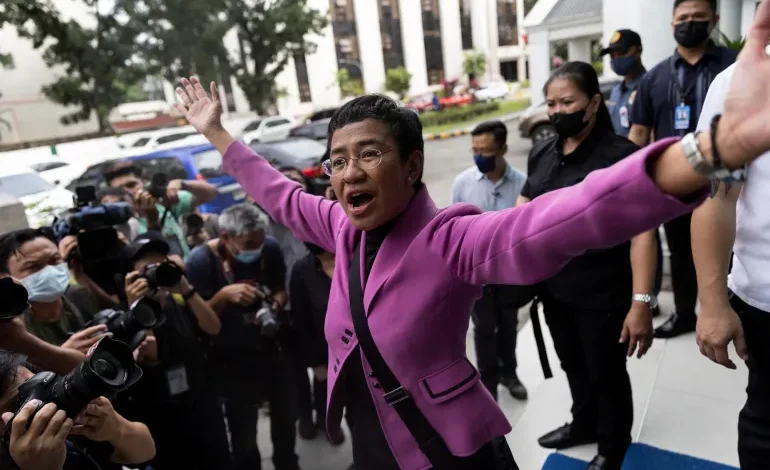 Philippine Nobel laureate Maria Ressa and her online news outlet Rappler have been acquitted of tax evasion.
The ruling by an appellate court on Wednesday handed Ressa a victory in a case she has described as part of a pattern of harassment by the government of former President Rodrigo Duterte to muzzle critical reporting.
If convicted of the four tax evasion charges, she would have faced 34 years in jail.
"Today, facts win. Truth wins. Justice wins," an emotional Ressa said after Wednesday's ruling.
"These charges as you know were politically motivated, they were a brazen abuse of power and meant to stop journalists from doing their jobs," she told reporters.
"These cases are where capital markets, where rule of law, where press freedom meet. So this acquittal is not just for Rappler. It is for every Filipino who has ever been unjustly accused."
Ressa, 53, who won the Nobel Peace Prize along with Russian journalist Dmitry Muratov in 2021, is the head of Rappler, which earned a reputation for its in-depth reporting and tough scrutiny of Duterte's "war on drugs". Official data shows that more than 6,200 people died in police anti-narcotics operations, but rights groups estimate that tens of thousands were killed.
The drug killings sparked an investigation by the International Criminal Court as a possible crime against humanity.
Since then, Ressa and Rappler have endured what press freedom advocates say was a grinding series of criminal charges, probes and online attacks.
The tax evasion case stemmed from the state revenue agency's accusations that Rappler had omitted from its tax returns the proceeds of a 2015 sale of depositary receipts to foreign investors. This later became the securities regulator's basis to revoke the news outlet's licence.
Rappler remains operational and is fighting the Securities and Exchange Commission's order to close it.
Ressa, 59, still faces three other criminal cases, including a cyber-libel conviction, currently on appeal, for which she could face nearly seven years in prison.
Amnesty International welcomed Wednesday's ruling and urged the authorities to drop the remaining cases.
The rights group said Philippine President Ferdinand Marcos Jr should also review the laws under which she had been charged under his predecessor.
"The cyber libel provision of the Cybercrime Prevention Act continues to be misued and abused by the authorities to intimidate journalists and harass human rights defenders speaking truth to power," Butch Olano, Amnesty International Philippines Section Director, said in a statement. "This practice threatens the right of freedom of expression and the press, and further drives impunity in the government."
Marcos Jr said in September he would not interfere in Ressa's cases, citing the separation of powers between the executive and judicial branches of government.
Ressa, speaking to Al Jazeera, following her win said it was not clear what might happen in the remaining cases against her.
But Wednesday's ruling was "a ray of hope", she said. "It's our first, the first time we've won something in our justice system since this political harassment began." Ressa said she was expecting a win "because there was no evidence presented in this case" but had been preparing for a conviction because "that's what's been happening in the last six years."
"This is the first time justice wins," she said, adding that the ruling gave hope not just to her and Rappler, but others imprisoned in the Philippines on what she described as politically motivated charges.
These include former Philippine Senator Leila de Lima, who has been in jail for six years without trial after she launched a parliamentary investigation into Duterte's abuses, as well as journalist Frenchie Mae Cumpio, who was detained nearly three years ago on illegal firearms possession charges in the city of Tacloban. As the executive director of the Eastern Vista news website, the 23-year-old journalist frequently covered alleged abuses by the police and the military.
The Philippines is one of Asia's most dangerous places for journalists.
It ranked 147th out of 180 countries in the 2022 World Press Freedom Index.