Olivier Awards: Sir Derek Jacobi warns of 'elitist' theatre ticket prices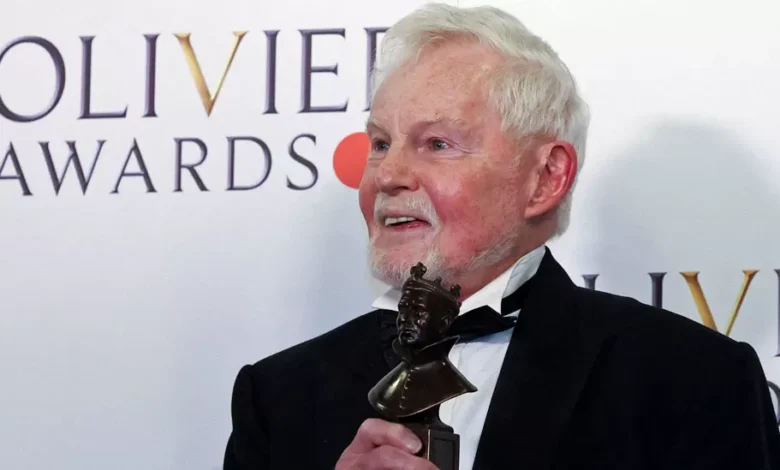 Sir Derek Jacobi has said he's "shocked" by high West End ticket prices, which risk making theatre an "elitist" pursuit.
The acting great, 84, received the lifetime achievement award at the Olivier Awards in London on Sunday.
He was quoted by the Guardian as saying "it was much easier" to see plays cheaply when he first started out.
There's an ongoing debate about whether some fans are priced out of the theatre during the cost of living crisis.
Sir Derek started his career in Birmingham before being chosen by Sir Laurence Olivier to join the National Theatre when it opened in 1962.
Accepting one of the awards named after Olivier on Sunday, the Last Tango in Halifax star said his career had been "the most wonderful, wonderful journey from those far off days at the Birmingham Rep".
Sir Derek told the Guardian the rise in prices was one of the biggest changes he had seen over the years.
"I'm not on the production side, the business side, so perhaps I'm talking through my hat, but when they say it's £150 for a seat in the stalls, I understand that – and it shocks me," he said.
He added: "I'm not an economist – I don't know the basics of how a theatre survives without money but it certainly can't survive without bums on seats either." If the cost is "prohibitive to bums on seats" then theatre industry is up a certain "creek without a paddle", he said.
Sir Derek said he was conscious, "particularly in these straitened times, of [theatregoers] thinking more than twice about using your hard-earned money to go and enjoy yourself".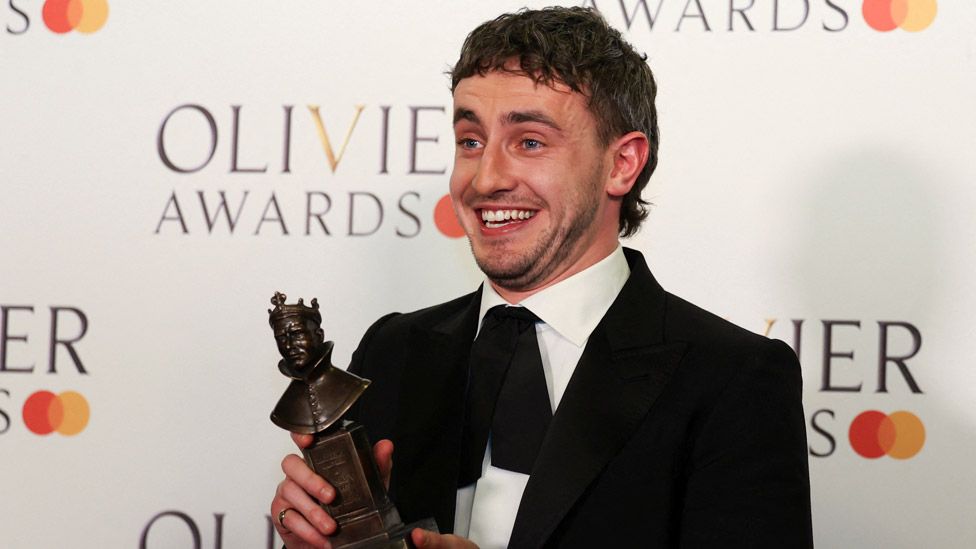 The other Olivier winners included A Streetcar Named Desire, starring Paul Mescal, which has a top price of £300.
Mescal's co-star Patsy Ferran recently told The Times: "I think theatre should be accessible. And if tickets get to a certain price that only a very, very small number of people can have access to, it gets to be problematic."
She added: "The last couple of years theatre prices have reached a point that is shocking to me, but maybe I should just get used to it."
The show is running a lottery for a "limited number" of £25 tickets, while fans can also take their chances on a cheap front row seat in a game conducted at the theatre every day.
Theatre blogger Carl Woodward, who recently wrote that unchecked prices were "pricing people out of theatregoing", recounted how £10 tickets are available for Streetcar "if you queue up 2.5 hours before performances for a glow stick (yes, really)".
He explained: "Out of the 30, five glow sticks glow green when snapped. The lucky five can head to the box office and buy a pair of front row £10 tickets. Send in the clowns. Ah, don't bother. They're here."
There was consternation last year when the top price for Cock reached £400. They were then reportedly reduced after an outcry.
In 2022, The Stage newspaper reported that the average price for a top-tier West End ticket was more than £140 – having risen by 21% since before the pandemic.
The overall average ticket price was relatively stable at £48.11 last year, according to the Society of London Theatre.
Producers have defended premium prices, saying they subsidise the cheapest seats.
According to The Stage, Nick Allott, non-executive vice chairman of Cameron Mackintosh Ltd, recently told a conference: "To be able to charge £10 or whatever [for lottery tickets] would not have been affordable with top prices frozen as they were."