Northern Irish police suspect New IRA behind detective shooting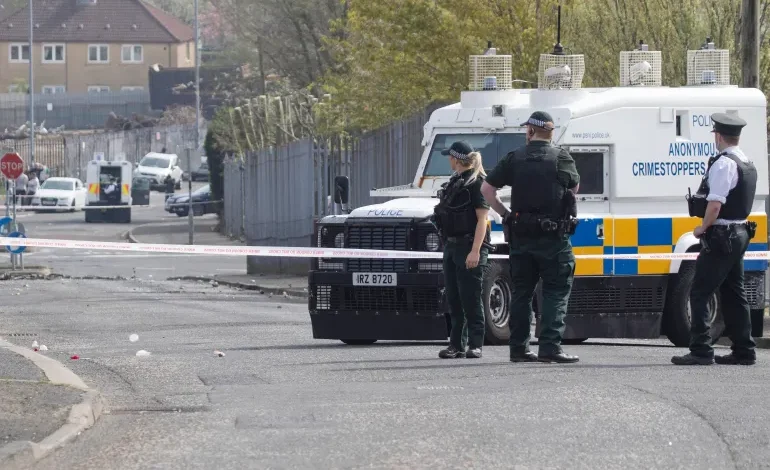 A senior Northern Irish police officer is in a critical but stable condition in hospital after being shot by two masked men while he coached children's football, authorities said.
A dissident Irish Republican Army splinter group is suspected of shooting Detective Chief Inspector John Caldwell on Wednesday night at a sports complex in Omagh, about 100km (60 miles) west of Belfast.
Caldwell, a well-known officer who has led investigations into murders, organised crime and dissident paramilitary groups, was attacked by two gunmen as he put footballs into the boot of his car, accompanied by his young son.
"The investigation is at an early stage, we are keeping an open mind. There are multiple strands to that investigation," Assistant Chief Constable Mark McEwan told BBC Radio Ulster.
"The primary focus is on violent dissident republicans and within that, there is a primary focus as well on New IRA."
The gunmen continued to fire while Caldwell was on the ground, McEwan said.
They also fired on at least two other vehicles in a crowded car park, where parents and children ran to safety, he added.
The suspects' car was later found burned out just outside Omagh.
Northern Ireland police chief Simon Byrne said that three men aged 38, 45, and 47 had been arrested in connection with Caldwell's attempted murder, but offered no further information.
The New IRA, a small armed nationalist group opposed to the 1998 Good Friday peace deal, has targeted police previously and was responsible for the killing of journalist Lyra McKee in 2019.
The last time a police officer was shot in Northern Ireland was in 2017.
The United Kingdom last year lowered its Northern Ireland-related terrorism threat level for the first time in more than a decade.
The threat from domestic groups was lowered to "substantial" from "severe", according to an independent assessment by the MI5 domestic spy service. Police said at the time that operations against armed nationalists were making attacks less likely.
Politicians condemn attack
Politicians from across Ireland's political divide, and the leaders of the UK and Ireland, condemned Wednesday's attack.
Sinn Fein's Michelle O'Neill, Northern Ireland's first minister designate and the deputy leader of the pro-Ireland party, called the attack "outrageous and shameful".
"My immediate thoughts are with the officer and his family. I unreservedly condemn this reprehensible attempt to murder a police officer," she said.
"We condemn outright the cowards responsible for this. These terrorists have nothing to offer and they must be brought to justice. We stand with the PSNI," pro-UK Democratic Unionist Party (DUP) leader Jeffrey Donaldson said.
More than 3,000 people were killed during three decades of violence in Northern Ireland involving Irish republican and British loyalist paramilitaries and UK security forces.
The 1998 Good Friday peace accord largely ended the conflict, known as "the Troubles".
Major Catholic and Protestant paramilitary groups gave up violence and disarmed, but small IRA splinter groups continue to mount sporadic attacks.
Omagh is the site of Northern Ireland's deadliest attack, an August 1998 car bombing that killed 29 people. A dissident republican group called the Real IRA claimed responsibility for that attack.
Meanwhile, political tensions are currently running high in the province, with unionists loyal to the UK collapsing its power-sharing government in protest at post-Brexit trading rules, which they say are distancing Northern Ireland from the rest of the UK.