North Korea criticizes US, South Korea military drills as 'nuclear blackmail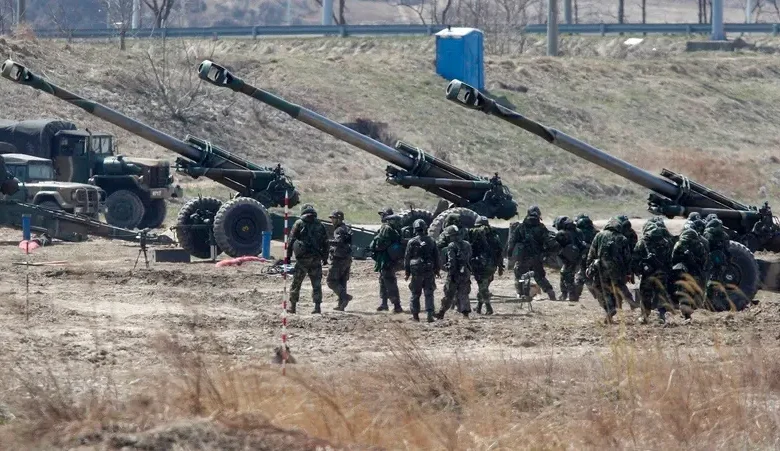 North Korea accused the US and South Korea of ramping up "nuclear blackmail" with joint military drills, pledging to take corresponding action against what it called "warmongers' madness," state media KCNA said on Friday.
US and South Korean forces have been staging an intensified series of annual springtime exercises since March, including air and sea drills involving a US aircraft carrier and heavy bombers.
North Korea has reacted angrily to the exercises, calling them a rehearsal for invasion.
"Their plot to crush us militarily is another clear indication that the enemy warmongers' madness has reached a point where it cannot be overlooked," KCNA said. "The frantic nuclear war fuss among US and puppet warlike bellwethers is bound to trigger corresponding responses".
Pyongyang would continue to develop its weapons programmes, KCNA said, calling it a "legitimate right of a sovereign state to have more powerful means of self-defense" to fend off "serious situations and prospective threats".
North Korea has been stepping up military activity in recent months, unveiling designs for new, smaller nuclear warheads, firing an intercontinental ballistic missile capable of striking the US and testing what it called a nuclear-capable underwater attack drone.
This week, North Korean leader Kim Jong Un inspected a military satellite station, saying successfully launching a spy satellite is an "urgent requirement of the prevailing security environment".
Kim has said he prioritized a spy satellite programme as part of efforts to advance surveillance technology to improve the country's ability to strike targets in a crisis.
The reclusive country in December conducted what it called an important "final phase" test for a spy satellite and said it would complete preparations for the launch by April.