Muslim TikTok comedian 'attacked' over Jeffrey Marsh criticism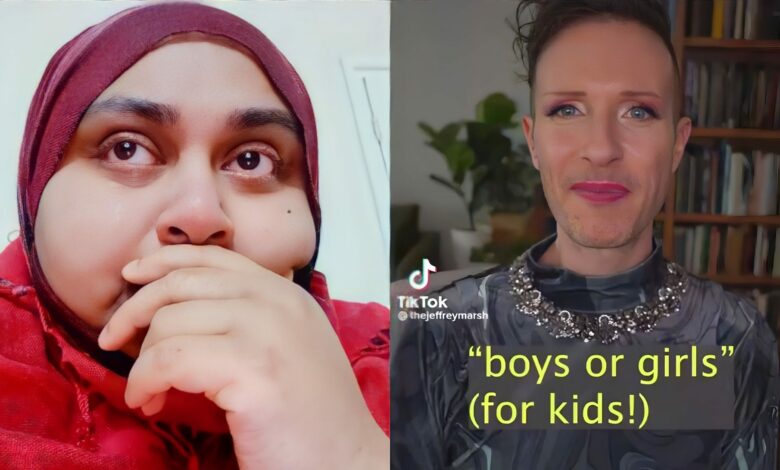 Shumirun Nessa, a British Muslim woman with more than seven million followers on TikTok, says she has been targeted after posting about Jeffrey Marsh, an American non-binary activist.
Social media platforms are often awash with controversy, but the latest row appears to have spilled over the boundaries of the virtual world and ignited an online conflict about gender and children's rights.The clash began last month, when Marsh posted a video in which they said, "Stop telling trans people that we're inspirational."
Nessa used that video as the background for her own clip, calling on Marsh to "stop telling kids to go on your Patreon and chat to you privately without their parents knowing".
Nessa, who presents herself as a comedian with the handle @therealoverloadcomedy, had previously posted videos criticising Marsh, who uses they/them pronouns, on the Chinese-owned social media app.
She alleged that Marsh encouraged children to message them privately on Patreon – another platform for online content creators, and likened their content to grooming.Her videos amassed millions of views, but the backlash was relentless, she said.
Nessa, who wears a hijab, has said people called her transphobic and attacked her religion.
She claimed photos of her without her religious headscarf had been posted online, without her consent, in a form of an attack, and that her car has been vandalised.
"I'm sorry, please don't come for my kids," she pleaded in a video on March 12.In one of their videos, Marsh is seen saying, "Your parents screwed up", but they do not say who their audience is.
They go on to say: "That's why I made a Patreon so that we could talk about it, so that we could connect in a way that has more privacy, so that we can talk to each other in a way that's more open."
So-called gender-critical people – who believe sex is biological and should not be confused with gender identity – have spoken in support of Nessa, saying she wants to protect children.
@