Mexican Macaroni Salad: Easy & Delicious!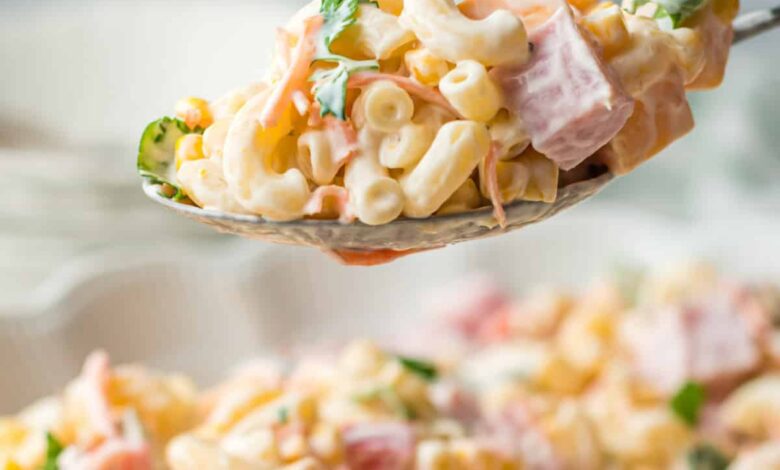 Mexican Macaroni Salad is a fabulous addition to your Taco Tuesday lineup! It's SO easy to make and absolutely scrumptious!
This delicious southwestern pasta salad is inspired by Mexican-American flavors that meld beautifully to create a perfect side dish or a delicious vegetarian main.
It would be wrong to call it a classic Mexican recipe. But, it's my spiced-up taco version of our favorite macaroni salad.
Summer is filled with macaroni salads at our house. We love them. But, sometimes I'm just in the mood for something new.
This Mexican Macaroni Salad was the perfect solution to making pasta salad pack a flavorful punch and be a little more exciting.
Not only does my Mexican Macaroni Salad make a fabulous side for your favorite entrees, but it can easily become the scrumptious main dish at lunch, since it's loaded with veggies and has protein from the beans.
You're going to love Mexican Macaroni Salad!
The Ingredients
For the Salad:
For the Dressing:
FAQs
Can you eat raw zucchini?
Absolutely! Wash it and then dice it for this recipe. The peel doesn't even need to be removed. It's so nutritious and adds great texture to salads.
Is this a Southwestern Pasta Salad?
You could definitely call it that, if you prefer. I typically choose a different pasta shape for Southwestern Pasta Salad, though. Mexican Macaroni Salad does have corn, squash and beans (the Three Sisters of Southwestern cooking), but the dressing is different than my usual Southwest Pasta Salad.
Can this be made gluten-free?
Yes! I actually use Jovial brand brown rice elbow macaroni [affiliate link] in mine, so the dish comes out 100% gluten free. It's a fantastic brand of gf pasta that doesn't get mushy or pasty. We love it.
What to Serve with Mexican Macaroni Salad
Chicken Street Tacos, Dinner in Minutes from Leftovers
Mexican Shredded Beef, Slow Cooker Simple
Tips and Tricks for Perfect Mexican Macaroni Salad
1. Boil the Pasta in Generously Salted Water
This is one of the biggest mistakes cooks make when cooking pasta. Pasta flavor is absorbed as it cooks. Without the appropriate amount of salt, pasta will be bland and flavorless, no matter what sauces or dressings you add to it later.
For one pound of pasta boil four quarts of water with one Tablespoon of salt.
2. Make-Ahead Tip to Prevent Your Mexican Pasta Salad from Drying Out
Have you ever made a pasta salad the day before, only to find that the macaroni (or other pasta) has absorbed lots of the dressing and your salad seems dry? To keep your Mexican Macaroni Salad creamy when it's stored in the fridge, try this trick.
Toss your cooked and fully cooled pasta with olive oil or avocado oil before you add any other ingredients or start mixing up the salad. I use one Tablespoon of oil per pound of pasta. The oil creates a waterproof barrier on the outside of the macaroni that helps prevent it from absorbing all the moisture out of your creamy dressing.
Alternatively, you can mix up an extra half-batch of dressing to add to the salad just before serving, if you feel that it is too dry.
3. Mayo-Based Dressings Don't Like Heat
Cool your pasta completely before adding mayo-based dressings. Mayonnaise can actually split and separate if allowed to get too hot. You could probably get away with lukewarm pasta, but definitely not hot. Also, the pasta will absorb more dressing and seem drier if added to warm pasta.
4. Serve it at Room Temperature
It seems like a mistake, but trust me. Super chilled macaroni salad straight from the fridge doesn't have the creamy, delicious texture it did when you first mixed it up, right? The flavors have melded and become fabulous, but the texture is wrong.
That's because ice cold pasta is extra firm and the fats in your dressing have begun to harden and set up. Give it a good 20 to 30 minutes on the counter, before it's time to eat. After it's rested, give it a stir. Add extra dressing if you think it needs some and then serve.
How to Make Mexican Macaroni Salad