Kylie wears lion's head for Paris Fashion Week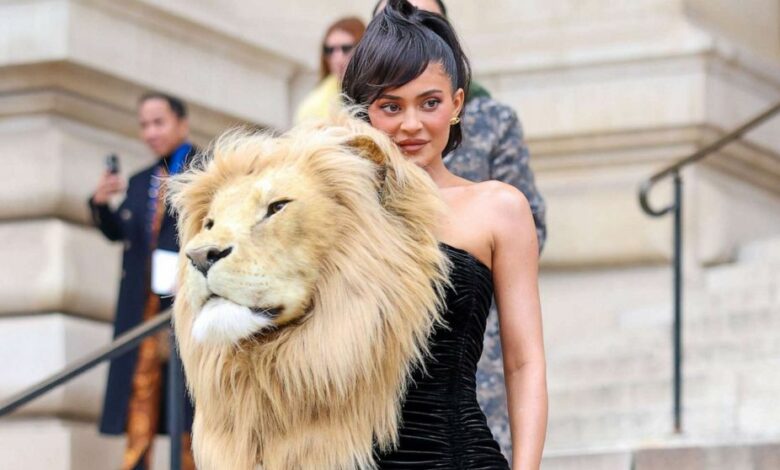 Reality star Kylie Jenner, 25, caused a storm among animal lovers and fans by sporting a black velvet gown topped with a giant, lifelike – and fake – lion's face for the Schiaparelli Haute Couture show on Monday, Jan. 23, 2023, to mark the start of Paris Couture Week.
She was slammed by some fans for promoting hunting, with one fan saying "Animals are not trophies" and others saying they were disturbed by the idea the head "could be real."
But animal rights campaigners have now defended her look, which promoted the Schiaparelli collection's "three-dimensional animal heads," which were also worn by Naomi Campbell and Irina Shayk on the catwalk of Schiaparelli's Paris Fashion Week show on Monday.
Ingrid Newkirk, president of People for the Ethical Treatment of Animals, said: "Kylie, Naomi, and Irina's looks celebrate the beauty of wild animals and maybe a statement against trophy hunting, in which lions and wolves are torn apart to satisfy human egotism.
"We encourage everyone to stick with 100 percent cruelty-free designs that showcase human ingenuity and prevent animal suffering."
Ingrid also urged Jenner and other celebrities to cull other fabrics from their wardrobes.
She added they should 'extend this creativity' to "exclude sheep shorn bloody for wool and silkworms boiled alive in their cocoons".
Along with the lion's head worn by Jenner, Schiaparelli's spring 2023 couture collection includes outfits with realistic leopard and wolf heads in a nod to the three beasts of Dante's 'Inferno.'
Jenner stressed the lion's head was "faux" and "manmade" in her Instagram post showing off the outfit.
In two Instagram posts on the fashion house's account, Schiaparelli defended its designs by saying the animal heads in the Paris show were made from "hand-sculpted foam" as well as "wool and silk faux fur", and were "hand painted to look as life-like as possible, celebrating the glory of the natural world."