Kyiv downs 17 drones in Odesa region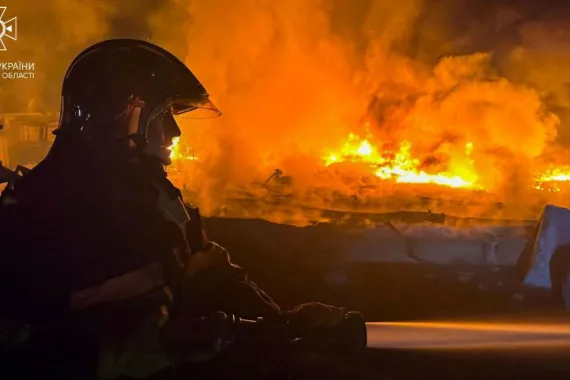 A Russian drone attack on the Danube River port of Izmail in Ukraine's Odesa region has resulted in widespread infrastructure damage, according to the region's governor.
Kyiv claims the Russian drones were detonated on Romanian territory during the Danube strikes. Romania's defence ministry has denied these reports.Ukraine's Reznikov submits resignation
Ukraine's defence minister Oleksii Reznikov has submitted his resignation to the Ukrainian parliament on Sept. 4.
"I ask the parliament to accept my resignation. I want to sincerely thank you for the trust, support, and the opportunity to serve my country at such a crucial moment," Reznikov wrote in a statement, according to local media reports.
"One of the main priorities at the moment is to rebuild a long-term partnership with key allies to provide Ukraine with real security guarantees and defense capabilities," he added.UK says Russia used malware to steal 'sensitive military information' from Ukraine
UK's defence ministry says a malware called "Infamous Chisel" has highly likely been used by Russia, with the aim of stealing sensitive military information from Ukraine.
"The malware, referred to as 'Infamous Chisel', has been used by the Russian cyber threat group known as Sandworm. NCSC has previously attributed Sandworm to the Russian General Staff Main Intelligence Directorate's (GRU) Main Centre for Special Technologies (GTsST)," the ministry said in a tweet.
"Infamous Chisel enables persistent access to, and the collation and exfiltration of data from, compromised Android devices. This includes targeting applications used by the Ukrainian military," the ministry added.Romania says Russia's attack on Ukrainian ports did not pose direct military threat
Russia's overnight attack on Ukrainian port infrastructure on the Danube River did not generate direct military threats to the territory of neighbouring Romania, the NATO member state's defence ministry has said in a statement.
Earlier, Ukraine's foreign ministry said drones had detonated on Romanian territory.
The Romanian defence ministry's statement "categorically denied" the reports while condemning the Russian attack.Romania denies Russian drones detonated on Romanian territory
Romania's Defence Ministry has denied reports that Russian drones fell and detonated on Romanian territory in an overnight attack on Ukrainian port infrastructure on the Danube river, a spokesperson said.
The spokesperson said the ministry would release a statement later on Monday.
Earlier, Ukraine's foreign ministry said the drones had detonated on Romanian territory, which borders UkraineUkraine's Reznikov 'not necessarily organising operational approach of counteroffensive': Expert
In an interview with Al Jazeera, Samir Puri lecturer of war studies at King's College said that Ukraine's defence minister Oleksii Reznikov, who is set to be replaced later this week, was "not necessarily organising the operational approach" need to handle Ukraine's counteroffensive.
"Ukraine is in a real pinch point with regards to its counteroffensive. I think with Reznikov and the defence ministry – he's not a general, he's not necessarily organising the operational approach of the counteroffensive. But Ukraine's Achille's heel is that its casualties mount, and it runs out of men and soldiers and that is where the allegations of corruption and scandals around military drafting and recruitment centres comes in and I think that's where Zelenskyy is looking and seeing that if he doesn't get this aspect sorted, get the defence ministry's confidence, he might get this sorted," Puri said.