Israeli air attacks hit Gaza, escalation fears after Jenin raid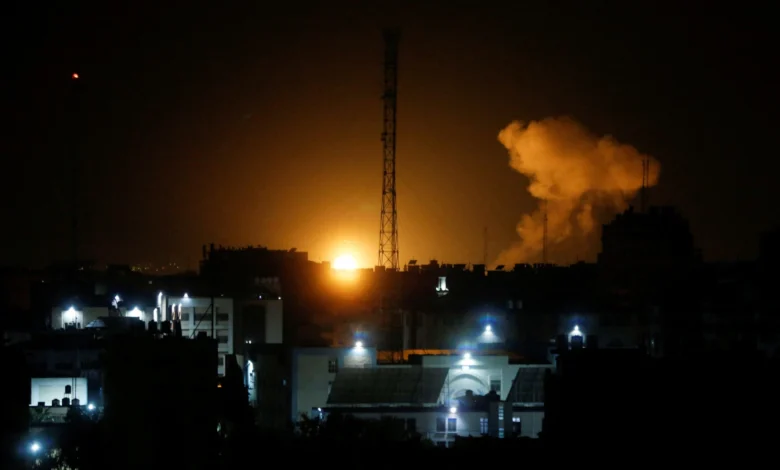 Israel has launched multiple air attacks on the blockaded Gaza Strip a day after Israeli forces killed nine Palestinians – including an elderly woman – in the Jenin refugee camp, marking one of the deadliest raids in the occupied West Bank by Israel's military in years.
Local sources in Gaza told Al Jazeera that Israeli warplanes had hit al-Maghazi refugee camp in the centre of the territory, with at least 13 strikes in the early hours of Friday.
The al-Zaitoun neighbourhood in the south of Gaza City was also hit, as well as an open area east of Beit Hanoun, in northern Gaza.
Witnesses and local media reported that Israeli drones fired two missiles at targets in Gaza before the fighter jets struck.
There were no immediate reports of casualties, and "cautious calm" had returned to Gaza by the morning, said Al Jazeera correspondent Maram Humaid.
The Israeli army said the air attacks on Gaza – one of the most densely populated areas in the world with 2.1 million residents – followed after two rockets were fired towards Israel at about midnight (22:00 GMT).
Air raid sirens had sounded in southern Israel as the initial two rockets were fired and then again after the Israeli air attacks.
The Israeli army said the rockets were intercepted by Israel's air defence system and the country's Channel 12 aired footage of Israeli interceptor missiles being launched into the night sky above the city of Ashkelon, about 12km (7 miles) north of Gaza.
No group has claimed responsibility for the reported rocket fire.
However, Hamas spokesman Hazem Qassem said the armed groups in Gaza "will continue to carry out [their] duty to defend the Palestinian people and their sanctities, and will remain the people's shield and sword".The Israeli air attacks and rocket fire followed Israeli forces killing nine people during a raid on the Jenin refugee camp. At least 20 people were also injured in what has been described as one of the deadliest days in the West Bank since Israel ramped up raids at the start of 2021.