Iraqi judiciary reveals details and causes of Nineveh wedding fire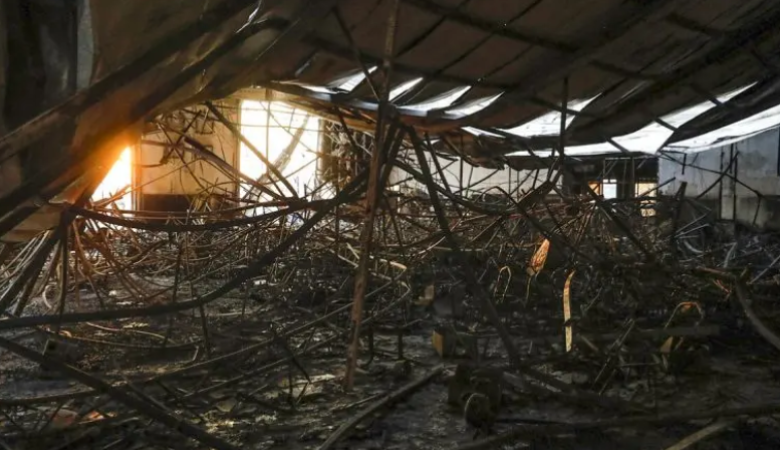 In a crucial development following the devastating fire that engulfed a wedding hall in the Hamdaniya district of Nineveh province, the Iraqi Supreme Judicial Council has issued a statement shedding light on the circumstances surrounding this tragic incident.
According to the statement released on Wednesday, the primary cause of the catastrophic fire that unfolded during a wedding celebration on Tuesday night was fireworks.
Fireworks, known for their celebratory and visually stunning displays, tragically turned into the catalyst of a horrifying event, resulting in the loss of lives and injuries to hundreds of attendees.
The statement goes on to provide additional insights into the factors contributing to the fire's intensity. It mentions that the use of highly flammable fabrics on the hall's ceiling played a pivotal role in the disaster.
This choice of materials led to the ignition of the ceiling, exacerbating the situation further. Additionally, the fire caused a power outage, plunging the hall into darkness and adding to the chaos.
One of the most harrowing details outlined in the statement is the lack of proper exits for those inside the hall. After the main entrance was closed, there was no clear exit available for the attendees.
The emergency exit, when eventually found, was not only small but also concealed. This critical oversight, combined with the panic and rapid spread of the fire, resulted in a terrifying situation where attendees struggled to escape the flames and smoke.
As authorities investigate this tragic incident, the statement confirms that 14 individuals have been apprehended, including some of the hall's employees responsible for organizing the wedding reception and setting up the fireworks.
Notably, among the suspects who initially fled the scene, the hall's owner and the event organizer voluntarily surrendered themselves to security authorities in Erbil.
They were subsequently taken into custody and transferred to Mosul for judicial interrogation.
The exact toll of the tragedy in terms of casualties remains a matter of variation among Iraqi authorities.
However, the statement does provide an estimate, noting that approximately 100 individuals lost their lives, while around 150 others sustained injuries.