Iran's foreign minister to visit Saudi Arabia in 'near future': Tehran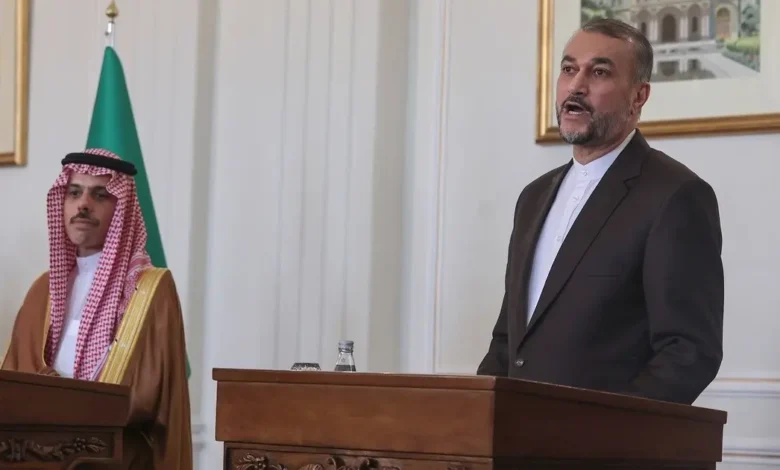 Iranian Foreign Minister Hossein Amir-Abdollahian will visit Saudi Arabia in the "near future," Iran's foreign ministry said on Monday.
Foreign ministry spokesman Nasser Kanani told a weekly press conference that a range of issues, including economic ties, will be discussed during Amir-Abdollahian's visit to the Kingdom.
While Kanani did not disclose the exact date of the visit, Iran-based news website Iran Nuances reported on Saturday that Amir-Abdollahian was scheduled to visit Riyadh on August 17.
Saudi Arabia and Iran announced in March that they had reached an agreement, brokered by China, to reestablish diplomatic relations after seven years of no formal ties.
In June, Saudi Foreign Minister Prince Faisal bin Farhan made a landmark visit to Tehran, where he met with Amir-Abdollahian and President Ebrahim Raisi.
Kanani also said that although Raisi had been invited by King Salman to visit Saudi Arabia, a specific date for the visit remains undecided and will be determined at "the appropriate time."
"The relations between the two countries are progressing step by step," he said.
Under the deal signed in March, Riyadh and Tehran agreed to reopen embassies and consulates in each other's territories and implement security and economic cooperation agreements that were signed over 20 years ago.
Saudi Arabia severed ties with Iran in 2016 following an attack by pro-regime protesters on its embassy in Tehran and consulate in Mashhad.