Holi 2023: How and where to celebrate the festival of colors in the UAE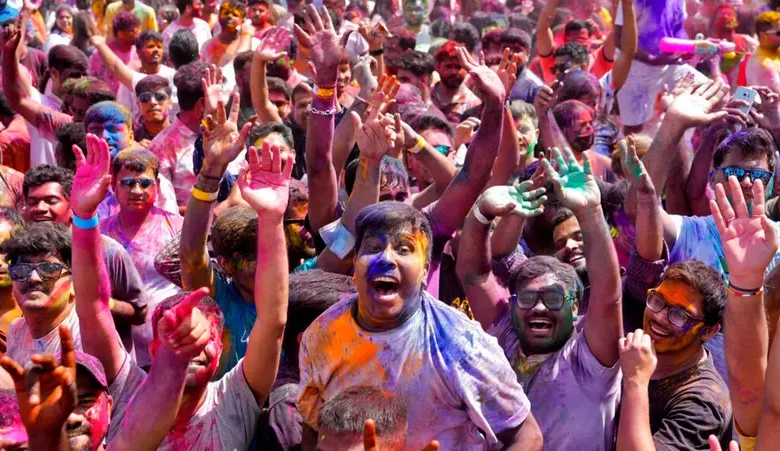 The Indian festival of colors, Holi, is a widely celebrated event in Dubai and in other parts of the UAE.
With a millions-large Indian community in the UAE, Holi is increasingly celebrated in neighborhoods, parks and other spaces by more and more people annually.
Recognizing a growing interest in celebrating the festival, the number of events have amplified in the last decade.
The festival celebrates the arrival of spring and is usually observed on the full moon day of the Hindu month of Phalguna, which typically falls in March.
Following are some of the events in Dubai:
Color Beach Party
A 12-hour-long party will take Dubai's La Mer North Beach on March 11 by storm. The beachside event will see sets from DJs Aqeel, Paroma, Shadow, Zubair, Karan and Ziya. Punjabi singer Kaka will also perform at the venue.
Tickets start at $27.5 (AED 100) and $40 (AED 150) for couples. VIP tables and cabanas are available for booking. Organic colors will be available for purchase and the event will run from 11 a.m. to 11 p.m.
Holi Hai – Color Mela
A family-friendly Holi event with live DJs and food stalls has been organized at Dubai's Zabeel Park on March 12. Performers including Chandan, Raw, Rizwan, Sunny and Simran Ahuja.
The event will start at 10 a.m. and cost $8 (AED 30) per person. Colors not purchased at the venue will not be allowed and the entry ticket to the park is not included in the price of the event's ticket.
Water and Color Party
BM Beach Resort is hosting a colorful party with rain dance, live DJs and food and drinks on the beach on March 11. The Ras Al Khaimah event will start at 12 p.m. and run until 9 p.m. The venue is pet friendly.
Tickets are $24.5 (AED 89) per person. Kids below the age of 12 can enter free of charge.
Rang Barse Holi
Headlined by Punjabi singer Jaslove, and with DJs Jason, Kimi, and JM5, Dubai's Creek Park is ready to celebrate the festival of color in grand fashion on March 12.
The outdoor, beachside event will also have organic colors and food stalls. Food, drinks and colors must be purchased at the venue. Water guns are not allowed.
Tickets start at $7 (AED 25) and gates open at 10 a.m.
Holi Fest DXB
Legendary Indian rapper Badshah will be joined by Raghav, Deep Money and DJs at the Zero Gravity Beach Club in Dubai to mark the festival of color on March 12.
The venue will only permit those over the age of 21. Doors open at 11 a.m. and close at 9 p.m. Access to the beach will end after sunset. A special Holi-themed food and drink selection will be made available. Tickets start at $41 (AED 149).
Color Splash 2023
Another party at the Al Hamra International Exhibition & Conference Center in Ras Al Khaimah is set to host party-goers at their beach-front venue. Bollywood music, food and drinks, and games await visitors to the March 11 event.
Doors open at 11 a.m. and tickets start at $27.5 (AED 150).
Holi Sundowner
The JA shooting club in Dubai is hosting a Holi celebration with food, drinks, live performances and upbeat music with a special performance by Pure Bangara.
Doors open at 11 a.m. and tickets start at $33 (AED 120).
Streets of Dubai
If history is any guide, informal celebrations of the festival can be spotted in sand lots and sidewalks across old Dubai neighborhoods. Deira, Bur Dubai, Karama and other Indian-majority areas usually witness water gun fights, colors and the sound of laughter fill the air as the celebrations echo into the evening.