Fighter jets sent to Ukraine will be destroyed, says Russia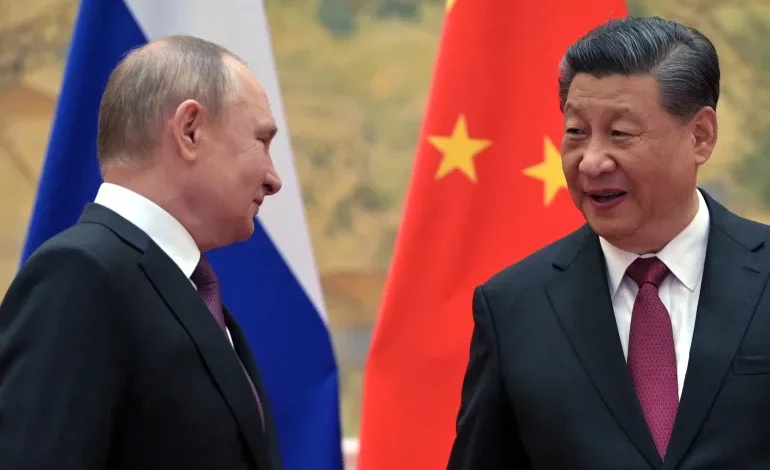 Could the US drone crash lead to an escalation?
An serious incident involving a US drone and a Russian jet over the Black Sea led to a rare talk between the defence ministers of Moscow and Washington.
Russia's defence ministry said the appearance of a US drone near Crimea was "provocative", and many fear a possible confrontation between the two superpowers.
Read more on whether the clash could fuel a new conflict.
China should encourage Putin to withdraw troops: UK
Chinese President Xi Jinping should use a trip to Moscow to encourage Putin to withdraw troops from Ukraine, a spokesperson for British Prime Minister Rishi Sunak said.
"If China wants to play a genuine role in restoring sovereignty to Ukraine, then we would obviously welcome that," the spokesperson told reporters.
"We're clear that any peace deal which is not predicated on Ukraine's sovereignty and self determination is not a peace deal at all. So we will continue to call on China, as we have done before, to join other countries across the world in calling on Putin to withdraw his troops."Putin, Xi to discuss Ukraine war during visit: Adviser
Kremlin foreign policy adviser Yury Ushakov said Putin will discuss the Ukraine conflict with his Chinese counterpart during Xi's state visit to Moscow next week, the news agency RIA reported.
Ushakov said Russian Defence Minister Sergei Shoigu would take part in talks with Xi, and that "military-technical cooperation" would be discussed during the visit.Russia is renewing Black Sea grain deal for 60 days: Kremlin
The Kremlin said Russia was extending the Black Sea grain deal for 60 days.
Kremlin spokesman Dmitry Peskov answered a question about Moscow's position by saying: "Russia is renewing the deal for 60 days."
However, both Ukraine and Turkey have said the deal, which is due to expire on Saturday, must be rolled over under the existing terms, including the 120-day minimum extension.
Alessandra Vellucci, director of the United Nations Information Service, said negotiations were continuing.
"The agreement foresees the renewal of 120 days," she said.
"There are discussions ongoing and we're not going to speculate on what is going to happen. This is for the discussions' outcome."Fighter jets will be destroyed, says the Kremlin
Russia said that all fighter jets supplied to Ukraine would be destroyed after NATO members Poland and Slovakia pledged to send MiG-29 jets to Kyiv.
"In the course of the special military operation, all this equipment will be subject to destruction," Kremlin spokesman Dmitry Peskov told reporters.
"It feels like all of these countries are thus engaged in the disposal of old unnecessary equipment," he said.
Moscow has previously accused the West of directly participating in the conflict by supplying weapons and has warned that NATO weapons were legitimate targets for its forces.Russian defence ministry awards pilots involved in drone incident
Russian Defence Minister Sergei Shoigu has presented awards to the pilots of two Su-27 fighter planes that intercepted a US drone, the defence ministry said.
On Tuesday, the drone crashed into the Black Sea after being intercepted by Russian jets in the first known direct military encounter between Russia and the United States since Russia invaded Ukraine a year ago.
Announcing the awards, the ministry repeated Russia's version of events, which is disputed by Washington, that the Russian planes did not make physical contact with the drone.
Ukraine is 'illegally attacking' the church: Kremlin
The Kremlin said that Ukraine was "illegally attacking" the Ukrainian Orthodox Church (UOC) – which until recently accepted the authority of the patriarch of Moscow, adding that this confirmed the need for its "special military operation".
Ukrainian officials last week ordered the UOC to leave the monastery complex in Kyiv, where it is based, drawing fierce condemnation from Moscow.
Pope Francis also called for the "respect" of religious sites.
3h ago (10:48 GMT)
Slovakia approves sending MiG-29 jets to Ukraine
Prime Minister Eduard Heger said that the Slovakian government approved sending MiG-29 fighter jets to Ukraine.
Slovakia is the second country to send warplanes to Kyiv after Poland, which announced on Thursday it would do so.
Despite its fleet of 11 MiG-29 planes being retired last summer, Slovakia will send operational ones, and the rest will go for spare parts.
Slovakia will also supply part of its KUB air defence system, Heger said.
Finland, Turkey to discuss NATO bid in Istanbul
Finnish President Sauli Niinisto is scheduled to meet his Turkish counterpart Recep Tayyip Erdogan in Istanbul amid expectations that Turkey will approve Finland's NATO bid.
Erdogan signalled earlier this week that he could send his approval to the Turkish parliament to be ratified, meaning a vote could take place before elections on May 14.
If Turkey approves Finland's bid, it would mean that the path would be practically clear for Finland to become a NATO member before Sweden.
So far, 28 of the 30 NATO members have ratified their accession protocols, and only Hungary and Turkey remain.