Ex-UK PM Johnson called France's Macron a 'four-letter word starting with C': Aide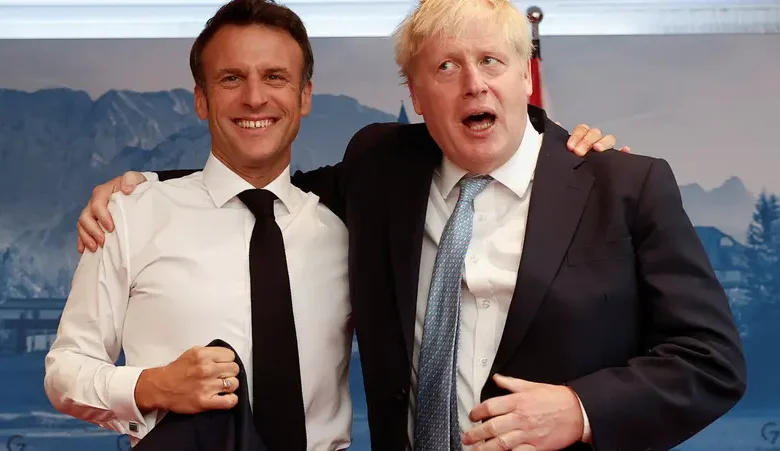 Former UK prime minister Boris Johnson called French President Emmanuel Macron a four-letter obscenity and "Putin's lickspittle" as tempers frayed over the war in Ukraine, according to a former Johnson aide.
Guto Harri became director of communications in Johnson's 10 Downing Street just over a fortnight before Russian President Vladimir Putin invaded Ukraine in February 2022.
Harri recounted his boss's incensed reaction when Macron queried whether the UK was doing enough to help Ukrainian refugees early in the crisis — a criticism that was made also by many in Britain.
"He just launched into a violent attack on Emmanuel Macron," former BBC political correspondent Harri said on a new podcast series, recalling his time in government up to Johnson's ouster last September.
"Basically, saying 'He's a four-letter word that begins with C, he's a weirdo, he's Putin's lickspittle'," the ex-aide added.
"'We need an orgy of frog (French) bashing. I'm going to have to punch his lights out'," he quoted Johnson as saying.
UK officials were critical of Macron's attempts to broker peace in Ukraine, including after a strained meeting with Putin at the Kremlin just before the war.
Johnson found that meeting "nauseating," according to Harri.
Johnson was all smiles with Macron whenever they met, although tensions related to Brexit were never far from the surface in their dealings.
After the war broke out, Johnson became a full-throated supporter of Ukraine's President Volodymyr Zelenskyy and Britain a leading supplier of arms to his government.
Harri recounted a telephone call those two leaders had on the night that Russia invaded.
"It was massively sobering. We really could not believe that this was seriously underway," he said, adding: "The two of them had this extraordinary bond.
"And, dare I mention it, this kind of really dark gallows humor that was obviously a coping mechanism."
A spokesman for Johnson's office declined to comment on the claimed language used against Macron but stressed the former prime minister was not involved in the podcast.