Electric vehicle demand booms in Saudi Arabia amid move to green mobility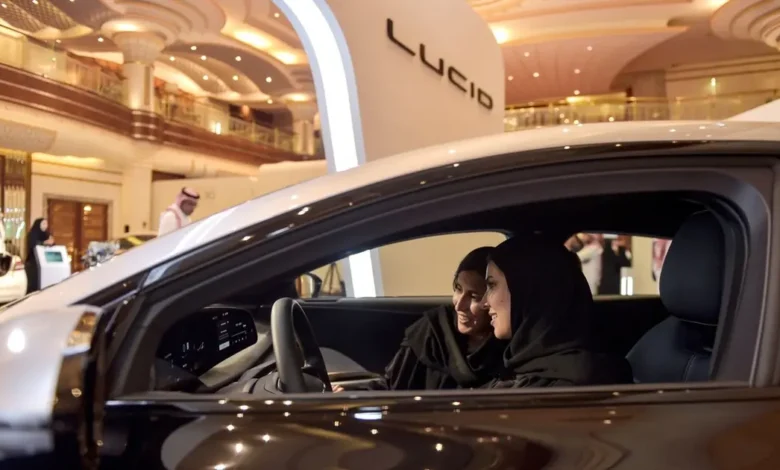 Change is afoot across Saudi Arabia's automotive landscape, with the Kingdom experiencing a surge in the usage and demand for electric vehicles (EVs) amid nationwide plans to reduce its carbon footprint and diversify its non-oil economy – and now the country is rolling out the infrastructure to keep up with demand.
With billions of dollars in government investments, its own electric vehicle (EV) maker Ceer, an EV production facility is in the works, and ambitious country-wide plans for EV charging infrastructure, the shift towards sustainable transport is transforming the way people get behind the wheel across the Kingdom – with experts saying Saudi Arabia could be a global leader in the adoption and rollout out of EVs.
Under the ambitious Vision 2030 plan, spearheaded by Saudi Arabia's Crown Prince Mohammed bin Salman, the Kingdom aims to reduce its dependence on oil and embrace a more sustainable future.
Neeraj Kumar, managing director of European Brands, Stellantis Middle East, told Al Arabiya English, that investing in EVs helps Saudi achieve both goals.
"As the world recognizes the urgency of addressing the climate crisis, the shift towards electric vehicles (EVs) is gaining momentum," he said. "The Gulf Cooperation Council (GCC) countries, including Saudi Arabia, are showing a growing appetite for automotive electrification."
"The Kingdom is now emerging as a leader in EVs. With a dedicated focus on infrastructure development, regulatory support, domestic manufacturing, and strategic partnerships, it is actively laying the groundwork for a more sustainable future of mobility."
Local initiatives, such as Saudi Arabian e-mobility solutions provider Electromin, which is establishing 100 EV charging networks, further support the move to electrification, said Kumar. "We believe it is critical that the government works hand-in-hand with manufacturers to support the introduction of EVs."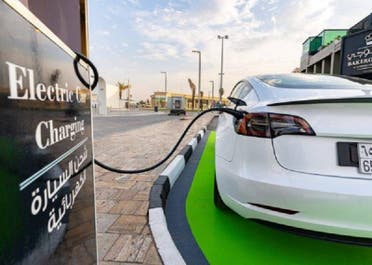 "Ensuring that the infrastructure is in place – for example access to public charging stations, or the ability to install home charging points – is essential if consumers are going to be persuaded to make the switch to electric, which then delivers significant environment benefits to our cities and communities in terms of zero emissions, zero noise, and zero odor."
"This is enough to radically change the lives of users and their surroundings."
Consumers eager to explore EV options
A recent study highlighted the demand for EVs in Saudi Arabia.
The survey, commissioned by General Motors and conducted by Morning Consult, found two thirds of vehicle owners in Saudi Arabia – as well as the neighboring UAE – were eager to explore benefits of electric vehicle adoption.
It also found general awareness of the concept of electric vehicles is very high, with 93 percent of Saudi respondents aware of all-electric vehicles. This heightened awareness has also translated into strong purchase consideration, with a majority (63 percent in Saudi Arabia) strongly considering a future EV purchase. Those reporting higher EV consideration are more likely to think this will bring them cost savings, in addition to being more likely to be aware of EV infrastructure in their nation.
This favorable outlook towards EVs aligns with global EV revenue projections, anticipated to grow from around $10 billion in 2023 to approximately $90 billion annually by 2030.
In Saudi Arabia, 65 percent of respondents said they are more likely to consider an EV now than to a year ago. Of these, 61 percent cite the cost of gasoline as a factor, while 47 percent find that more affordable EV options have been made available in the market over the past year.
However, charging points for electrics vehicles were found to be an obstacle for many Saudi residents, with two out of five respondents (40 percent) claiming awareness of a charging station. However, only one in five (17 percent) found this to be in a convenient location to their home or workplace. This indicates understanding of ongoing efforts to drive forward infrastructure, as well as room for further development. Action is firmly underway on this front, with Riyadh's ambitious goal to have 30 percent of all vehicles in the city be powered by electricity by 2030.
Jack Uppal, managing director of General Motors Africa & Middle East, said: "As we progress towards our vision of the future of mobility, the increase in volume and variety of EV options we are anticipating to bring to market, will respond to the shift in consumer awareness and consideration brought on by the long-term benefits of ownership – from apprehension around affordability and range, towards positive sentiment towards the ownership potential of these new technologies."
One of the primary catalysts for the EV boom in Saudi Arabia is the government's commitment to establishing an extensive charging infrastructure network.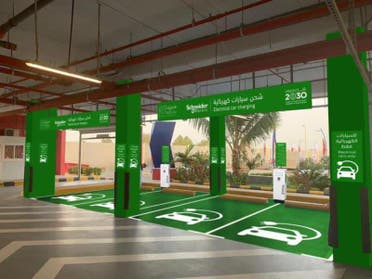 The Saudi Electric Vehicle Charging Infrastructure Development Initiative (SEVCIDI), launched in 2021, set a target of installing 50,000 charging stations across the country by 2025.
This initiative, combined with substantial investments from both the public and private sectors, has significantly enhanced the accessibility and convenience of EV charging, overcoming one of the major barriers to EV adoption.
Invest in Saudi
Major automakers have taken note of the burgeoning EV market in Saudi Arabia and have started expanding their offerings.
A Saudi-based industry player who requested anonymity explained that the steps the government is taking to build a cluster will pay off.
"Saudi Arabia, and by extension the Gulf, is the biggest market globally to not have mass automotive manufacturing. Pretty much every car you see on the road is manufactured outside of the region. By investing locally to create an industry cluster you are creating jobs, building expertise, and attracting foreign direct investments. What is also smart is the focus on electric, which is the future of consumer transportation globally."
"By attracting the likes of Foxconn and BMW to support the industry's development, you're benefiting from world-class expertise and trusted brands. I'm excited about what is to come, especially the idea of having Saudi-made and Saudi-designed cars on the roads in a couple of years," the Saudi-based player said.
Leading global brands, including Tesla, BMW, Nissan, and Hyundai, have witnessed a significant surge in sales and have introduced a wider range of electric models tailored to the preferences of Saudi customers.
Schneider Electric has recently launched new electric vehicle charging infrastructure to contribute to the Kingdom's goal of manufacturing 150,000 electric cars.
Part of the Saudi plan is to develop a domestic electric vehicle (EV) manufacturing industry.
Saudi Arabia's Ministry of Investment signed a $5.6 billion deal with Chinese electric car maker Human Horizons to collaborate on developing, manufacturing and selling vehicles.
In 2022, Lucid Motors, the EV maker backed by Saudi Arabia's Public Investment Fund, signed an agreement with the kingdom's government for the sale of 100,000 cars that will support Riyadh's sustainability drive.
The California-based EV maker is also building its first overseas production factory in Saudi Arabia.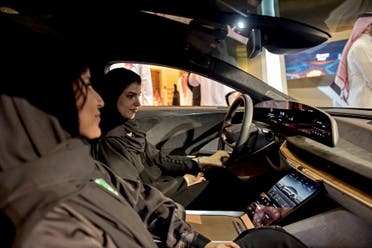 Saudi Arabia is also home to its own electric vehicle (EV) maker Ceer; a joint venture between Saudi Arabia's Public Investment Fund (PIF) and Taiwanese manufacturer Foxconn announced in 2022.
The company plans to design, manufacture, and sell a range of vehicles for consumers in Saudi Arabia and the MENA region, including sedans and sports utility vehicles.
Every car is due to be designed and built in Saudi Arabia, which could significantly boost the country's domestic manufacturing sector.
Kumar said, in line with Saudi Arabia's Vision 2030, Stellantis is also investing ambitiously in electrification and software development.
"We aim to become an industry champion in climate change mitigation, with a vision of carbon net zero by 2038 and a 50 percent reduction in carbon emissions by 2030. Many of our iconic brands – including Peugeot – already have multiple fully electric vehicle models available in Saudi Arabia and the wider GCC, and we are the only manufacturer to offer fully electric light commercial vehicles (LCVs) in the Kingdom. This presents a significant opportunity for Saudi businesses to deliver on their own sustainability targets, especially those with large logistics fleets. For example, Peugeot Middle East recently announced the supply of the GCC's first fully electric fleet of LCVs to DHL Middle East."
"Peugeot's commitment to leading the market in electrification and carbon net zero automotive products reflects our commitment to a more sustainable future. "
The adoption of electric vehicles is not limited to private consumers alone.
The Saudi government is actively integrating electric vehicles into public transportation systems, with plans to electrify 25 percent of the country's public bus fleet by 2025. This move reduces emissions and offers a more sustainable and efficient mode of transportation for the growing urban population.
The Kingdom also hosts the all-electric Formula E championship, the Diriyah E-Prix, which sees the world's fastest electric racecars take the circuit in the Kingdom. It also has its own team – NEOM McLaren Electric Racing and Dakar Rally as well as Extreme E.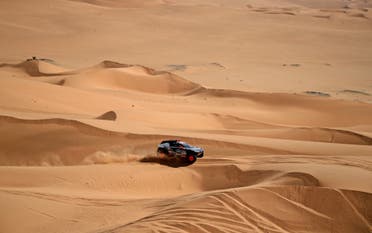 As EV adoption gains momentum, Saudi Arabia's automotive industry is experiencing a significant transformation, said Kumar.
Electric shift fueling investment
The shift towards electric vehicles has fueled investments in battery manufacturing facilities, charging infrastructure development, and the growth of a skilled workforce specialized in EV technologies. This transformation creates job opportunities and positions Saudi Arabia as a regional hub for electric vehicle production and technology innovation.
While the surge in electric vehicle usage presents numerous benefits, challenges remain.
The most pressing concern is ensuring a sufficient electricity supply to meet the increased demand. The Saudi government has taken proactive measures to address this issue by investing heavily in renewable energy sources, including solar and wind power.
These renewable energy investments support the growing electric vehicle market and contribute to the broader goal of reducing carbon emissions.
With an ambitious charging infrastructure plan, attractive incentives, and a supportive business environment, Kumar said Saudi Arabia is poised to become a regional leader in electric vehicle adoption, paving the way for a cleaner and greener transportation sector.
EVs a 'wow factor' in Riyadh
A Tesla owner in Riyadh, who requested to be referred to as Ali, told Al Arabiya English that the local authorities have made it simple to register, own and insure electric vehicles in the Kingdom.
The expat, who previously lived in the UAE, imported his vehicle when he moved to Saudi Arabia over a year ago.
"Charging infrastructure is the area which needs work," Ali said. "We have some charging points in the major cities thanks to private firms and investments by the automotive industry." Still, most are slower AC chargers, not the internationally available DC fast chargers.
Ali also said there are very few charging points between cities.
"This means that if I want to go to Bahrain from Riyadh, which is about 480 kilometers, I'll have to put my car on a tow truck. The hope is that this will change very soon, with more investments in charging in the major cities."
Despite that, Ali, who mainly uses his Tesla for day-to-day drives within Riyadh, said he has no range anxiety – a common concern among EV users where the driver is worried about the vehicle losing power before it reaches the next charging point.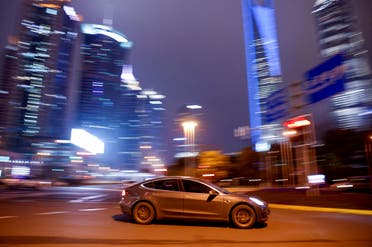 "…I have a charger at home and fill up at night. Intercity is too far, with the exception of a trip like Riyadh to Qassim [395km]," Ali said, hoping that fast chargers will be introduced on highways.
Currently, Ali uses a second car with a combustion engine for longer trips. "For a typical driver, you could easily manage with an EV in the city. For making longer trips, you'd need a petrol car."
In comparison to the UAE, where Ali owned and operated his electric car before the Saudi move, he said that the infrastructure to support EVs is more common, "which is obviously a big help."
"And the country [UAE] is much smaller, so most trips can be done on a full battery," he added.
"In Saudi, it's unusual to see an EV, and you do get lots of people asking what the car is, or how it is like to drive. In some ways, there's a wow factor here," Ali said adding that "it's different to Dubai, where the sight of EVs today is pretty commonplace."
"EVs are so much fun to use and for me their ownership cost after purchase is much lower than a petrol car. The more affordable EVs become, the more likely it is that the majority of the public across the region makes a switch," Ali said.
In persuading more car owners to make the switch from Internal Combustion Engines (ICE) to EV, incentives, including tax credits in the US have worked in other parts of the world. In Oman, electric cars are exempted from customs tax and registration fee, and EVs and their spare parts sold locally are exempt from value-added tax (VAT).
In Dubai, incentives on a lower scale are available, including free parking and free toll passes. Saudi Arabia does not currently incentivize the ownership of EVs.
"The more affordable EVs become, the more likely it is that the majority of the public across the region makes a switch," Ali concluded.