'Dream come true:' Fans react to WWE Night of Champions wrestling event in Jeddah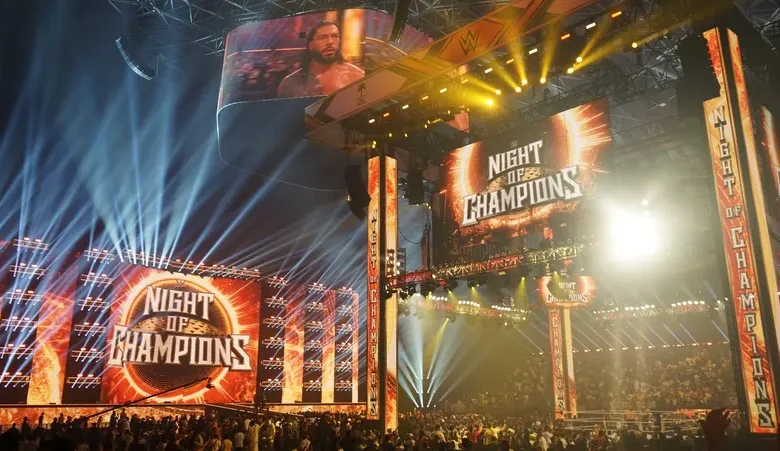 Fans in Saudi Arabia were treated to an extravaganza of acrobatic combat and shocking storylines when World Wrestling Entertainment (WWE) held its Night of Champions event at Jeddah's Superdome on Saturday night.
The evening was full of action as Kevin Owens and Sami Zayn beat Roman Reigns and Solo Sikoa to retain their tag team titles, with Zayn winning over scores of new local fans as he walked into the ring wearing a traditional Saudi thobe and introduced himself in Arabic.
Earlier in the show, Seth Rollins defeated AJ Styles to win the world heavyweight championship, and there were also appearances by WWE veterans Brock Lesnar and Triple H.
Danya Hamdi has been watching WWE since the age of 8. At 21, she finally had the chance to attend her first live event.
"It was amazing, to be honest," she said. "It was the first time I came to a WWE event and it was fabulous… It was amazing, like achieving my dream."
Hamdi, who lives in Jeddah, attended the event with her sister Reef and their mother.
Although she was not a fan of the professional wrestling league before Saturday night, Hamdi says that Sami Zayn's donning of the thobe was enough to win over her mother.
"I was mind blown by his Arabic. I think my mom really liked it, and she doesn't like WWE… she became a fan."
32-year-old Basem Degnah first saw the WWE in the flesh at the 2018 Greatest Royal Rumble event in Jeddah.
Since then, he's attended events in both the US and Saudi Arabia. But Saturday's Night of Champions was a "historic day" to him.
"I think it's one of those events that's once in a lifetime."
The Jeddah local who has been a fan of the WWE for more than 20 years said that his favorite match of the night was the opening championship fight between Seth Rollins and AJ Styles.
"I would never, ever imagine, if you asked me back in the 90s, that we would see these incredible superstars performing in front of us."
"This is really, honestly, a dream come true to a lot of Saudi fans."
Indian nationals Harpreet Singh, 30, and Parmaat Singh, 36, became fast friends when they spotted each other's Sikh turbans in the crowd at the event.
Harpreet previously attended the Elimination Chamber event in February 2022, and plans to catch future shows when the WWE returns to Jeddah.
Both men said that the highlight of the evening was seeing longtime WWE superstar Brock Lesnar fight again, defeating Cody Rhodes.
Ali Ahmed, 25 and also from Jeddah, was so enthralled by the last match between Roman Reigns, Solo Sikoa, Sami Zayn, and Kevin Owens, that he almost lost his voice from cheering.
"It was like a dream. I didn't believe it until I saw it in action," he said.