Cost of living: A refugee family runs out of food in Hong Kong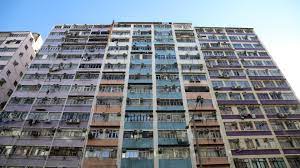 Slouched against the lone, grime-covered, grated window of his tiny apartment in the working-class neighbourhood of Sham Shui Po in Hong Kong, there is a look of despair in 41-year-old Rana's* brown eyes.
One of his feet, visibly swollen, is angled high up against the wall of peeling, off-white paint as the asylum seeker from Bangladesh recalls the recent accident that left him unable to walk for several days.
"I was on a construction site carrying some tools and a metal girder fell on my leg. It hurt so much. I am lucky it didn't snap anything," he says.
For decades, many of those like Rana seeking refuge in the former British colony have been forced to scrape by in extremely challenging conditions, from substandard housing to harsh limits on daily activities.
Most asylum seekers in Hong Kong are banned from having jobs, so he was technically breaking the law when he was injured. But he feels his family's desperate financial situation left him with no choice.
"Sometimes I have to do work, even though I know it's illegal," he says, folding his arms with a grimace.
In lieu of paid work, each asylum seeker is given roughly 40 Hong Kong dollars ($5) a day for food by the government via e-cards. But that is only a little more than the 37.50 Hong Kong dollars ($4.82) hourly minimum wage for workers in the city.
The daily stipend is barely enough to get by, especially in what was until recently the most expensive city in the world.
'What choice do we have?'
With the cost-of-living crunch bleaker than it has ever been and rocketing inflation that has seen everything from food to electricity and clothing become less affordable, the stipend asylum seekers receive has nevertheless remained frozen since 2014.
According to research by the Hong Kong-based non-profit Refugee Union, which is run by refugees and asylum seekers, prices for some food staples have doubled this year. A separate analysis by the NGO Justice Centre found that the average price per kilogramme of Chinese lettuce, a local staple, more than quadrupled from 5.70 Hong Kong dollars to 24.90 Hong Kong dollars ($0.73 to $3.20). In September, Hong Kong's consumer inflation rate hit its highest level since 2015.
The couple spends most of their time in their cramped, 200sq feet (18.6sq metres) apartment in a ramshackle tenement building in a neighbourhood infamous for its "coffin homes" – so named because of their tiny size. Their apartment on one of the upper floors can be reached only via a dimly-lit stairwell filled with rat droppings.
Down below, the streets are a cacophony of hawkers and traders selling black market goods. Impoverished elderly women offer up their possessions on mats spread across the ground; others gather rubbish to earn income from recycling.
"We had to sell things in the house," says Akter, whose tone shifts from initial sadness to pure exasperation. "It's too much expensive. Everything, everything. The government doesn't give us enough money."
After being pushed to extremes a few years ago, Rana began taking on illegal part-time work on a construction site to make ends meet for the family. Yet the risks are enormous. In 2018, he was sent to a Hong Kong correctional facility for 13 months after he was caught working, separating him from Akter.
This November, Rana took up work again, before he was injured when the girder fell on his leg, leaving him temporarily unable to walk or work.
"I don't want to be doing this. But what choice do we have?" he says, mulling the choice between breaking the law or leaving his family without food.
'Food is so expensive'
For Akter, 32, the pressure of tending to a two-year-old and a six-month-old takes things to a whole new level. Yet she strides around the room with purpose – to clean, collect toys and deal with any number of issues the day throws up.
"My children are very small," says Akter, who cooks just one batch of food in a large steel pot each day to feed the family of four. "I'm worried that they aren't getting enough to eat. But food is so expensive. We can't afford many vegetables."
She usually cooks up large rice dishes, and on better days, stews chicken and eggs. The family has never eaten at a restaurant, the couple says.