China sends warships and aircraft around Taiwan for second day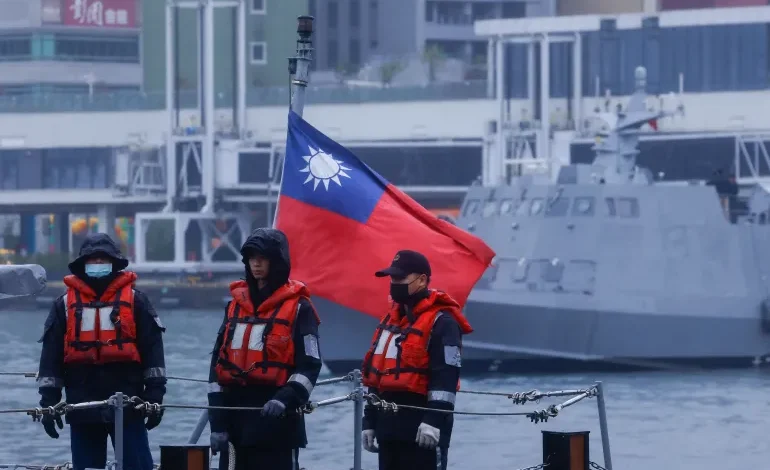 China has deployed warships and aircraft near Taiwan for a second day and imposed sanctions amid anger in Beijing over this week's meeting between the self-ruled island's President Tsai Ing-wen and US House Speaker Kevin McCarthy.
Three Chinese warships sailed in waters surrounding the island, which China claims as its own, while a fighter jet and an anti-submarine helicopter also crossed the island's air defence identification zone, Taiwan's Ministry of National Defence said on Fridayز
On Wednesday, China's Shandong aircraft carrier was spotted sailing through Taiwan's southeastern waters on its way to the western Pacific, hours before Tsai met McCarthy in Los Angeles.
Beijing sent out repeated warnings before the meeting took place, and issued a rebuke on Thursday after the event had concluded.
"China will take firm and forceful measures to firmly safeguard national sovereignty and territorial integrity," Foreign Ministry spokeswoman Mao Ning said.Last August, China deployed warships, missiles and fighter jets into the waters and skies around Taiwan in its largest show of force in years after McCarthy's predecessor Nancy Pelosi visited the island. McCarthy, who is the third most senior politician in the US, had also planned to go to Taiwan but eventually decided to meet Tsai in California.
China also blacklisted the Hudson Institute and Ronald Reagan Library, saying the two US institutions had provided platforms and facilities for "Taiwan independence" activities by Tsai.
Tsai, who was first elected president in 2016, argues Taiwan's future can only be decided by its people.
China has not ruled out the use of force to take control of the island.