Biden must not bring back 'baby jails'
Sarah Towle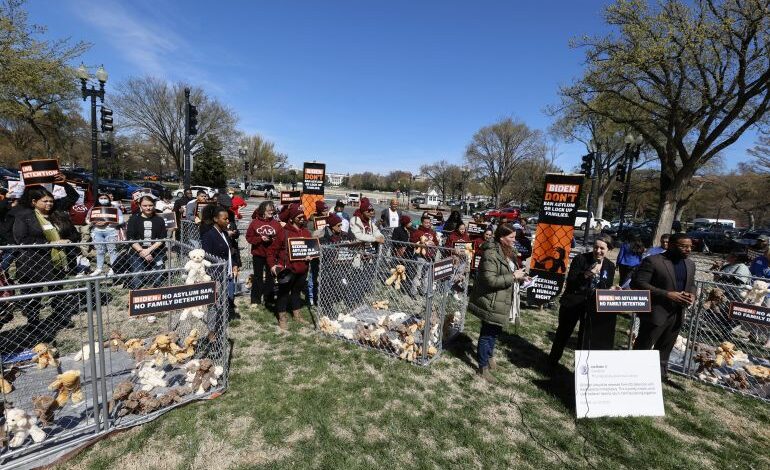 Ever unwilling to accept accountability, former President Donald Trump liked to blame his predecessor in the Oval Office, Barack Obama, for building human cages at ports of entry to the United States.
In reality, cages and cells have been a feature of the US immigration system, under one euphemism or another, since the 19th century. This includes the detention of families.Now that President Joe Biden appears to be considering the re-launch of a practice previously shuttered for gross human rights indignities, it's worth interrogating what happens when the so-called "leader of the free world" turns its back on its principles, like liberty and the sanctity of family.
In the 21st century, George W Bush's administration first incarcerated women and children seeking refuge from endemic hemispheric crises in a former Pennsylvania nursing home, called Berks. But Berks only had room for 40 families.
So Congress paid a private prison management firm, the Corrections Corporation of America (now CoreCivic), to convert a medium-security Texas state prison into the T Don Hutto "Family Residential Center" for use by US Immigration and Customs Enforcement (ICE).
Hutto was a "baby jail" — used to imprison refugee children. It was finally closed to families in August 2009, citing these and other egregious rights violations. But violence unleashed by a military coup in Honduras that year pushed tens of thousands more women and children to the US from the Central American nation.
No more willing than the previous administration to explore alternatives to detention, or to reflect on US responsibility for why people were fleeing north, Obama and then-Vice President Biden missed a golden opportunity to champion their campaign promise of immigration reform. They continued to incarcerate innocents. Hutto was succeeded by three more for-profit "baby jails": Artesia in New Mexico, and Karnes and Dilley in Texas.
The Women's Refugee Commission and Lutheran Immigration and Refugee Service, in reports in 2007 and 2014, brought to light the monstrous truths of detaining families under ICE: children confined to their cells for 12 hours a day, without books or toys; threatened with separation and solitary confinement for "misbehaviour;" subjected to seven daily hourlong head counts, yet given only 20 minutes to eat food that asylum seekers found it difficult to digest.
At most facilities, everyone was forced into prison garb — even newborns got facility-issued onesies. But inmates wore soiled clothing because laundry facilities could not keep up with the needs of menstruating women and children who were not yet potty trained. When they fell ill, as many did with persistent diarrhoea, sometimes, the only medical advice was to "drink more water". Yet the water was said to be the cause of gastrointestinal illnesses.
Inmates lived in a constant state of toxic stress. They lost weight. They lost hair. They grew lethargic and depressed. Kids regressed to younger developmental states. Tantrums were frequent. Bed-wetting ran rampant. Everyone suffered from confinement, as well as verbal, physical and sometimes sexual abuse.They were prisoners of CoreCivic and rival global prison giant GEO Group — not under the care of childhood specialists, case workers, educators and trauma-care providers, as contemplated by the 1997 Flores Settlement Agreement (FSA) between the US government and immigration rights groups.
The FSA sets some minimum standards of "safe and sanitary" treatment of minors in US immigration detention. It prescribes that the facilities be "non-secured" family-like settings and that the young be released from custody within 20 days to a parent, other relative, approved sponsor, or a provider licensed to care for children and youth — in that order.
However, initiated on behalf of unaccompanied children, the FSA did not stipulate what to do with kids arriving with parents. The Obama-Biden administration did not then provide adequate resources to the humanitarian and due process sides of the US immigration system. So the detention of the accompanied children of roughly 3,600 families stretched on and on and on.
It's possible that the Obama administration accepted cruelty toward women and children, hoping to bargain to get their blueprint for a new immigration system and the Dream Act — aimed at giving refugees brought to the US as children a legal pathway to stay in the country — written into law. But they got neither.
The GOP threw the Obama-Biden attempts at bipartisanship under the bus. Border cruelty became further entrenched and family detention greenlighted an openly anti-immigrant White House to separate families in 2018-19.
Now, Biden aims to crank up the cruelty again.Recently, the Los Angeles Times apologised for its vicious campaigning to incarcerate 120,000 Japanese-origin US citizens during WWII. Today, it may be non-citizen asylum seekers being driven to the gulag, but the motivations remain the same: scapegoating, fear-mongering and dehumanisation.
Biden has spoken about wanting to "save the soul of the nation". He can't do that by locking up families and family values again. He should not justify crimes against humanity's most vulnerable people on the bet it will earn him "moderate" votes in 2024.
Historical transgressions such as family detentions leave indelible moral stains. They should never be repeated.