Better than a tent: The Gaza family living in ruins of their bombed home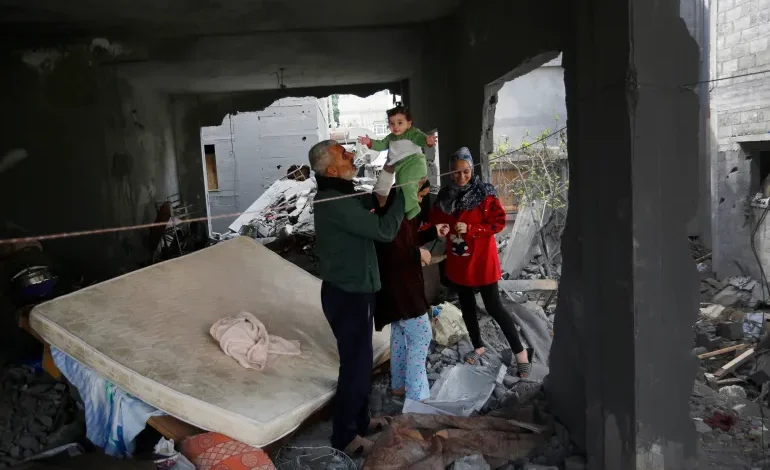 On the third day of Israel's offensive on the Gaza Strip, Siham Naji was sitting opposite her husband Khaled in their living room when she remembered to take her daily medication.
She walked to the kitchen and opened the door to the refrigerator to get some water. The next second she found herself in hell.
"I was knocked to the floor and felt something hot over me," the 48-year-old said. The air around her had darkened and filled with dust, the sounds of destruction ringing in her ears.
An Israeli missile hit her neighbour's house, flattening it completely and damaging the Naji home.
Siham screamed out her husband's name repeatedly before she heard his faint laboured breathing.
Crawling on her hands and knees, she made it back to the living room and saw the lower half of Khaled's body buried under the rubble. Blood trickled out of his mouth.
Her son Mustafa lay in shock in his bedroom, thinking he had lost all feeling in his body.
Eventually, mother and son managed to free Khaled from the rubble and the three staggered out of their ruined home, hurt but alive.
'My own palace'
The Naji family home, where 15 members were staying, had been a labour of love – Khaled built it himself over the years. It boasted two living rooms, three bedrooms, a kitchen, a large bathroom and a partially-finished apartment for his married son on the second floor."It was like living in my own palace," Khaled, 51, said. "All my life and dreams were in this house."
"I was in the process of building a balcony overlooking the garden," he added. "I had plans to make a small swimming pool for the younger children in the summer."
A day after the attack, Khaled returned to survey the damage to his beloved house.
"All those years of working were poured into the effort of building this house with my own hands, with the help of my wife," he said. "I mixed the concrete and designed the layout and picked the best furniture."
The family had received word that a house in their neighbourhood would be targeted but did not know which one.
For about 10 days, the family tried sheltering at a school but found the conditions unbearable. "There's no water, electricity, or privacy," Siham said. "It's very crowded. So we went to Al-Aqsa Martyrs Hospital but the situation there was more or less the same."
The Naji family decided to return to their home and live among the ruins, seeing it as a better option. After removing rubble from one room and cleaning it as best as they could, they laid mattresses down for sleeping. The room had no doors or windows.