Australia finalising new security pact with Papua New Guinea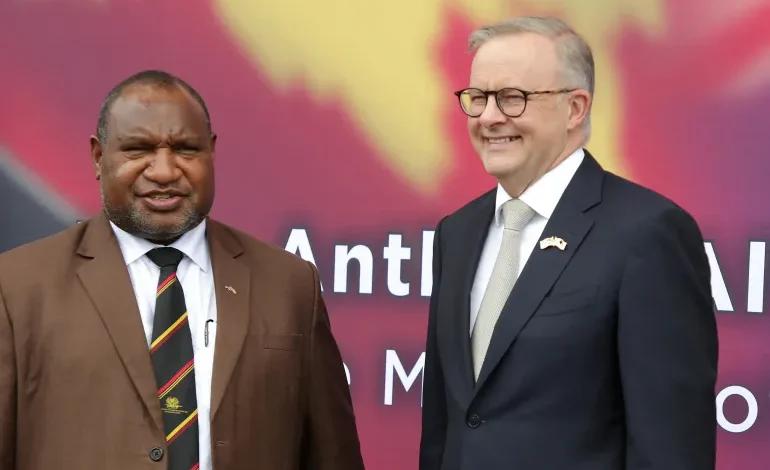 The leaders of Australia and neighbouring Papua New Guinea say they are finalising a new security treaty – a move seen as a challenge to China's growing assertiveness in the Pacific region.
Australian Prime Minister Anthony Albanese said on Thursday that he expected negotiations to conclude in April and the treaty – details of which have not been released – to be signed in June.
The proposed Bilateral Security Treaty will cover defence, with discussions under way over troop training and joint operations, in addition to issues such as climate change and cybersecurity.
Albanese said the economic and security interests of Australia and Papua New Guinea were inseparable, hours after being the first foreign leader to address Papua New Guinea's parliament since the nation of 10 million people gained independence in 1975.
"Our economic cooperation and our security cooperation is in both of our interests," Albanese said at a news conference.
"Our interests are indivisible. You can't have a more secure Papua New Guinea without a more secure Australia and vice versa."
Australia's defence minister Richard Marles said in October that Canberra wanted to strike a pact that would see navy, air force and army personnel from each nation working alongside each other more often."It is in our interests and our self-interest to ensure we have these dialogues and consolidate on where we are so that the future is secured for both nations," Papua New Guinea's Prime Minister James Marape said in a statement.
Marape said the safety of both countries was intertwined.
"So without compromising the peculiarity of our own bilateral relationships with others, our shared interests will be encapsulated in these security arrangements," he said.
"One cannot talk about the Indo-Pacific without progressing the Papua New Guinea agenda because we are right in the heart and the centre of this confluence, the Indo-Pacific confluence," he added.
Albanese said he wanted to enhance trade between the two countries "in everything from coffee and cocoa to fisheries and tourism," and to work with PNG on nation-building projects including upgrading ports, roads and digital infrastructure.
Australia remains the largest aid donor to the country, which it once colonised.
Faced with growing Chinese aid and influence, Australia has scrambled to strengthen relations with its northern neighbour and the leaders have met multiple times since Albanese won an election last May.
Both leaders also agreed to streamline visa arrangements for the thousands of workers who move between both countries with Albanese announcing a new working holiday visa scheme to come into effect in June.