Are COVID travel curbs on China making the world safer?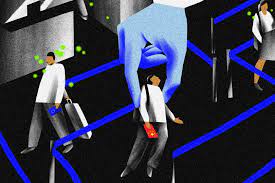 With China reversing its strict zero-COVID lockdown policies, infections have been surging across the country. Hospitals are packed, and crematoriums are struggling to cope as bodies come in.
In response, dozens of nations — from the United States and Europe to Asia and Africa — have instituted a range of restrictions targeted at incoming travellers from China. Many, like the US, multiple European nations, India, Japan, South Korea, and Ghana require that travellers from China show negative COVID-19 tests before boarding flights. Some are insisting that these passengers take new tests on landing too, and undergo quarantine if those show positive.
Japan has also limited the number of incoming flights from China. South Korea, meanwhile, ceased issuing tourist visas to Chinese visitors in early January. And Morocco has temporarily banned all entry for visitors from China, regardless of their nationality.
In retaliation, China had stopped issuing short-term visas to South Koreans and Japanese visitors, sparking visions of a return to the chaotic travel landscape of 2020 and 2021, when individual nations imposed patchwork restrictions on each other with little global coordination. On January 29, China said it would resume visas for Japanese citizens.
The US, European Union nations, and many others have justified their measures as aimed at protecting their citizens. Yet in an interview with Britain's LBC radio, United Kingdom Transport Secretary Mark Harper recently acknowledged another potential rationale for the policies: incentivising Beijing to be more transparent about data related to the COVID surge by raising the consequences of opacity.
So what does the science say? Will the restrictions imposed on Chinese travellers make the world safer?
Will China's deadly surge spread?
Since it relaxed strict restrictions in December following huge protests, China has struggled against the rapid spread of the virus. Between December 8 and January 12, the country's hospitals reported nearly 60,000 deaths related to COVID.
A recent projection by the University of Washington's Institute for Health Metrics and Evaluation estimates that the reversal of zero-COVID rules could contribute to nearly 300,000 deaths by April, and about a million by the end of the year.
Other governments have said they are worried about travellers from China bringing the virus with them. Italy, for instance, introduced its new rules after two planes from China landed with nearly half the passengers on board testing positive for COVID-19. And the Korea Disease Control and Prevention Agency said that the number of virus-carrying visitors from China to South Korea rose exponentially from just 19 in November to 349 in December.
Most countries targeting visitors from China have relaxed mask mandates and other restrictions on their own populations, even while grappling with significant caseloads. The US, for instance, is recording more than 40,000 new cases a day on average.
The optics of appearing responsive to the crisis in China, in the eyes of their own citizens, might be a factor influencing measures that governments have taken, said Michael Osterholm, an epidemiologist and director of the University of Minnesota's Center for Infectious Disease Research and Policy.
Science likely is not, according to experts.
"Even if every single traveller coming in from China were to be positive," that would today constitute only a small fraction of the total COVID-19 caseload in the US, said Karen Anne Grépin, associate professor at the University of Hong Kong's School of Public Health.
South Korea, for instance, reported 31,106 new cases between January 14 and 21 — nearly 100 times the monthly figure of 349 Chinese COVID-positive travellers that spooked it into imposing restrictions.