Ancient mysteries researchers still can't explain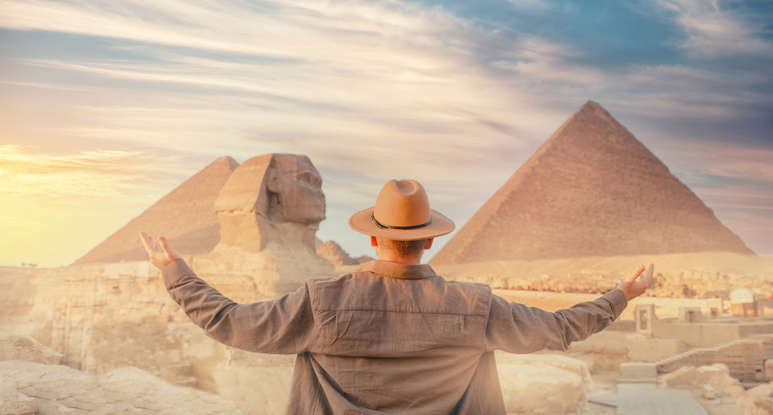 Ancient mysteries researchers still can't explain
The ancient world has captivated the public imagination for centuries. From lost burial sites to sunken cities, there are still many things that have remained a mystery for historians and archaeologists. And while science and technology have come a long way, these unanswered findings are what make our world that more perplexing.
From mysterious geoglyphs in the Nazca Desert to hundreds of perfectly rounded spheres in the Costa Rican jungle, click on to discover some of the ancient world's most enduring mysteries.
Antikythera mechanism
Dubbed the "first computer," this 2,000-year-old Antikythera mechanism was found in an ancient Greek shipwreck. It used a wind-up dial system to track celestial times of the Sun, Moon, and five planets, along with a calendar, the phase of the Moon, and the timing of eclipses. Researcher still don't understand how the Greeks created such an advanced tool at that time.
Voynich manuscript
The Voynich manuscript was written in Central Europe in the early 15th century. But scholars still don't know what the pages say, or even what language it's in.
Plain of Jars
In the mountains of Laos, there's a valley with thousands of stone jars, known as the Plain of Jars. The massive stone jars are from 2,500 years ago, and no one knows why they're there.
Nazca Lines
Between 1 and 700 CE, the Nazca people of Peru carved out rust-colored rock, revealing the lighter-colored stone in deeper layers. The result became these massive figures of animals, plants, humans, and geometric shapes. But no one knows why they carved them.
Roman dodecahedrons
Made between 100 and 300 CE of bronze or stone, these mysterious objects got their name from their 12 sides. However, their shape is about all that experts can agree on.
Linear A
Two distinct but similar writing styles, Linear A and B, have been found on ancient Minoan relics. While Linear B was cracked in 1952, researchers are still scratching their heads over Linear A.
Paracas Candelabra
Carved into a Peruvian hill of petrified sand, the Paracas Candelabra is similar to the Nazca Lines. Created around 200 BCE, no one is sure what it represents.
Dogū
Dated back to Japan's Neolithic Jōmon period, the dogū are clay figures that are a cross between human and animal. Archaeologists have uncovered about 18,000 of them, ranging from 2,300 to 10,000 years old, but they still don't know what they were used for.
Sacsayhuamán
There are many questions around the Incas stone structure in Cusco, Peru. Some debate that it was a fortress, others that it was used for ceremonies. But no matter how it was used, it's certainly impressive!.
The Shroud of Turin
The shroud is a piece of linen that bears the faded image of a man, who looks a lot like Jesus. While a test on the cloth dated it back to the Middle Ages, many believe it's the genuine burial cloth of Jesus Christ.
Yonaguni Monument
Off the coast of Japan's Yonaguni Island lies an underwater rock structure, which resembles a man-made step pyramid. Discovered in the '80s, it's believed by some researchers to be the ruins of an ancient civilization.
The Great Sphinx of Giza
One of the most enigmatic monuments from ancient Egypt, the Sphinx is believed to have been built during the reign of the pharaoh Khafre in the 3rd millennium BCE. However, some historians suggest that it might date back 9,000 years.
Skara Brae
Settled about 5,000 years ago, the ancient stone village of Skara Brae is located in Scotland's Orkney Islands. It consists of a series of stone homes and Scotland's earliest-known toilet. Mysteriously abandoned around 2500 BCE, the absence of human remains and evidence makes researchers wonder: why did the residents leave?
Angkor
Located in the depths of the Cambodian jungle, the sacred city of Angkor was the capital of the Khmer Empire from the 9th to the 15th century. While there's no certain explanation for its downfall, recent research suggests that climate change might have been responsible.
Pharaoh Tutankhamun's death
Archaeologists believe that the boy king died unexpectedly. However, his body appears to have caught fire after he was mummified, and his tomb was sealed. This, together with a rushed burial, has made experts question if his tomb was originally built for someone else, and if there may even be other mummies buried in the same tomb.
Easter Island
One of the world's most enduring mysteries, Chile's remote Easter Island was once home to a prosperous Polynesian community. But why or when the first settlers arrived remains unknown. The collapse of the civilization is still up for debate.
Ġgantija Temples
Located on the Maltese island of Gozo, these massive megaliths are estimated to be some 5,500 years old. Archaeologists speculate that the temples might have been devoted to an ancient fertility cult, but it's still not certain.
Göbekli Tepe
Located in a rural area in Turkey, Göbekli Tepe dates back to 8000 BCE. Containing multiple rings of huge stone pillars carved with scenes of animals, it's considered one of the oldest places of worship. But there's still the question of who the settlers actually were.
Stonehenge
One of the world's most iconic prehistoric landmarks, Stonehenge is believed to have been constructed around 3000 to 2000 BCE. Studied for centuries, most researchers agree it functioned as a burial site. But other secrets remain, such as its possible religious and ceremonial significance.
Terracotta Army
In the mausoleum of Qin Shi Huang Di, China's first emperor, an army of 8,000 life-sized statues stands guard. However, Qin's tomb is yet to be excavated, which makes one wonder what other surprises might be found?
The Great Pyramid of Giza
One of the Seven Wonders of the Ancient World, archaeologists believe that it took around 20 years to build the Great Pyramid of Giza. However, the exact purpose of this pyramid is still a mystery.
The Phaistos Disc
Found on the island of Crete, in 1908, the Phaistos Disc is made of bronze and covered on both sides with a spiral of stamped symbols. Its origin and meaning remain disputed.
The Hobbits
In 2003, on the remote Indonesian island of Flores, a 3.5-foot-tall (1.06 meters) skeleton of a 30-year-old adult female was discovered. At first, researchers believed the small bones may have belonged to a human with microcephalia, a condition characterized by a small head and short stature. But later discoveries of similarly sized skeletons suggested that the hobbit was its own species, the Homo floresiensis. Dating back to 50,000 years ago, the exact place in the family tree of human ancestors is still a mystery.
Chichén Itzá
Located on the Yucatán Peninsula in Mexico, Chichén Itzá was founded around the 6th century CE by the Maya people. Once a thriving metropolis of up to 50,000 inhabitants, we still don't know what spelled its doom.
The Iron Pillar of Delhi
The Iron Pillar of Delhi is a 23-ft (7-m) tall column in the Qutb complex. Dated back to the 5th century, scientists remain baffled that the pole doesn't rust, despite being made of metal. Another mystery is that no one knows how it was forge-welded to produce the structure.
Tikal
Nestled in the Guatemalan rain forest, Tikal is home to the ruins of a powerful Maya city from around 300 to 800 CE. To this day, archaeologists still don't have any clues as to the cause of Tikal's decline.
The Copper Scroll
Dating back to 2,000 year ago, the Copper Scroll was discovered at the site of Qumran in 1952. Researchers believe that the scroll might describe a hidden treasure, but no one knows where it might be, or if it even exists.
Tiwanaku
Situated in Bolivia, this Inca site still baffles the scientific community. Dated back to around 536 CE, it's unsure how the stone blocks were transported and shaped.
Stone spheres of Costa Rica
The stone spheres of Costa Rica are an assortment of over 300 petrospheres in the Costa Rican jungle. Discovered in the 1930s, some of them date back to 600 CE. To this day, little is known about the origin of the stones or the use of them.