'An imminent catastrophe': Healthcare disaster looms in Darfur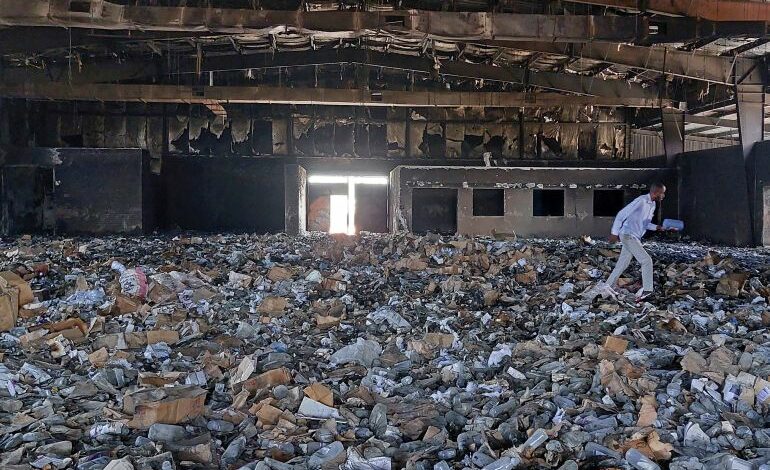 Aid groups have described a catastrophic humanitarian situation developing in Sudan's Darfur, a region already battered by years of violence, after fighting in several cities caused widespread devastation and revived fears of a new civil war.
Witnesses and civil rights groups had reported mass looting, arson and pillaging since April 24 in major cities across the western Sudanese region, some 800km (500 miles) southwest of the capital Khartoum, where critical healthcare infrastructures have been targeted.By Monday, residents and aid workers reported the return of relative calm in el-Geneina, Nyala and el-Fasher, respectively the capitals of West, South and North Darfur states, thanks to an agreement between local leaders. Yet, the level of destruction was such that the Committee of the Sudanese Doctors Syndicate warned on Wednesday of an "imminent catastrophe" due to lack of access to drinking water and food.
The wave of attacks took place as a rivalry between Sudan's army General Abdel Fattah al-Burhan and the head of the paramilitary Rapid Support Forces (RSF), Mohamed Hamdan "Hemedti" Dagalo, broke out into an armed conflict on April 15.
Since then, intense fighting has mostly been centred in Khartoum but battles have also spread to Darfur, where they have quickly taken an intercommunal dimension, resurfacing memories of the war which started in 2003 and ended with a peace deal in 2020, although violence has continued intermittently. During the war, mostly non-Arab rebels rose up against the government of former President Omar al-Bashir, who used Arab tribal fighters — a government-backed militia known as the Janjaweed — to crush the rebellion.
That same armed group, accused by human rights groups of committing mass slaughters in Darfur, later morphed into the RSF.'An imminent catastrophe'
In el-Geneina, clashes between the Sudanese Armed Forces (SAF) and the RSF took place on April 24, but both sides soon moved their forces outside the area. But that did not spare the cities from violence, as intercommunal conflict between Arab and non-Arab communities broke out, according to witnesses and aid groups. Videos on social media, which could not be verified by Al Jazeera, showed entire streets burned down with structures and houses turned into debris.The el-Geneina Teaching Hospital, the city's market, the local council and the university were looted. The same happened to food depots, schools, public buildings and to all United Nations offices in the city, the International Organization for Migration (IOM) said.
"We are trying to get back to normal life, but most of the market stores were looted by militia and nothing remained for the people," said civil rights activist Ibrahim Shumo. "Everything they could, they took it," he added.
The UN said that 96 people died in the violence, but local nongovernmental organisation Roots Organization for Human Rights and Violation Monitoring said on Saturday that at least 230 people had died. The same number was confirmed by a doctor from a local private clinic who asked not to be named.
Several attacks also took place against camps for displaced people, the IOM said. The camps are informal shelters where people forced to escape from previous deadly attacks in 2019 and 2021 had found refuge.
Adam Rojal, spokesperson of the General Coordination of Darfur Displaced People and Refugees, said conditions in camps across Darfur were "disturbing".
"The suffering of the displaced people is increasing from bad to worse due to the lack of drinking water, food and medicine," Rojal said via messages from a refugee camp in central Darfur. The areas most affected by looting and destruction remain inaccessible to humanitarian actors, he added.
In el-Fasher's South Hospital, the only remaining functioning clinic in South Darfur, Doctor without Borders' (Medecins sans Frontiers, or MSF) project coordinator Mohamed Gibreel Adam reported an increasing number of deaths, especially children and people with special needs, due to a lack of adequate health assistance.
"The situation is overwhelming," Adam said through an audio message. "Children with malnutrition problems are left with no food."
The doctor described patients reaching the hospital after endless hurdles, including walking through several checkpoints amid gunfire. While the violence has quelled, the situation remains tense, with people left in a state of fear as humanitarian workers have evacuated the area.