Across Latin America, families reel from migrant centre fire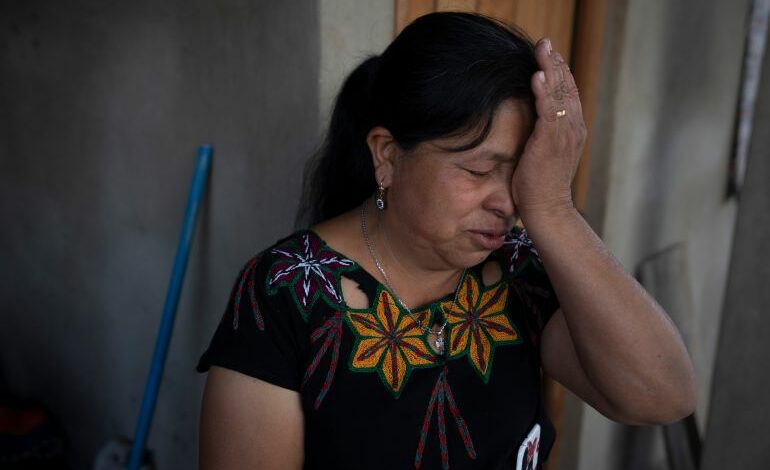 The last Ana Marina Lopez heard of her husband, the 51-year-old Guatemalan migrant told his family that he was being detained by Mexican immigration agents at the United States-Mexico border.
That was two days before a fire in an immigration detention centre in Ciudad Juarez claimed the lives of at least 39 migrants and left more than two dozen injured.Then his name appeared on a government list of the fire victims, but not specifying whether he was among the dead or the hospitalised. That has left Lopez and her daughter back in their small western Guatemalan town clinging to hope that he may be alive.
And they are not the only ones.
As images of the devastating blaze consume news broadcasts and social media, families scattered across the Americas are reeling in agony as they await news of their loved ones.
The pain and uncertainty felt by families underscored how the effects of migration ripple far beyond the individuals who embark on the perilous journey north, touching the lives of people across the region.In Juarez, Mexico, a sister waits for news of her Venezuelan brother who's been sedated and intubated in a hospital. In Honduras, families sit stunned after watching video of guards hurrying away from a growing cloud of flames and smoke in the immigration detention centre.
And in Guatemala, Lopez cradles a photograph of her husband in a cowboy hat unsure if he is alive or dead.When Lopez's husband, Bacilio Sutuj Saravia, departed on his journey north in mid-March, he told her he was going to Mexico for tourism. Sutuj, who ran a small transport business with two pick-up trucks, waited until he was in Mexico to tell her that he intended to cross to the US to see their daughter and two sons.
However, he never had the chance. Getting off a bus at Juarez's station on Saturday, immigration agents detained him.
Lopez learned of the fire from television news reports. Their children had been unable to reach Sutuj since a brief call he made Saturday saying he had been caught."The authorities should be there watching them and taking care of them, not fleeing and leaving them locked up and burned. That pains me," Lopez said.
'Hard blows'
In the rolling coffee-dotted mountains of western Honduras, the three families horrified by the surveillance video are awaiting confirmation of the fates of their sons. The three friends had set out together for the United States from their small town of Proteccion. Like many in the rural area, the men planned to work and send money back to support their families.
They met a smuggler in San Pedro Sula, a major point of departure in northern Honduras, who took them to Mexico.
On Tuesday the three men's names — Dikson Aron Cordova, Edin Josue Umana and Jesus Adony Alvarado — were among those to appear on the government's list of victims without any details of whether they were alive.
"You want to be strong, but these are hard blows. They're unbearable," said Jose Cordova Ramos, father of 30-year-old Cordova. "We're waiting for real news that would be the first and the last, as they say, if they are alive or dead."Their concern is matched by anger from watching guards run away from growing flames and thickening smoke rapidly encapsulating migrants.
Another father rambles off questions: Who started the fire? How did they get fire in there? Did a guard give a lighter to someone inside?