Will Awkwafina Ever Drop Her Stage Name? She Says…
Will Awkwafina Ever Drop Her Stage Name? She Says…
What's in a name?

Awkwafina has become a household name thanks to her roles in the star-studded Ocean's 8, Crazy Rich Asians and The Farewell, which earned her a Golden Globe. So, would the rapper-turned-actress ever consider going by her original moniker Nora Lum? According to the breakout actress, she's becoming more open to it.

"When I first started as Awkwafina there was a more distinct duality, where this is the one that's performing and this is the one that's at home having a panic attack," she shared with Vanity Fair for its 26th Annual Hollywood Issue. "But as I get older, I think they're the same person. This is the one that this one hides behind, you know?"

Speaking with The New York Times, Awkwafina said that she's not ready to let go of her alter ego quite yet. "I created Awkwafina when I was a kid," she told the outlet. "What she represents to me is more than a persona — in the very beginning, I did see her as the confident one, the side that comes out that gives Nora the panic attacks."
"But as I've grown older I've come to really be grateful for that name and what I've seen it written on," she continued. "To see her name on a chair back or on a call sheet, that means a lot to me. I don't think that I could shed her right now."

Awkwafina's newfound comfort with embracing both names is evident in her upcoming series Awkwafina is Nora from Queens, where the star goes by her real name in the scripted semi-autobiographical show.

As she stated in Vanity Fair, the nickname definitely suited her when she was first starting out.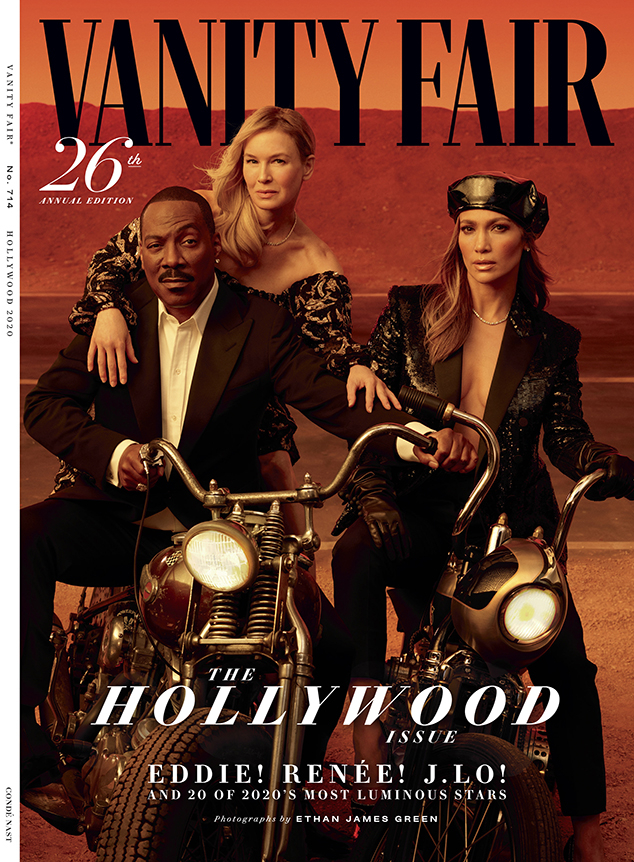 Ethan James Green/Vanity Fair
"When I started to first do music you know, it was kind of a music name and it was derived from awkward-fina," she told the magazine. "So that's why. I've always been extremely awkward and it was a name from high school. Then years later when asked to choose a name I felt it weird to just think of a random name and put it up on YouTube," she continued. "So I figured, you know, why not use the one that I came up with years ago."

Despite her best efforts to hide behind the name, Awkwafina was breaking down walls with her music—starting with the video for her song 2012 "My Vag." After discussing her decision-making process behind putting out the controversial video, Awkwafina admitted that she was terrified at the reaction it would get.

"My fear was that it would be misread and looked at as very audacious and sexual and I would never get a job anywhere," she recalled. "That was probably my main fear. Instead it was a very slow build of people watching it."
The Jumanji: The Next Level star added, "But it was out there and I think once you make that decision, whatever happens, you have to be happy with what happens because you did what you could do."

Switching gears, Awkwafina also discussed her Golden Globe-winning performance in The Farewell, where she plays a granddaughter preparing to say goodbye to her ill grandmother. The Lulu Wang-directed film hit so close to home that signing on felt like a no-brainer.

"My manager was just like, 'You have to read this script. I'm not even going to tell you what it's about—just read it," Awkwafina said. "And I remember being so moved by it because of my relationship with my grandma, you know?"
Awkwafina's Message for Dad After Golden Globe Win: "This Happened"
While it was admittedly hard to slip into the "mutedness" of her character Billi, Awkwafina explained that playing the role taught her a valuable lesson.

"At first there were certain things that Lulu Wang did teach me, and I think one of them bleeds into acting, but then also my personal life: just being present, being still, you know?" she said. "When you rely a lot on comedy to kind of save a moment from awkwardness or fill in the spaces, it can often take you out of the moment. With Billi, I think…yeah. I think she's expressing a lot through not expressing, you know?"

Based on her Golden Globe, it's safe to say that it worked!

Catch Awkwafina is Nora from Queens when it premieres on January 22 on Comedy Central.