Wildlife photography: Magic of Skomer's puffins captured
Puffin breeding season on Pembrokeshire's Skomer Island is drawing to a close and the birds will soon return to sea once more.
More than 38,000 Atlantic puffins began to arrive on the 720-acre island in late March and will leave towards the end of July.
For landscape and wildlife photographer Drew Buckley, who has been capturing their stay, it can feel "a bit all over at once".
"You're there every day and then suddenly you're not going to see them for nine months or whatnot but it's all part of the cycle," he said.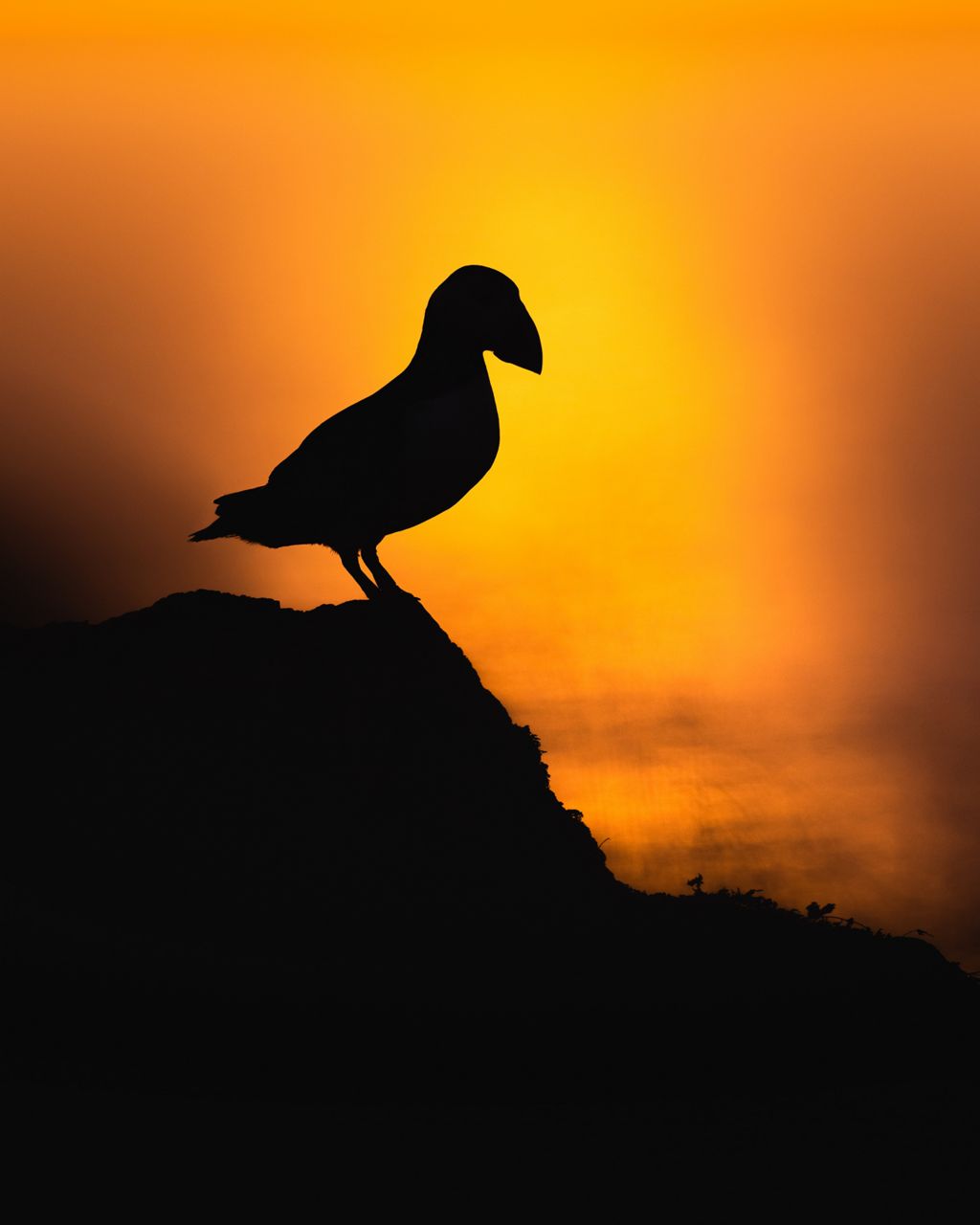 The brevity of their stay makes it more precious: "If it was the same every day then it wouldn't be as special – it's this sort of fleeting glimpse and then you look forward to next season."
Drew, 36, from Pembroke, grew up spending his pocket money and birthday money on cameras.
He had a career as a 3D computer games artist but gave it up to become a professional photographer in 2010.
He now spends his time taking photographs for the likes of National Trust and Royal Society for the Protection of Birds (RSPB), writes magazine articles and books, runs photography workshops and recently worked with the BBC's Natural History Unit to create time-lapse photography for the TV series A Wild Year: The Pembrokeshire Coast.
"Anything with a camera and I'm happy, " he said.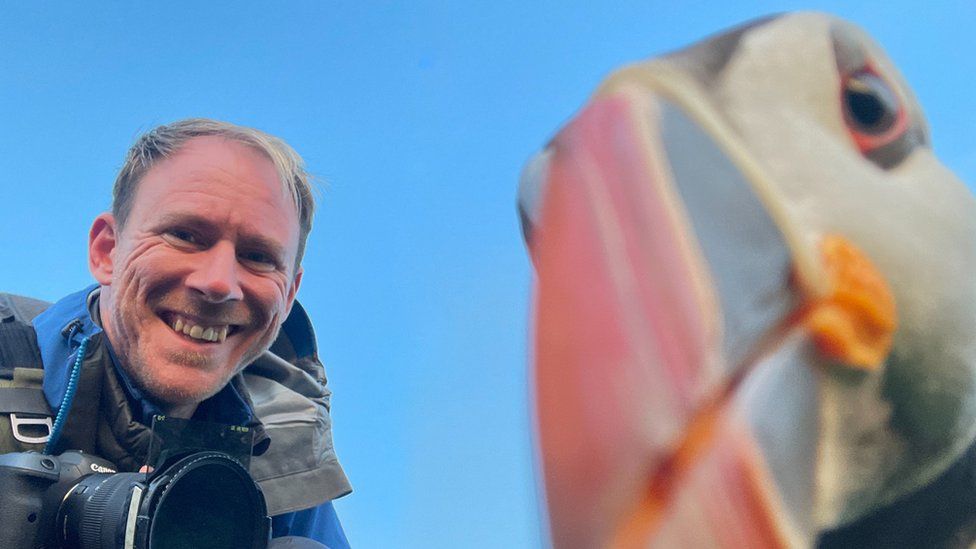 Most of his time over the past few months has been spent taking photographs of puffins on Skomer, which is owned by Natural Resources Wales (NRW) and managed by the Wildlife Trust of South and West Wales.
With no land predators the seabirds are at ease and happy to put on a show for the camera.
"They're very comical, very inquisitive," he said.
"They'll look at you and try to work you out. They're a little clumsy as well, so they're quite funny characters to watch really."
He said he often got his best shots just before sundown.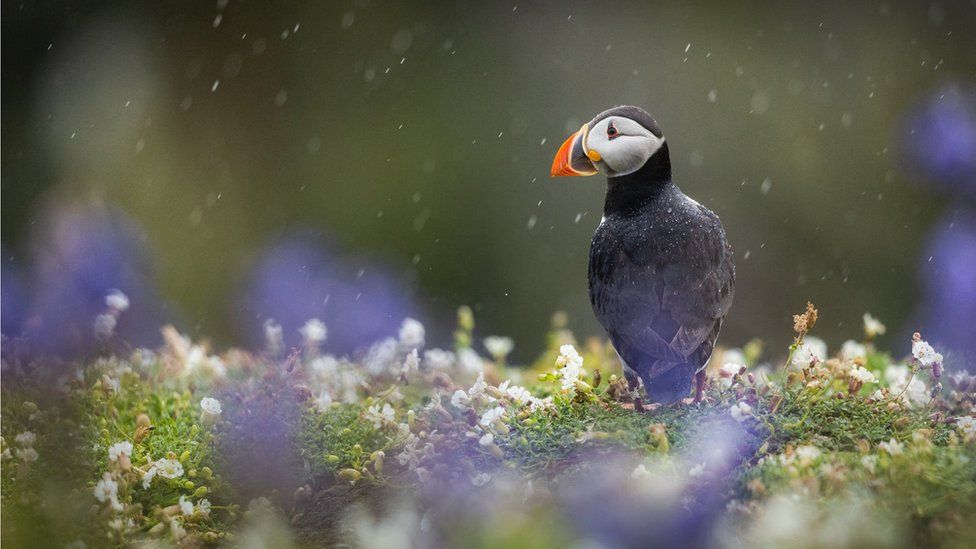 "You get the sunsets and the birds are more relaxed because all the day-trippers have gone home and it's just a totally different place in the evening," he said.
"They walk up to your feet, they'll climb over your camera bag, pull your shoe laces."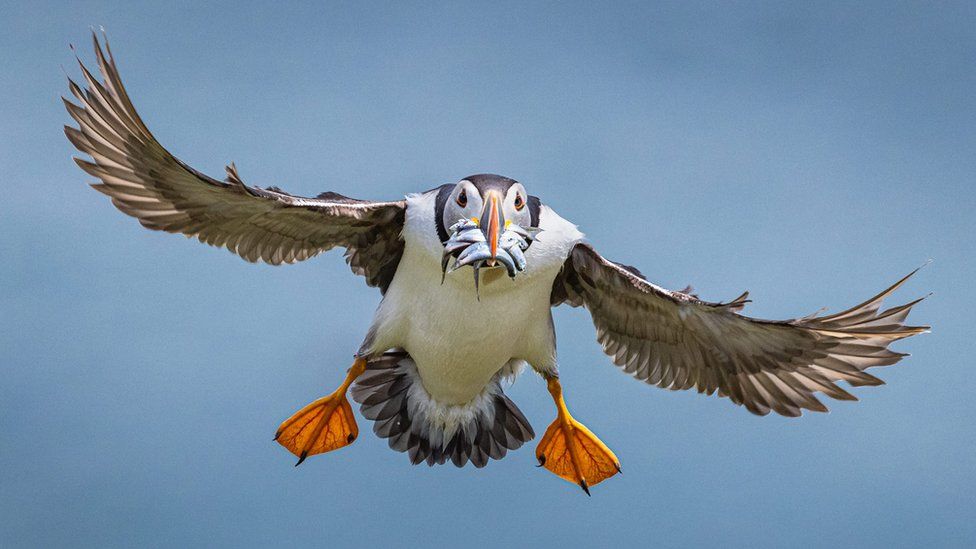 One of his favourite shots from recent months is of a puffin in silhouette against a golden sky.
"The weather can be a bit fickle so a lot of things have to come together for that and not too many clouds to spoil the show."
He said taking photos of the birds flying was good fun but challenging because "they're quick little things".
"Sometimes they're a bit ungainly and other times they're a bit more charismatic with their landings."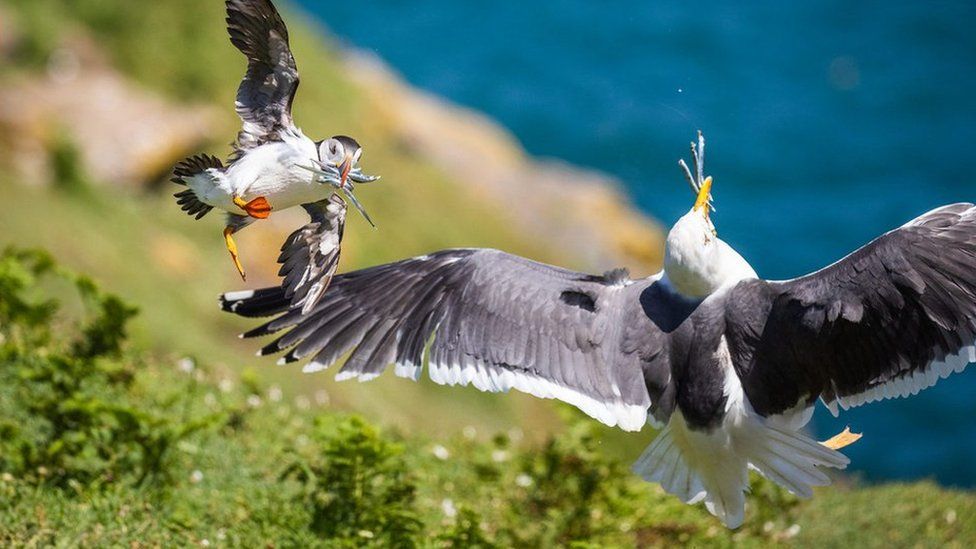 Several of his photos capture gulls trying to steal fish from the puffins when in mid-flight: "You have to be even quicker for those because it's a blink of an eye and you'll miss it."
But he makes sure he finds time to pause and just enjoy the island.
"Sometimes it's important to just put the camera down and watch [the puffins] and experience it because it's such a unique environment.
"We're very lucky to have this on our doorstep. You are stepping into the puffins' realm as it were… it's a such a magical place."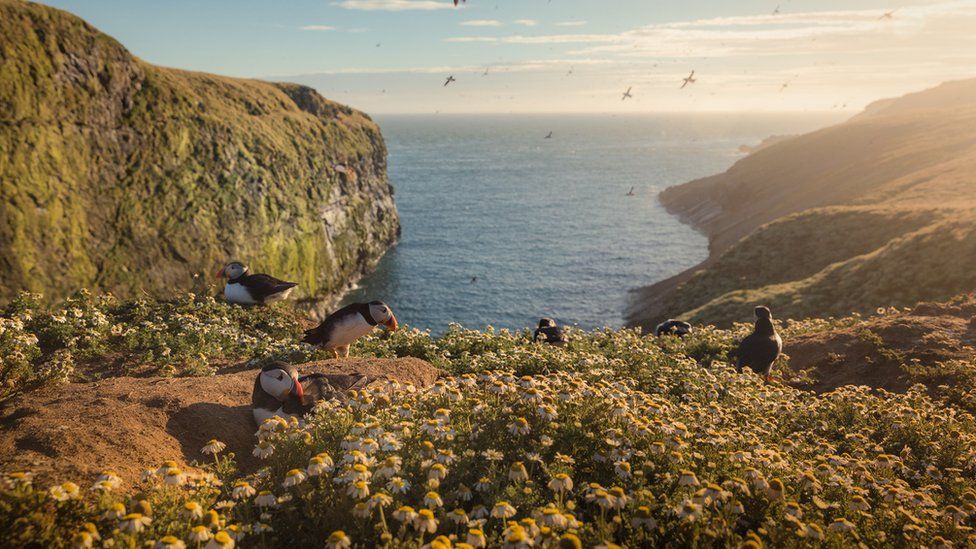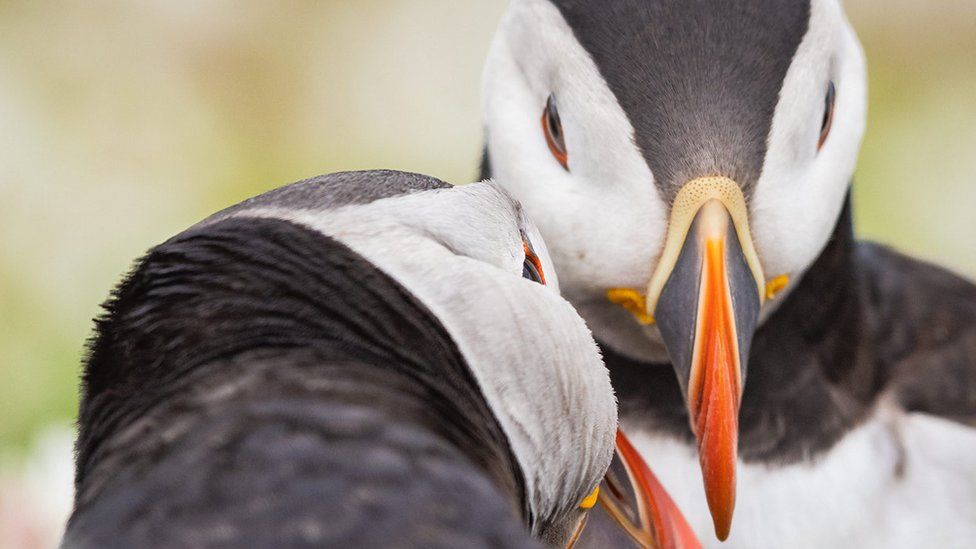 When can I see puffins on Skomer?
Puffins begin to arrive on Skomer and neighbouring island Skokholm from March to April. They start by building nests but still spend much of their time out at sea.
Puffins are loyal to one another, each year mating with the same bird and producing one chick.
Both parents incubate their egg for between 36 and 45 days. It is after this point things get busy.
"That's when you see all the shots of birds coming back in with beaks full of sand eels and feeding the hungry chicks," said Drew.
Both parents share the feeding duties until the chick is ready to fledge.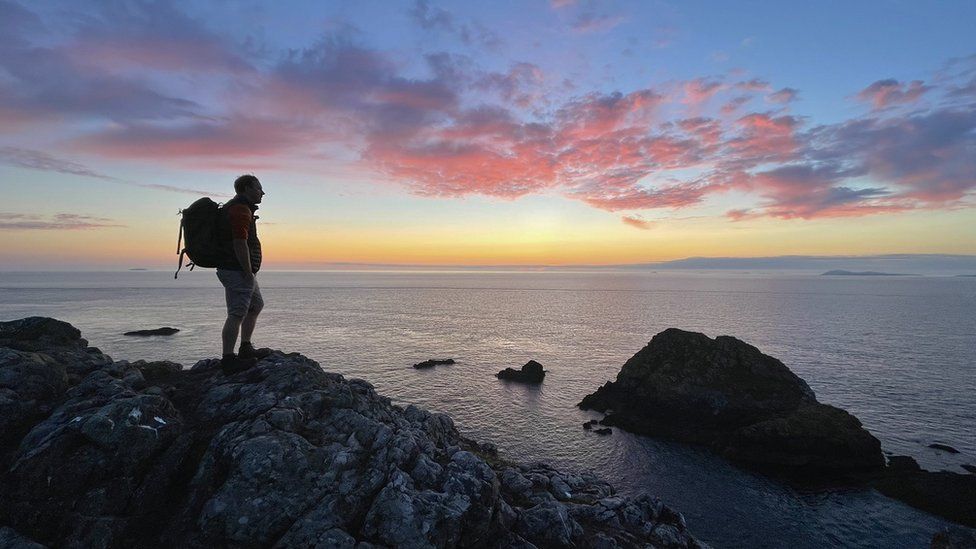 Adult birds desert their young shortly before they are ready to leave the nest and head back out to all corners of the Atlantic.
The timing of the breeding in puffin colonies is highly synchronised, so the departure of all adults takes place within a few days.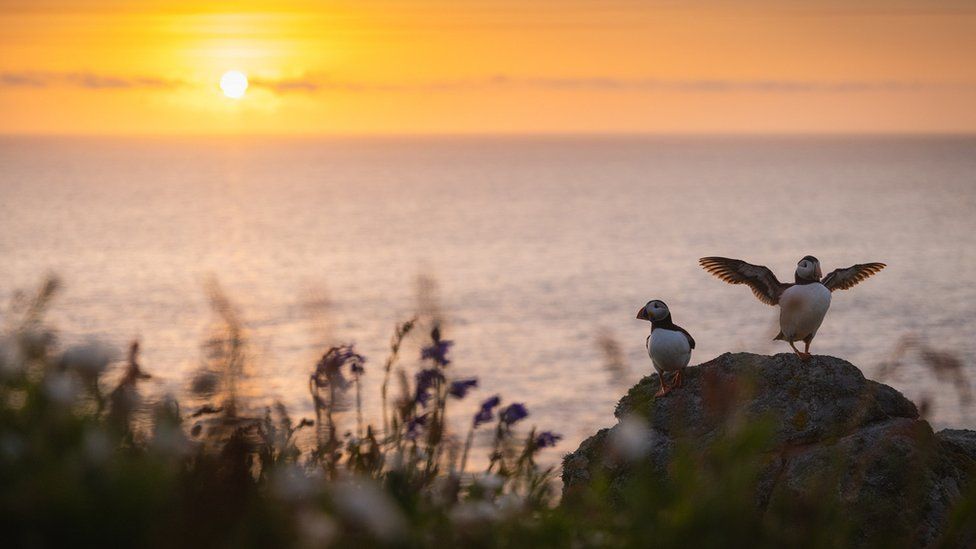 The young birds leave their nest burrow and make their way to the sea, normally under cover of darkness to avoid predators.
The adults will be back again next April to start the cycle all over again.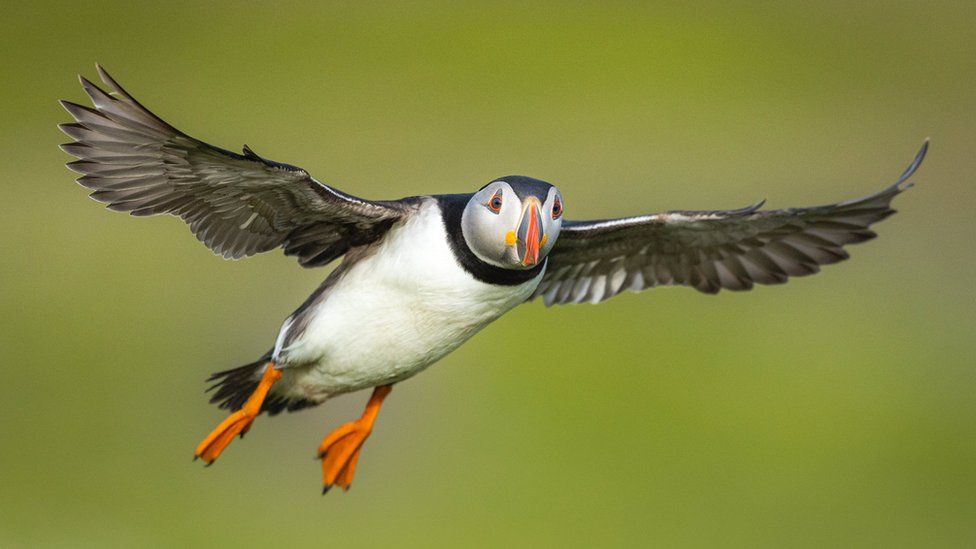 What is the future for Atlantic puffins?
The largest breeding populations of Atlantic puffins are found in Iceland and Norway and the British Isles hold about 10% of the world's puffins.
Atlantic puffins are on the International Union for Conservation of Nature Red List of Threatened Species for birds, meaning they are at risk of extinction.
But on Skomer the seabirds are thriving.
At the start of this year's breeding season WTSWW reported record numbers of the birds – 38,896, a 240% increase on the past 10 years.