US jobs growth slows in December
US jobs growth slows in December
The US economy added 145,000 jobs last month, capping a year of solid but slowing growth, official figures show.
Hiring at retail and health care firms drove the gains, which pushed the US labour market to a 10th year of expansion.
While the country's 3.5% unemployment rate remained at historic lows, earnings growth slowed from November.
The average hourly wage rose at an annual rate of 2.9%, down from November's rate of 3.1%.
December's job gains mark a slowdown from the prior month, when employers added 256,000 positions.
Analysts had expected a slightly stronger performance last month, predicting an increase of about 164,000. But they said Friday's report from the US Labor Department showed that the US economy remained solid, despite fears of a slowdown.
"The key point here is that payroll growth is performing far better than implied by a host of leading indicators in late summer and fall," said Ian Shepherdson, chief economist at Pantheon Macroeconomics.
The US economy expanded at an annual rate of 2.1% in the third quarter, down sharply from the 3.1% rate reported earlier in the year.
Trade tensions, declines in manufacturing and weakness abroad had sparked fears of a slowdown. But consumer spending – the main driver of the US economy – has remained steady, buoyed in part by the tight labour market.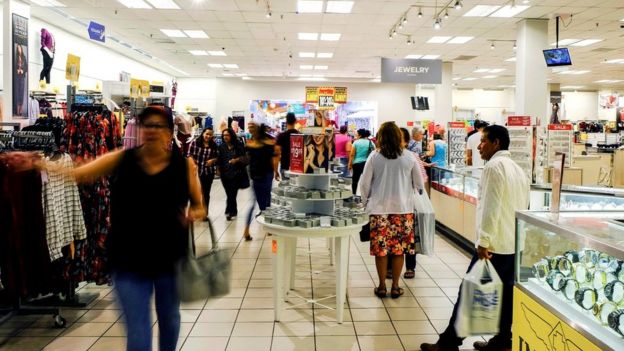 Over the year, the US added an average of 176,000 jobs per month, compared to 223,000 in 2018, when economists say a sharp tax cut bolstered growth. The figures remain above the level necessary to meet growth in the labour force.
"We have no reason to believe that a recession is imminent," said Mark Hamrick, senior economic analyst at Bankrate.com. "But we're also reminded that the economic expansion is long in the tooth and will end at some point."
Analysts warned that the retail sector's burst of hiring last month was likely to be temporary. Many national chains, including Macy's and Sears, have already announced store closures on the back of weak holiday sales.
The number of manufacturing jobs also fell by 12,000, compared with a rise of 58,000 in November, which coincided with the end of a labour strike at General Motors.
The Labor Department also revised down data for October and November to show 14,000 fewer jobs were created than previously estimated.
Pay gains also remain unusually muted, given the low unemployment rate, in part reflecting that many of the new positions are in low paying fields.
The benign pay growth suggests the Federal Reserve is not likely to cut interest rates again anytime soon, said Wells Fargo economist Jay Bryson.
"Although not quite as strong as a year ago, this pace of gains is solid," he said. "Policymakers at the Federal Reserve likely will look at today's data and conclude that there is no compelling reason to change monetary policy."